Rugby League Set of Six: Brian Carney on blaming the ref and Jamie Jones-Buchanan
By Julian Crabtree
Last Updated: 03/05/16 3:54pm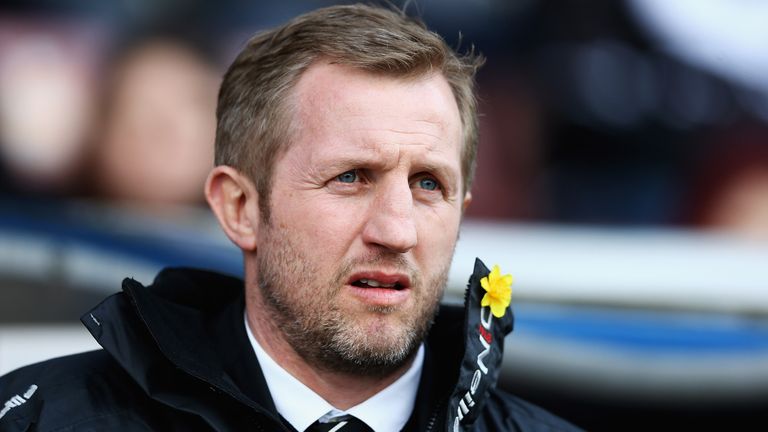 Brain Carney on Denis Betts' comments, Jamie Jones-Buchanan on the future of Leeds and Stevo's greatest players feature in Set of Six...
RFL need to act over Betts
Brian Carney says that the RFL cannot allow Denis Betts to get away with the comments he made about referee Joe Cobb. These comments follow a week on from Paul Anderson's comments which have gone without any reported sanction.
The Vikings looked set to end a five-match losing Super League streak when they recovered from an 8-0 interval deficit to lead 16-12 against Wakefield, but Craig Hall's late try led to a bad tempered encounter which saw two players sent off and another three sin-binned.
"It was the worst refereeing performance I've seen in 30 years," said Betts. "We had a legitimate try from Chris Houston from a bomb disallowed near the end and there was nothing wrong with it."
Carney said that Betts' comments are not becoming of the newly appointed England assistant coach and feels that the pressure got to Betts.
"Widnes are currently in the worst losing streak any club has had this year and he wasn't able to handle the pressure that brings on Friday night," explained Carney.
"He savaged a referee when perhaps the blame lies closer to home. Has he ever used comments like that in private to one of his players about their performance? I doubt it. Has he ever had one of his coaching performances described in such terms? I doubt it."
"The RFL can forget about claiming to protect referees if they don't eliminate that type of unfair, bullying and factually incorrect type of verbal assault on a referee. While it is most unlike Denis, who is normally circumspect in his analysis of a referee, it is yet another tedious example of blame for defeat being slung unfairly at the feet of officials"
Rising out of the ashes
Set of Six are big fans of Jon Wells and his touchscreen interviews and his chat with Jamie Jones-Buchanan was another pearler.
Leeds suffered another loss - 20-28 to Huddersfield - however Jones-Buchanan refused to be negative and says he is still loving the game.
"I am enjoying my rugby as much as I have ever done - sport in general is all about challenges and we are facing a challenge - whether it is top of the league or bottom of the league, it is all about enjoying yourself and playing the game that you love.
The Leeds veteran also said that the future bodes well for Leeds and that the culture of the club will see them through the difficult times.
"We have got a great culture and a great set of lads - we have the next generation coming through. Cameron Smith was six months old when I made my debut for Leeds, Jordan Lilley was two years old.
"The way I look at it is like the legend of the phoenix - the old one bursts into flames but the new one is rising out of the ashes. These young kids are rising out of the ashes, they are young but they will get there."
Fighting talk from Salford
Do Salford still have a chance to finish in the top eight? The Red Devils were hit with a six-point deduction for breaching salary cap regulations but hit back with an impressive 44-26 win over Hull KR which moves them to 10th on the Super League table.
Their coach Ian Watson certainly thinks that they can and is backing his players to get them back into contention.
"It was important we won after the week we've had and we believe we are good enough to get back in the top eight even with the points deduction.
"It was important we got back on the horse to start clawing back the points and it was a really big win."

Salford take on Castelford in the Challenge Cup this weekend before heading back to Super League action with a tough away trip to St Helens.
D-Day for Eels
Talking about salary cap breaches, this week the NRL will announce the sanctions it will impose on the Parramatta Eels following their transgressions.
The Eels, currently in fifth place on the NRL table, look to be heading for a huge fine and docked points after allegations  involving third party deals, any points deduction would rule them out of competing for a Grand Final place - a huge blow after such a bright start for the club. 
Their chairman Steve Sharp has offered to resign if it saves the club being docked any points but it remains to be seen whether the NRL will show any leniency if Sharp or any other officials fall on their swords.
Week to forget for Warriors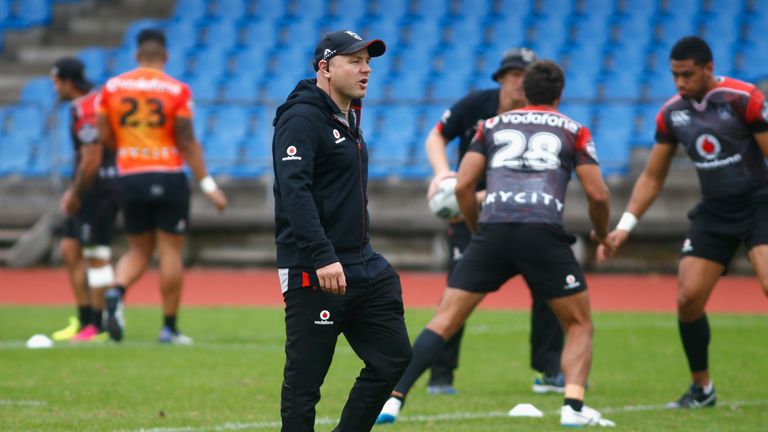 Warriors coach Andrew McFadden said it was the character of his side that impressed him most after their win against the Dragons.
The Warriors showed their mettle by beating the St George-Illawarra Dragons 26-10 to ease what was a tough week for the club.
Manu Vatuvei, Ben Matulino and Bodene Thompson were all dropped and disciplined by the NRL club for their actions on a night out.
The trio have also been dropped from New Zealand's Test match squad against Australia.
"I felt really good about what they were going to bring," said McFadden at the press conference after the game. "I saw a real steel in their eyes, particularly from our senior players.
"They did a terrific job leading this week and it was good to see they all brought a lot of energy.
"I wasn't too worried about the result to be honest with you, I wanted to show some spirit, some character, because it's been a tough week." 
The Goulding era
To celebrate the 20th year of the Super League, and to coincide with Stevo's final year with the Sky Sports Rugby League team, the great man has selected his Top 20 Players from the last two decades.
In a build-up to the Grand Final, Stevo will select a player who he thinks was the most influential in each of the those 20 years.
The first influential Super League star selected by Stevo is Bobbie Goulding, the St Helens captain, who led them to both the League and Cup double in 1996.