Tears were shed from both sets of players after Catalans Dragons' 26-10 victory over Leigh which preserved their Super League status and sent their opponents back down to the Championship.
Catalans coach Steve McNamara and his opposite number Neil Jukes both condemned the concept of the Million Pound Game, which was introduced three years ago as part of the move to restore promotion and relegation to the game.
The Dragons, embroiled in a relegation fight despite finishing three places off the bottom of Super League, salvaged their spot with a second-half fightback highlighted by a brace of tries from full-back Lewis Tierney, but the celebrations were muted.
"There's lots of tears in the dressing room," McNamara said. "They're tears of relief, there was a release of a huge amount of tension from everybody involved.
"I thought our players showed huge respect at the end of the game and I was pleased about that.
"We probably produced our best performance of the season under the most extreme pressure.
"But if you want promotion and relegation, take the gloves off and have no salary cap," McNamara said. "Let the clubs spend what they want."
Jukes said: "This was all about not losing a game. The uncertainty surrounding this situation is ridiculous.
"You talk a lot about player welfare and mental health but that comes around job security so this is hypocritical of what we stand for.
"There's got to be a way for clubs to get up but ultimately people lose jobs and that's sickening. There are guys in the changing room who are tough men and they're crying."
Although Leigh owner Derek Beaumont has pledged to top up the reduced £750,000 central funding in order to maintain a full-time club in the Championship, Jukes expects to lose players following their relegation.
"No doubt the agents will be back on because I know they've been touted out to other clubs," he said. "We'll have to see who wants to stay. It's an absolute minefield.
"We'll just have to regroup and probably look at doing what Hull KR did last year."
Dragons skipper Sam Moa was also subdued after the game and said it was not a day to celebrate.
"How can you be happy knowing that players have to now find new jobs - they have mortgages to pay and families to support. It is very hard," Moa told Sky Sports.
"As the captain of this team I am glad we won but as a club we would like to send our condolences to Leigh and their supporters. We feel they deserve to be in the game. This is not a game or a concept that we enjoy playing in as players."
It will now be a case of rebuilding the fortunes of the Catalans club after they came so close to being relegated for the first time in their 12-year history.
"We can't be sat in this room again," added McNamara. "We've got some things we have to address and we can now start to plan and get Catalans into a position where can they compete in Super League.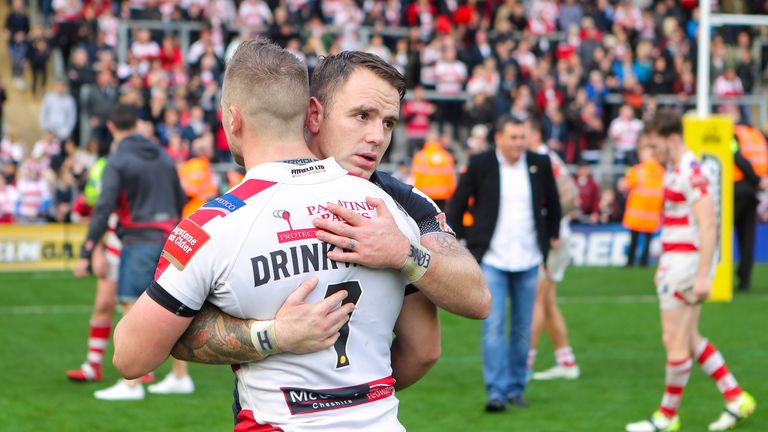 "It's a big job, this challenge is different to any other job in the world of rugby league. Of course one or two players will be leaving and some will be coming in but the biggest area for improvement is the overall structure. It's about setting up a support mechanism to give players the opportunity to be best they can be."
The Dragons are expected to lose both half-backs Richie Myler, who has signed with Leeds for 2018, and Luke Walsh but McNamara says he will be doing his best to retain the services of Tierney, whose loan spell from Wigan ended after Saturday's game.
"Lewis was outstanding," McNamara said. "He's integrated really well into the group and he's certainly a player we'll look at trying to keep if at all possible."