St Helens have formed partnerships with Rochdale Hornets and Whitehaven RLFC
Super League giants St Helens have announced partnerships with Rochdale Hornets and Whitehaven RLFC.
Last Updated: 11/10/12 4:07pm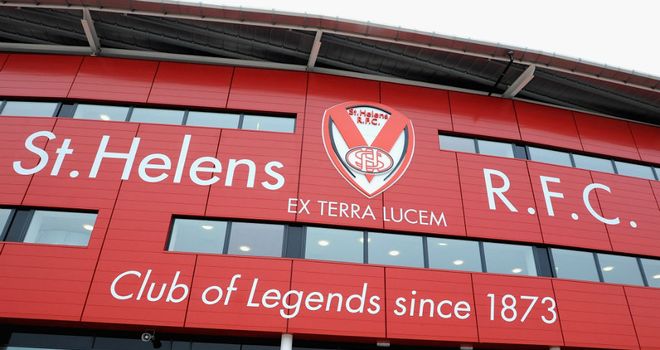 The move creates a four-tier playing pathway after the RFL confirmed the Under-20s and 18s competitions will be shelved for a new Under-19s league.
As part of the link-up, Saints' Under-20s coach Ian Talbot will become Rochdale's new head coach, while five dual registered or loan players will join the Hornets to aid their development.
General manager Mike Rush is pleased with the agreement, stating Saints' stars of the future will benefit with first-team rugby elsewhere.
"This partnership is a culmination of three months of hard work with Rochdale and we are delighted they have agreed to link with us," Rush told the club's official website.
"The move will give our players the opportunity to continue their development at a higher level and we look forward to watching them progress.
"As part of the move, Ian Talbot, our Under 20s coach, will be taking up the head coaching position at Rochdale whilst Ex-Rochdale and GB International Matt Calland will also join the set up as head of youth and work with the first team squad.
"Ian, Glynn Walsh and Steve Prescott from Saints and Dave Ramsbottom from Rochdale will be retained to give the Hornets a strong coaching set up which in turn will provide a great player pathway for both clubs and their local players."
Thrilled
Hornets' chairman Mark Wynn said: "We are thrilled by this partnership. It is an opportunity not just for Hornets but for Rugby League as a whole in Rochdale. Any ambitious youngster in the town can now see a path which leads right to the very top of the game."
Cumbria is well known for its ability to produce top quality rugby league talent and the north west club are looking forward to being able to utilise Saints' pool of resources.
"This is mutually beneficial with Whitehaven being able to call upon quality players from St Helens on a weekly basis and the two clubs to develop a strong and lasting relationship with an increased presence in West Cumbria through both clubs' community programmes and through building upon the excellent relationship over the last few years that has been built up between St Helens and Dave Woods the new Whitehaven coach," said club chief executive Barry Richardson.
"This will also give the opportunity for the two clubs to attract top local Cumbrian players who could be available to play initially for St Helens Under-19s or Whitehaven's first team and hopefully to progress longer term through to the Saints first team or part of a strong Whitehaven team established in the Championship."