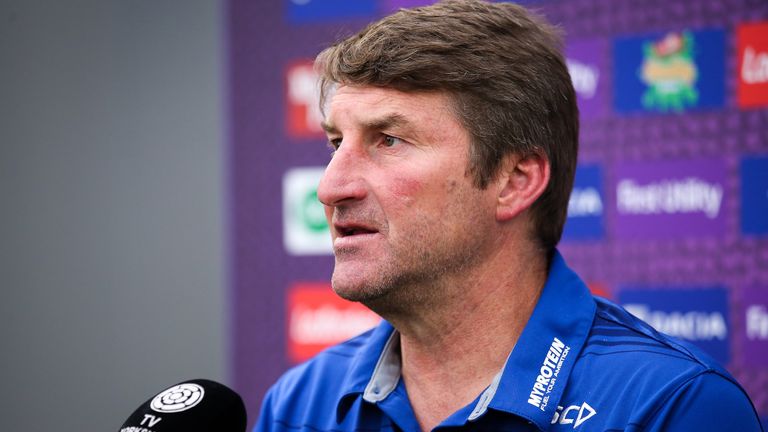 Warrington coach Tony Smith insists he will not quit despite watching his side suffer a crushing 38-12 home defeat to Salford.
The 2016 Super League runners-up, who were winners of the League Leaders' Shield just six months ago, are in serious danger of missing out of the top eight after winning just one of their last five matches. They have conceded 78 points in their last two games.
A note on the club's Facebook account claimed Smith had left his post in the immediate aftermath of Monday's defeat but it appears the site was hacked and a spokesperson confirmed the club were investigating the incident.
Smith, who is in his ninth season in charge of the Wolves, said at the post-match press conference: "As unpleasant as it is, I don't give in easily.
"I'm just disappointed with the way we're playing, it's not about how I feel.
"We as a group are not playing well enough over the weekend."
Warrington made the brighter start, making all the early running, but they were unable to breach the tight-knit Salford defence and, after soaking up the pressure, Salford struck with two tries in three minutes to demonstrate their potency.
Centre Jake Bibby produced a clinical finish after taking second rower Ben Murdoch-Masila's smart offload and winger Niall Evalds finished off a break by Todd Carney for the first of his three tries.
"I thought we started with some promise but we didn't convert that into points and our heads dropped," Smith added.
"We had different half-backs again, we haven't got that continuity. We were also playing against a team playing with confidence and executing well.
"We've got to tough it out and work hard, keep going with it.
"We're hurting. It's been a tough couple of days for us."
Ian Watson's red-hot Devils scored seven tries to two, five of them through their lethal left flank, to make it 10 wins from their last 11 league games and stay on course for a first ever semi-final as they go past the halfway mark in the 2017 season.
"That was a big one for us," Watson said. "It's a great result. It's about six years since we last won here and we've done the double as well. It will be a long time since that happened in Salford's history.
"We're doing great at the moment but we won't get carried away. We know where we want to be and what we want to achieve but we'll take every week as it comes."
Watson opted to rest skipper Michael Dobson, as well as hooker Logan Tomkins and centre Kris Welham following Friday's big win over Catalans Dragons and he was delighted with their replacements.
"The guys that came in did great," Watson said. "Todd Carney was outstanding, Jake Bibby and Josh Wood were good. We made some changes and that gave us real energy and enthusiasm.
"Todd had been getting close in training and then breaking down with a calf issue, whether that's an age thing or not, we're not sure.
"From not having had a lot of game time, he deserves a lot of credit for that kind of performance. He's knuckled down and waited for his opportunity.
"It's a great selection headache to have."