London Broncos to compete in 2014 after sealing Barnet groundshare
London Broncos will fulfill their Super League fixtures for the 2014 season after agreeing a groundshare with Barnet.
Last Updated: 13/12/13 6:35pm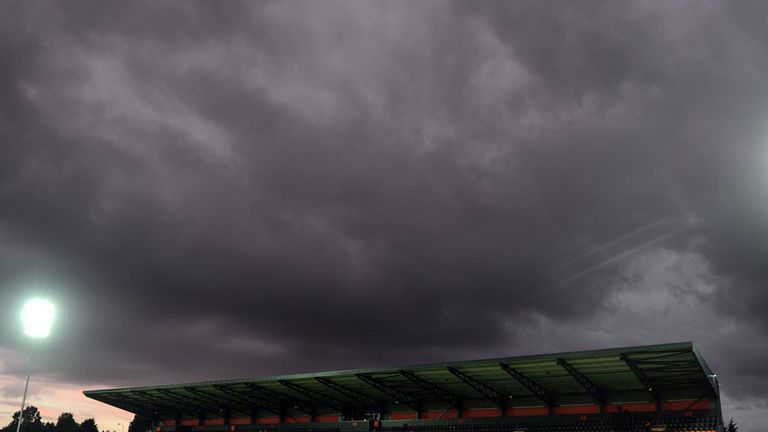 The agreement, which will see the Broncos play their home games at the Hive as well as training at Barnet's former ground at Underhill, secures the immediate future of the club.
Last week, the club announced they had lodged their intention to appoint an administrator as talks continued to try and keep them afloat.
Broncos chairman, David Hughes, said: "Our focus has always been to ensure we made the right decision going forward. Over the last 10 days, we have worked closely with the Rugby Football League and Barnet chairman, Tony Kleanthous, to avoid administration and secure the future of the Broncos.
"I believe this is the right decision, not only for the club, but also for the future of Rugby League in London.
"Many hours have been spent working to make sure the Broncos are positioned in an environment where they are best able to prepare and compete at the highest level.
"I'd like to thank Chief Executive, Gus Mackay and our staff for the long hours they've spent working to make sure the Broncos survived
"I'd also like to thank the RFL Board and its Executive, in particular Blake Solly who have also worked tirelessly in their efforts to find a solution."
Successful conclusion
Broncos chief executive officer added: "These discussions have been ongoing for six months and I'm personally delighted they have reached a successful conclusion for an exciting future.
"The facilities at The Hive are outstanding and the excellent transport links around the ground make it a perfect venue for Rugby League in London.
"The initial agreement is for the 2014 and 2015 season with a view of a longer and permanent agreement.
"I'd also like to thank the players, staff and loyal fans for their patience and understanding through this period of negotiation. Now we can all move forward positively"
Barnet chairman Tony Kleanthous said: "We are delighted to welcome the London Broncos into our family here at The Hive.
"This deal represents a new beginning for the club and we hope to work with them in the community to grow the participation and support of Rugby League in North London."
The Broncos had been looking for a new home since an eight-year groundshare with rugby union side Harlequins ended in September.
They now have the task of rebuilding their squad for next season following the departure of 16 players during the off-season.