Why do Hull KR players have song lyrics written on their shirts?
Super League club wearing special charity kit for Super 8s Qualifiers, raising money for Terrence Higgins Trust
Last Updated: 01/09/18 3:41pm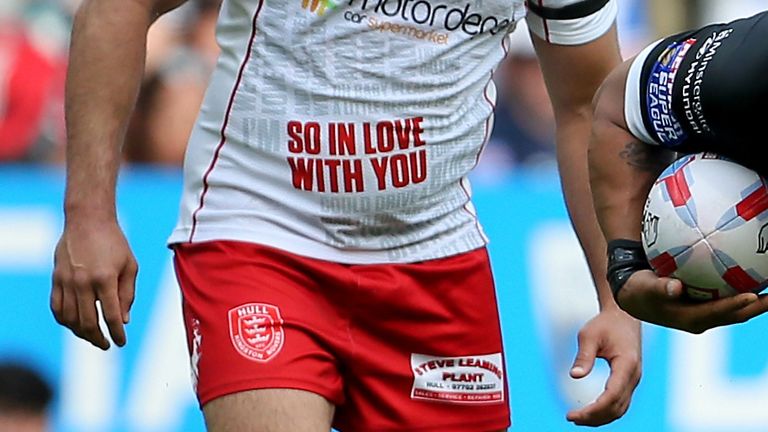 Glance at the front of Hull KR's shirts during the Super 8s Qualifiers, and you might be forgiven for thinking the prominent slogan in red - 'So In Love With You' - is just there as a sign of solidarity between players and fans.
Look more closely, and you'll see that the bolded-up text is part of a pattern of words that runs across the shirt, including phrases such as 'we can make love not war' and 'I'll be forever blue'. When pieced together, as many will recognise, the snippets make up the lyrics to 'A Little Respect', the Erasure song released back in September 1988, one of many hit singles by the band that reached the top 10 in the UK charts.
Hull KR players will again be wearing these shirts when they take to the field at Headingley for Saturday's Sky Live clash against Leeds Rhinos. So how has an 80s synthpop classic ended up adorning a Super League team's kit, three decades later?
It's a story that begins with Rovers' most passionate fans, on the terraces of their KCOM Craven Park ground, and on away days too. While 'Red, Red Robin' - a song that's almost a century old - has long been established as the club's official anthem, the Hull KR supporters' own songbook has moved with the times. As with any sports club with a sizeable fanbase, chants come and go - but something about this Erasure track, with vocalist Andy Bell's 'I hear you calling' chorus lending itself strongly to a performance in unison, has made it stick fast in hearts and minds in this part of East Yorkshire in the last few years.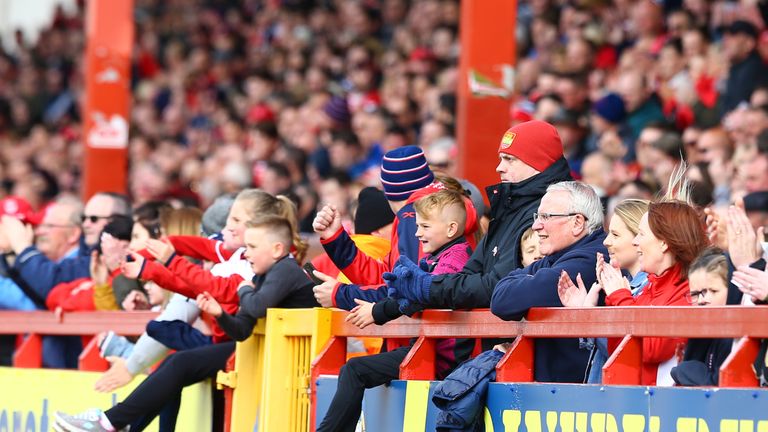 Still, elevating a song into a special shirt design is another leap altogether. The Robins' Challenge Cup fifth-round victory at Bradford Bulls in April 2015 was one match that helped set those wheels in motion; the tie marked the start of an epic run to a Wembley final that will live long in the memories of Rovers fans. Michael Sellers, then 19, was one of them; not only had he been cheering the team on since he was a young boy, but he had also later been working at the club in a variety of roles from programme selling to shop retail, and also assisted with business and marketing while on an internship. He recalls how 'A Little Respect' gradually embedded itself into Hull KR culture.
"It was one of a few songs that we'd hear at the stadium and sing along to," says Sellers. "It gradually became a bit of a chant during matches too, just started off by a few people, but then it snowballed massively during the cup run.
"It'd be played on the PA and became this huge anthem, with everyone joining in. By the spring and summer of 2015, it was an absolute staple."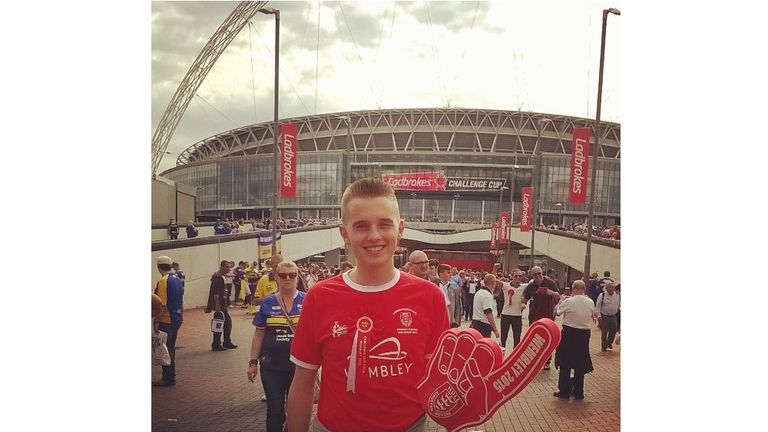 Rovers went to Wigan in the sixth round of the cup and won; in the quarter-finals, they played host to Catalans and knocked them out too. For the semi-final, a crowd of over 13,000 packed into Headingley to see Rovers face Warrington, and witnessed a late Shaun Lunt try secure a major upset, taking the Robins to their first Challenge Cup Wembley final for 29 years. At the final hooter, the fans belted out 'A Little Respect' in full, with the viral video then brought to the attention of Erasure's lead singer himself.
"I was getting quite a lot of random tweets from people saying 'Andy, have you seen this?'," explained Bell. "I didn't realise how passionate they were about the song but once I started looking at some of the videos singing along on the terraces, I was quite blown away by them really."
A dialogue opened up between the club and the pop star, resulting in a request for the players to record their own version of 'A Little Respect' as their cup final song for charity. Bell sorted out the permissions and secured them the track; proceeds would go to two local children's charities in Hull, and also Andy's nomination, the Terrence Higgins Trust (THT).
While Hull KR had taken Erasure's song close to their hearts, THT is a cause that is close to Andy's. The UK's leading HIV and sexual health charity was established in 1982, the same year that Terry Higgins himself passed away in a London hospital; he was one of the first people in Britain to die from AIDS. His partner and close friends founded THT in Terry's memory, to support those living with and affected by HIV.
Confirmed! The squad lined up this evening for a new team photo ahead of the 2018 Super 8s! We can also announce that the shirt we will predominantly wear for the Qualifiers will be our "A Little Respect" charity jersey! #ComeOnRovers pic.twitter.com/prEChgtnno

— Hull Kingston Rovers (@hullkrofficial) July 31, 2018
Bell first learned he had the virus in 1998; he spoke publicly about his status six years later, releasing a message through the band's website to allay fears from fans about his health: "I've been taking combination therapy since my diagnosis and I'm feeling fine... in fact, I've never felt better." In so doing, he became one of the few people in the national public eye to be openly HIV positive. THT issued a statement in response to Bell at the time, praising his "brave move" in being vocal and helping to challenge misconceptions.
The Hull KR charity single was another opportunity for Bell to help give back to THT, raise awareness, and seek to improve education around HIV in both the Hull and rugby league communities. Today, it's estimated that there are over 100,000 people in the UK living with the virus; around 90 per cent of those who are diagnosed are on effective treatment and undetectable. Despite the rapid scientific progress that has made this possible, attitudes towards people with HIV are skewed by stigma and a lack of understanding. Research by YouGov released earlier this summer showed that 35 per cent of people would 'swipe left' on a dating app to reject a person who had HIV and was on effective treatment, while the same percentage of those surveyed - 35 per cent - said they would not even feel comfortable kissing someone with HIV, even though the virus cannot be passed on this way, regardless of treatment.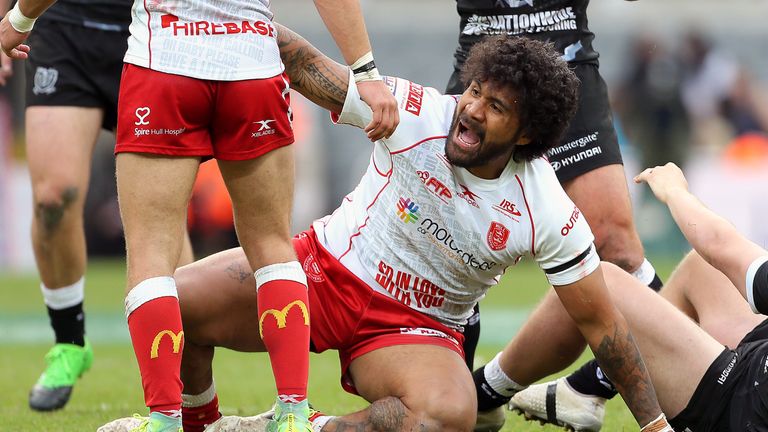 Bell would visit KCOM Craven Park himself in February 2016, singing 'A Little Respect on the pitch surrounded by cheerleaders and accompanied - naturally - by the Hull KR fans in the stands. With the relationship between the band and the club bolstered further, and a willingness on both sides to do more, a second opportunity to team up presented itself in the current campaign - a proposal for a charity shirt. With a thumbs up from Sony/ATV Music Publishing to use the lyrics, and manufacturers XBlades Sports producing the kit, the special 'A Little Respect' edition strip was made available to buy, again with THT benefitting from a charity contribution on each shirt.
"Supporting something like the Terrence Higgins Trust is really good because it breaks down barriers with people and makes you realise it [contracting HIV] can happen to anybody," Bell told the Hull KR website. "It's not something you can make fun of, and I think it's great when you guys get involved. It just shows everybody that we're all the same."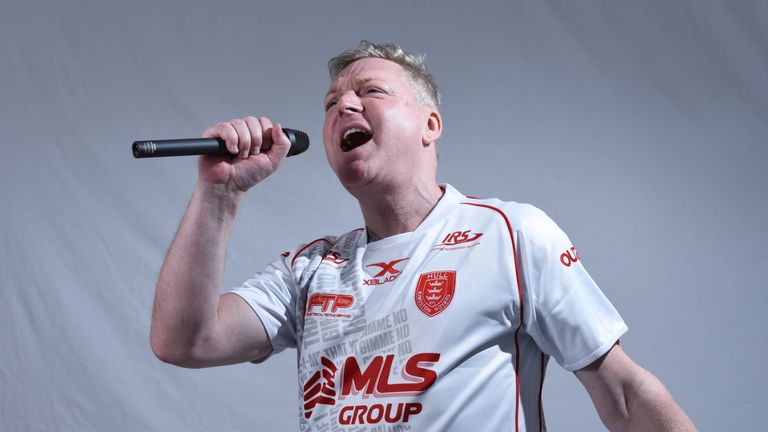 Ian Green is the chief executive of THT. "The charity shirt partnership is so great for us," he told Sky Sports. "Getting this kind of support from a sports club such as Hull KR, in promoting HIV awareness and tackling stigma, is really significant for us as a charity. HIV has changed dramatically - it's now a condition that is manageable in the long-term, and it's really important that everyone realises that people on effective treatment can't pass it on."
The song title itself could hardly be more apt for such a topic, which would not exactly be an obvious conversation point in rugby league circles in northern England, with their strong senses of tradition and identity. However, Sellers - a Hull KR fan who happens to be openly gay himself - says fans in pubs and on terraces there are generally much more welcoming and progressive in 2018 than they might be given credit for.
"It's changed a lot from when I was younger. Attitudes are different, and people are much more accepting, throughout Hull and around the city," he says. "Certainly the fans I stand with have always accepted me. But that's reflected in the club too - they've increasingly become involved with Hull Pride, as just one example. When I was working at Rovers, they knew how much it meant to me and made sure I could attend." Last year was also UK Pride in Hull, which attracted over 50,000 people, tying in with its current status as the UK's City of Culture, a title it will hold until 2020.
The make-up of the club's fanbase is changing too. "The vast majority of fans who go and watch Hull KR wouldn't be LGBT, but I know several who are who go to games," adds Sellers. "Rugby league is much more inclusive than people might think. There are still assumptions about a lot of sports, of course, but there's Keegan Hirst playing in Super League at Wakefield who's openly gay and is able to just be himself. That shows how team-mates are supportive, and it's getting better for LGBT fans too."
In the last few weeks, a new LGBT-inclusive rugby union club called Hull Roundheads has started up in the city as well. "There's an amazing support network for the LGBT community in Hull, and sport is definitely a part of that," says Sellers. "Rovers' charity kit is an extension too - in its own way, it's helping to educate a few more people when they find out the connection between the song, the charity and the club. There are still those who don't understand HIV and AIDS and because of that ignorance, it can result in people in the LGBT community being subjected to a lot of abuse."
For Green, the Hull KR venture has proven to be an exciting and encouraging development for THT. "The draw-in power of sport, to help raise awareness around matters such as health, is so important to a charity like us," he says.
"It's an area that we haven't exploited in the past, because it's often very difficult to break into. But the way the Erasure song has helped connect us to Hull KR is really very special, and it's allowing us to make significant progress on the societal issue as well.
"Everyone needs awareness around HIV, and everyone has a responsibility to help tackle the stigma that's still associated with it."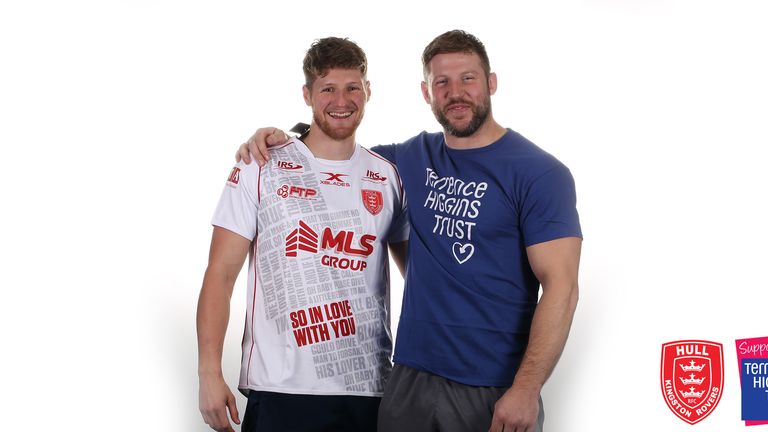 The growing popularity of the shirt with Hull KR fans throughout the season means it's now become the team's kit of choice too - the players will be bringing 'A Little Respect' to all their remaining Qualifiers fixtures in September. "You know you make-a-me work so hard," goes the song's final verse - as always, nothing less than maximum effort is expected on the pitch. It can now be said that the exact same sentiment is written into the fabric of the club, lyrical and literal - and it's a message that can be seen on the shirts, and heard from the stands.
The Hull KR charity shirt is available to buy now from the club's online shop, with a donation from each sale going to the Terrence Higgins Trust.