Stevo says that Salford's new owner Marwan Koukash is doing the right thing by creating a buzz around the club
Stevo says that Salford's new owner is doing the right thing by creating a buzz around the club.
Last Updated: 05/06/13 10:35am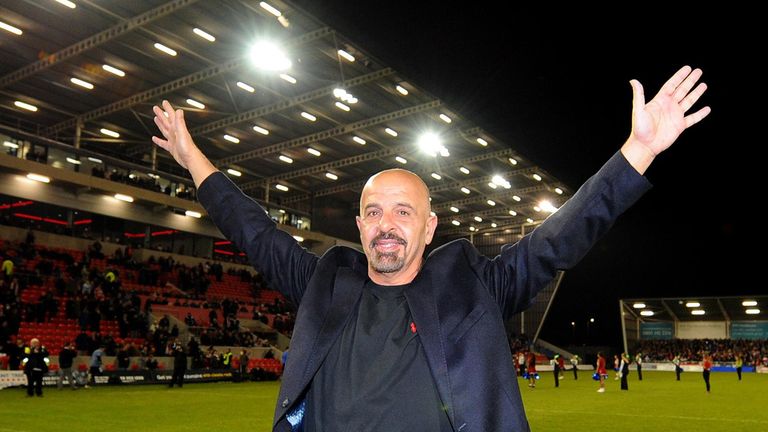 However I wonder if anyone has told Koukash about the salary cap in Super League? He has stated that he wants to buy Adrian Morley, Rangi Chase and the man at the top of the tree at the moment Sam Tomkins.
Now I do believe this is more of a PR stunt than anything else and I really cannot see any of them signing for Salford but let's just take a look at the scenario if they did. The salary cap is about £1.6 million - which does not include transfer fees. The world record transfer fee is around £400,000 but Salford would need to pay Wigan half a million to get Sam Tomkins out of his contract and I cannot see anyone paying that. A player like Tomkins would also demand a three year deal as would Rangi Chase. They could probably offer Morley a one year deal but you are still looking at spending a third of your salary cap on three players. That does not leave a lot for the rest of your squad.
Rugby League fans are not dumb and while it is a great PR stunt I hope he does not keep on doing it. I don't want to hear him saying that he wants to sign Kevin Sinfield, Ryan Hall and Michael Monaghan. After a while people will say it is alright talking about it, when are we going to see something?
I can see where Koukash is coming from though. He probably had a look at the crowd that attended their win against Hull KR and saw it was only around 2,000. He wants to create a buzz around the club and what better way than to say he wants to sign the best players in Super League. He wants to show the fans that he means business and I back that - hopefully the fans will too and show that by attending! I really do wish them all the best in the world and would love Salford to get back to their glory days of the late 60's early 70's.
They were a fine side back then with great players like Colin Dixon and David Watkins. There was always a real buzz about Salford - soccer stars like George Best used to come and watch them on a Friday night and it became the place to be seen. A man called Brian Snape had the vision to turn the ground into a night club as well, so after the game you headed into the nightclub and had a great Friday night!
That sadly fell away and the ground started to fall apart. They have moved into a new ground with a new owner and I really hope they can get back to their glory days.
He needs to be realistic and start building a squad that he can develop and take them forward. Hopefully that will get some success and that will attract other players to come and play for them. It is going to take time and I really urge the Salford fans to rally round and help the club to get going. Koukash is doing his bit so they need to turn up and do theirs too.