New proposals for rugby league's restructure are baffling, says Stevo
Rugby league's restructuring plan needs a radical rethink, says Stevo, who has his own ideas...
Last Updated: 17/05/13 4:49pm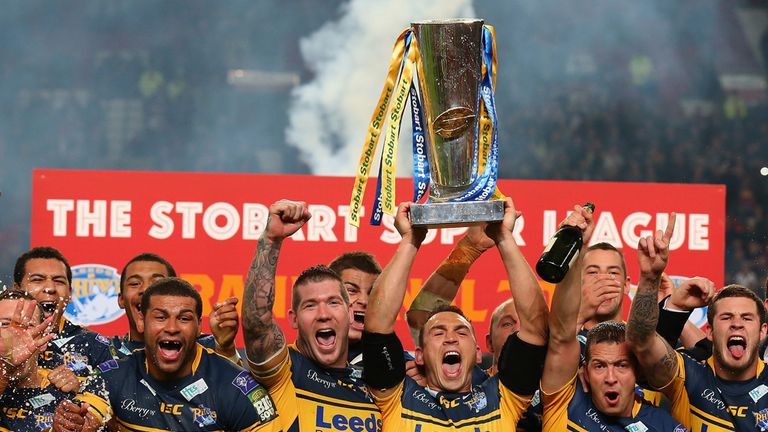 The projection for 2015 is to have a Super League 1 and Super League 2, both with 12 teams. They will play each other once and the bottom four from the top division will join the top four from the second tier. A third Super League is created with eight teams....sound simple?
If I was a fan buying a season ticket, I'd be asking myself if I was only going to get half a season watching my team play the top guns? Would you part with your money with a scheme like that? It's too complicated and fans can't understand it.
I'm not impressed and it's just very confusing. I've always said in my career as a broadcaster and player that if you make things too difficult and not simple enough then the fans will look in absolute dismay and wonder what on earth it's all about.
We've done the research at Sky and over the 23 years I've been involved with the game there have been 21 changes to the format of our game. That sounds like panic to me. I don't often agree with Warrington's head coach Tony Smith but on this occasion I have to say I am pleased that someone connected with a Super League club has opened his mouth in front of all the media and said something we should all listen to.
And the final group of teams has also been changed - first six then to eight. It sounds incredible at the end of the season you can have a team becoming champions at Old Trafford in Manchester having lost more games than they've won. That's always been madness and I've always been against it. I've always said a top five is sufficient.
Up and down
There's the argument that fans won't go and watch matches because your team's season has finished and you have dead-rubbers. You don't need promotion and relegation. You only need to look at other sports. In 1908 the Australians started playing rugby league. They've never had promotion and relegation and they don't seem to be doing too badly and seem to be running it better than us over here.
There seems to be a knee-jerk reaction to changing things and I don't think in my 23 years at Sky that at the start of a season the governing body hasn't moved the goal posts, introduced a new rule, or got rid of a rule.
Even when we play internationals as England, or Great Britain as it used to be, we'd ask 'which rules are we playing under?' Why can't we have rules that are governed by the international federation and we all play to the same rules? It's amazing. Football doesn't have different rules in different countries!
Stevo's grand plan
Reduce the Super League and have three divisions - SL 1,2,3 - all with 10 teams. I've always been against promotion and relegation. It doesn't give clubs enough time to settle and and bring players through.
The club's that have been relegated usually have half of their players that were signed up by the team being promoted. That's not an improvement and not what we need. I would suggest if you do finish at the bottom of SL1 then you play home and away against the team that finishes top of SL2...nothing complicated!
It's simple for fans and the team wins with the best aggregate points. If the team gets beaten by the team coming up from SL2 then they should be welcomed. What's the point of that top team in SL2 getting flogged 64-4 and 36-8 for example?
You don't have to be Einstein to work out that they will be relegated if you did it the old fashioned way.
The play-offs are with eight now. We have to go back to five. I would have the top team after all the rounds going directly into the Grand Final. That gives them an incentive to play all the way through. Positions two and three play off to see who goes into the final. Simple!
Some may say the team would be affected by the long break. I think most coaches would welcome the rest after a long season - particularly thinking of injuries. That team should have that benefit of getting players fit again. That's the reward for finishing top.
Everything I've said is very easy for the most important people in our game and that's the fans.
I'm optimistic about the future state of rugby league but only if they want to get their act together. There needs to be more people like myself and Tony Smith or whoever to keep banging the drum. The organisers may then start to change things for the better.