Huddersfield Giants have learnt from their mistakes, says Mike Stephenson
Mike Stephenson says Huddersfield were tremendous in their emphatic win over Hull FC.
Last Updated: 20/09/13 1:15pm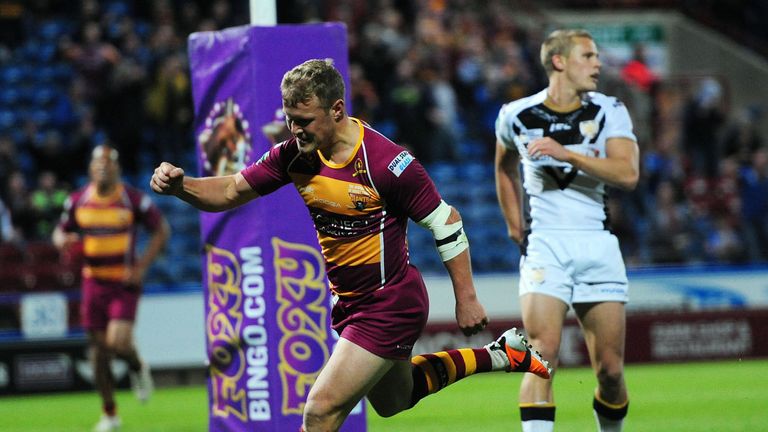 Four first-half tries from Luke Robinson made up some of the 76 points Huddersfield made which set a new Super League record for points scored in a play-off fixture on Thursday night and Sky Sports Rugby League expert says defeat by Wigan in the qualifying round made the Giants do their homework for this game.
"I'm pleased for Paul Anderson because you've got to learn from your mistakes," Stephenson said. "They would have certainly sat down all week and said 'this is what we've done wrong, this is what we need to do to turn it around' and they did.
"It was so good that the forwards just kept the control, but as soon as they got off to that flying start confidence was high."
Releasing Brough
Giants scrum-half Danny Brough kicked 12 conversions and Stevo believes using the player in a wiser way was key to the victory.
"The most wonderful thing about the Giants this year has been the interchange between first receivers Luke Robinson and Danny Brough," Stevo added.
"Against Wigan last week Danny Brough wanted to do everything. He was going in as first-receiver most times and that allowed Wigan to be able to control him and once they put the pressure on him it wasn't the same Danny Brough that we normally see.
"The interchange that we've seen between Robson and Brough was sensational.
"Remember in last week's game they also took Eorl Crabtree and Shaun Lunt off the field of play midway through the first half. They didn't do that this week - Anderson knew he needed the big fellas out there.
"The forwards laid the platform, the two half-backs just picked them away and Leroy Cudjoe was in great form - it was a tremendous performance."
The ClubCall
Huddersfield now go in to the ClubCall on Saturday and Stevo says they will be favourites to be picked by Warrington.
"Emotions will come in to it and Warrington will probably say Huddersfield won't have as many fans there to support them," he said. "I'm sure Wolves' coach Tony Smith will say 'we'll take my former club, we'll take the Giants'."