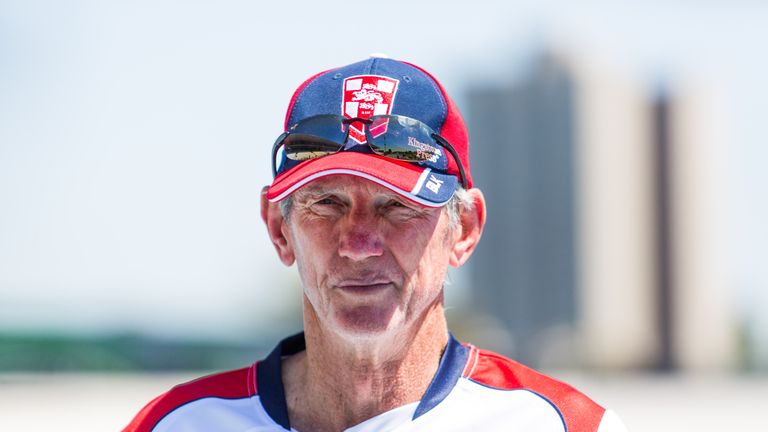 Wayne Bennett has agreed a new two-year deal to remain as England head coach.
The 68-year-old's two-year contract with the Rugby Football League (RFL) expired after he guided England to the final of the 2017 World Cup but he has been persuaded to stay on in the job.
The RFL accepted a recommendation from rugby director Kevin Sinfield, the former Leeds and England captain who has conducted a review into the national team's performance at the World Cup.
The length of Bennett's new contract suggests he will not lead England into the next World Cup in 2021, when he will be 71, but the RFL says he will be eligible to lead the British Lions on their tour Down Under in 2019.
Bennett, said: "It was disappointing not to be lifting the World Cup last December, but I mentioned about this squad being on a journey. I want to continue that journey because I firmly believe we can achieve something special together.
"It's a pleasure to coach this squad because everyone wants to do their best for one another and do their job properly. The last couple of years have been encouraging and I have seen this group grow in confidence and belief.
"There's plenty of work to be done and club fixtures to be played between now and the New Zealand games - everyone is aware of what is required of them to join the England programme."
It is thought Castleford coach Daryl Powell has been sounded out as a possible successor to Bennett but currently prefers to focus on his job with his club.
The RFL has announced that former Huddersfield boss Paul Anderson, one of Bennett's assistants, will coach the re-formed England Knights who are expected to play in a Six Nations tournament at the end of the season.
Other England coaching appointments announced are Craig Richards (England Women), Mark Roughsedge (England Wheelchair), Dave Elliott (England Academy) and Danny Wilson (England Youth).