Howay the lads
Bill Arthur discusses the Challenge Cup and a Saturday in bed with Kevin Whately and his wife...
Last Updated: 19/03/13 11:27am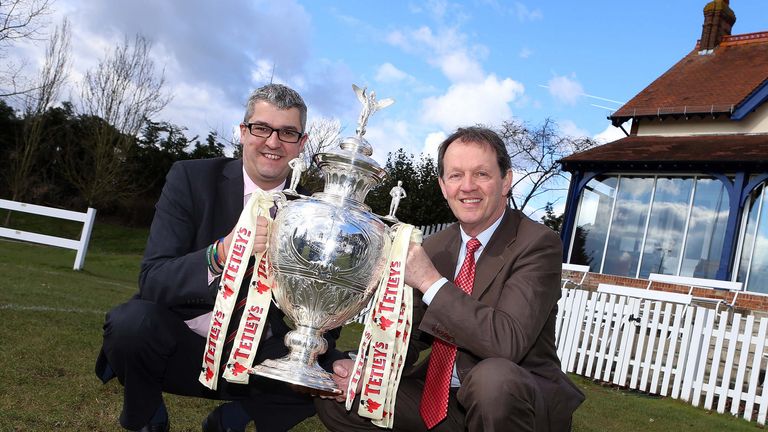 It all came flooding back to me at the draw for the third round of the Tetley's Challenge Cup. There we were in the rugby pavilion at Iffley Road in Oxford, with actor Kevin Whately helping out with the proceedings. "Halifax.........will play Oxford" and "Featherstone Rovers will be at home to......
In the middle of all this my mind went back to an episode of the classic British comedy drama Auf Wiedersehen Pet. It was a brilliant programme written - mainly - by Dick Clement and Ian Le Frenais, which ran for four series from 1983 through to 2004 and in which Kevin Whately came to prominence as a tv actor. Some comedy aficionados reckon that AWP has never been bettered as far as British television goes and it certainly had its moments.
And one of them featured yours truly. In a bedroom scene with Mr Whately. And his screen wife, actress Julia Tobin. Sounds a bit saucy I know but before imaginations get run away with I should point out that Kevin and Julia were in bed and I was a voice off (I think that's the correct theatrical term).
It was an episode from series two of Auf Wiedersehen Pet and Kevin's character Neville was back home from working in Spain, I think. It might've been Derbyshire. Or Dusseldorf. They got around, Neville, Oz, Bomber and co. So Brenda, Neville's wife, had coaxed him into bed for an amorous Saturday afternoon but she didn't have her husband's full attention. She was whispering sweet nothings into one ear and, with his other, Kevin was listening to a football commentary on the radio. It was a Newcastle United game and the commentator - well that was me. I was working as a sports reporter for commercial radio in Newcastle at the time and AWP borrowed one of my commentaries to use during the scene.
According to Kevin, nobody warned him there'd been an actual commentary (I was going to say proper but listeners to a certain north east commercial radio station in the late 80s might dispute that description). So when, during the recording of the scene, I was heard excitedly describing a Newcastle United goal, Kevin was so surprised he wasn't able to carry on. The outtake even ended up on a well know tv bloopers programme and a certain video sharing website.
Hooked on the game
Anyway, the Tetley's Challenge Cup draw wasn't just an opportunity to reminisce about some great times in Newcastle but also to find out about Kevin Whately's enthusiasm for the sport of rugby league. He may be a Toon fan but exile in the south brought him into contact with the Challenge Cup final in the early 90s and the great Wigan sides featuring superstars like Edwards, Betts, Offiah, Robinson and Farrell. Kevin's been hooked on the game ever since. He's a regular at the Final and plans to be there this August. He doesn't have a loyalty to any particular Super League or Championship club but that might be about to change.
From his work in the detective series Morse and Lewis, Kevin is familiar with Oxford. So he's interested to see how the town's new rugby league club does in the Championship. He reckons that Oxford might just be an inspired place to launch a rugby league club, as the locals like their sport.
Oxford have joined the University of Gloucester All Golds and Hemel Stags in entering the Championship, with former Leigh and Oldham coach Tony Benson in charge of the new Oxford side. He was at the draw this week along with some of his players and coaching staff as well as the new club's chief executive, Tony Colquitt, formerly with Saint Helens. On the field they've recruited experienced players like John Clough, once of Salford, and the former Widnes winger Lucas Onyango and they've been joined by rugby union converts and by students from Oxford Brookes University. Their new club kicks of its Championship existence at the end of this month with that rugby league favourite, a local derby, in this case an away game at Gloucester and that should be tasty.
Oxford's first home game is at Iffley Road on April 13th against South Wales and you never know, there's just the chance that Sergeant Lewis might wander along for a look. If he can drag himself away from his beloved cricket that is. I'm not so sure about Auf Weidersehen's Neville though. He was a Newcastle United fan to the core and not even his wife's ample charms could distract him from the Black and Whites. Although had Gateshead Thunder been around then it might've been a different storyline.