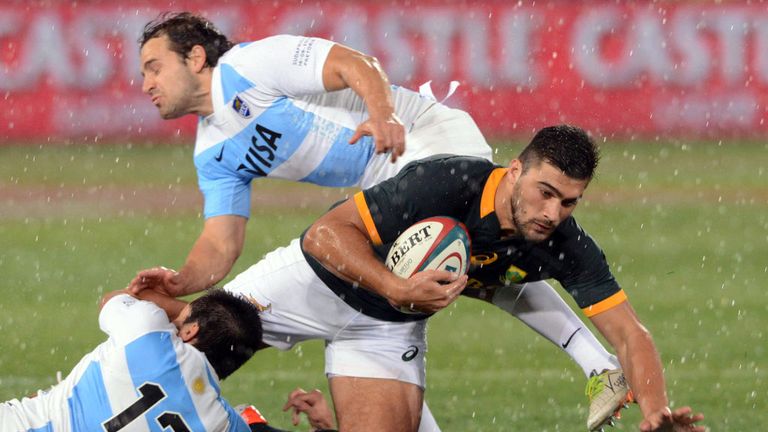 South Africa got their Rugby Championship campaign off to a winning start with a 13-6 victory over Argentina in Pretoria.
Springbok scrum-half Ruan Pienaar scored the only try of a game marred by horrendous conditions.
Those expecting the Pumas to get blown away were sorely mistaken as the South Americans fronted up, using the conditions to turn the game into a real armwrestle.
South Africa coach Heyneke Meyer would have been disappointed to see his team unable to create more opportunities considering he is building a gameplan around the expected wet conditions at next year's World Cup.
The hosts' set piece was far from dominant, in fact they were going backwards at scrum time. Argentina's defence against the maul was brilliant and the visitors managed to pinch a few line-outs to boot.
To be fair, the unseasonal rain in Pretoria caught everyone by surprise and handling was extremely difficult.
The hosts led 10-3 at the interval thanks to an early try from Pienaar. A massive thunderstorm - complete with bursts of hail - ensured that the scores remained low.
Torrential rain
The torrential rain slowed to a drizzle in time for the second half, but the field remained drenched and just two penalties were scored after the break.
It took just 70 seconds for the Boks to produce the first try as Pienaar and Cornal Hendricks combined down the blindside to scamper away and put the scrum-half over.
Handré Pollard adds the extras for a perfect start for the home side but highlights would be few and far between for the next 38-odd minutes.
The next six points would come as a result of Argentina's dominance at scrum time.
The Pumas scrum destroyed their Springbok counterparts to allow Nicolás Sánchez to open the visitors' account from the kicking tee.
The Argentine front row jumped the gun just before the end of the first quarter though and were penalised for pushing too soon. Pollard made it 10-3.
Both sides came close to scoring tries before the break but Manuel Montero failed to hold onto Sánchez's pass with the tryline begging. Likewise, Willie le Roux was unable to control the slippery ball as he tried to gather his own chip ahead - although he would have left a little aggrieved after being held back.
Immediately after the restart Sánchez hit the target from long range - after Lood de Jager failed to roll away - but Morné Steyn, who took over from Pollard early in the second half, replied in kind to restore the seven-point gap soon afterwards.