Argentina made history by beating South Africa for the first time with an impressive 37-25 win in Durban on Saturday.
After narrow losses to both Australia and New Zealand, South Africa were expected to lay down a World Cup marker against Argentina, but the Pumas had other ideas.
Argentina were outstanding from the start and physically dominated South Africa at the scrum and breakdown. 
Marcelo Bosch scored in the second minute while Juan Imhoff scored a hat-tick and the boot of Juan Martin Hernandez gave Argentina a fantastic win to throw a huge spanner in South Africa's World Cup plans. 
Argentina scored four tries at Kings Park, three in the first half, and led 34-13 when wing Imhoff completed his hat-trick early in the second half, stunning the South African crowd.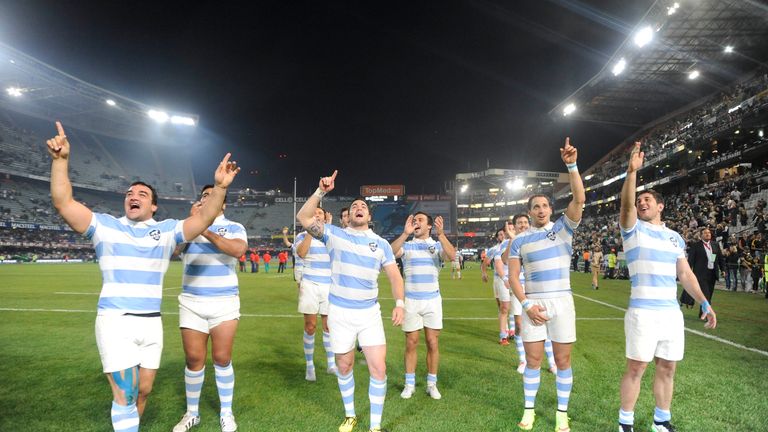 It was only Argentina's second win in four seasons in the southern hemisphere Rugby Championship, and while it gave the Pumas a huge boost in their own World Cup buildup, it was a third straight loss for South Africa.
Centre  Bosch scored Argentina's other try, just two minutes in, and the Springboks struggled from then, trailing the whole game to lose to Argentina for the first time in 20 Tests since 1993.
It left South Africa last in the Rugby Championship, the first time since 2012 and the introduction of the South Americans that the bottom team has not been Argentina.
Carved open
Argentina carved South Africa open in the second minute, with fly-half Hernandez and Imhoff combining in a set move off a lineout, and Imhoff sending centre Bosch clear to score.
Argentina was bossing South Africa's scrum as well, winning feeds against the head and penalties as they put the Springboks front row and the whole team under pressure.
Their backs were causing huge problems, too, with scrum-half Tomas Cubelli skipping through a couple of missed tackles to set up Imhoff for his first try in the 23rd.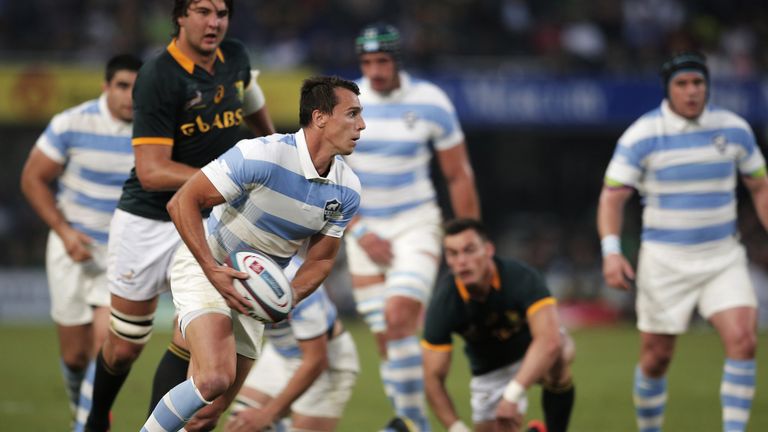 Imhoff scored his second off a simple blindside move from a scrum in the 31st minute to take Argentina out to 21-6.
Lock Lood de Jager responded for South Africa, reaching out to score their first try after being driven to the line by his fellow forwards. That set off fireworks at Kings Park, but Argentina was the team doing all the celebrating.
In a half full of mistakes from South Africa, the home team gave away a penalty straight from the kickoff after that try and Hernandez nailed it for a 27-13 halftime lead.
Imhoff's hat-trick try three minutes into the second half was contentious. With play stopped for an Argentina penalty, and medics on the field, Argentina took a quick tap and Imhoff was completely free on the left wing to stretch the lead to 21 points.
Full-back Willie le Roux suggested a Springboks comeback when he motored down the right touchline for South Africa's second try in the 49th.
But Argentina weathered the Springboks' surge easily, with Bosch capping the Pumas' historic win with a drop goal in the 63rd.
With time running out South Africa tried their best to reverse the tide but could only manage a last-minute try from Bryan Habana, and Argentina, watched by some survivors of the first Pumas to tour South Africa 50 years ago, claimed their first victory over the Springboks in 20 attempts.