Riley Powell becomes second 14-year-old to win at Snooker Shoot Out after Vladislav Gradinari becomes youngest player to win a TV snooker match
Riley Powell becomes the second 14-year-old to win at the Snooker Shoot Out after Vladislav Gradinari beat three-time women's world champion Ng On Yee as the youngest player to win a televised snooker match
By Amar Mehta
Last Updated: 26/01/23 6:55pm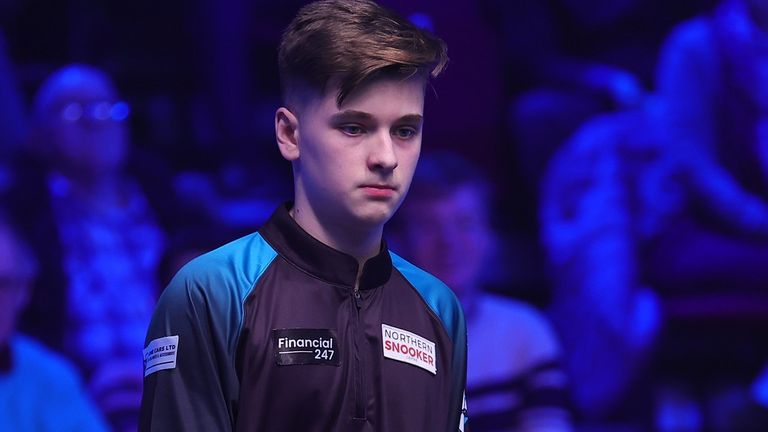 Teenager Riley Powell followed Vladislav Gradinari as the second 14-year-old to make round two of the one-frame BetVictor Snooker Shoot Out in Leicester with victory over world No 8 Kyren Wilson.
On Wednesday, Moldovan teenager Gradinari became the youngest player to win a televised match when he defeated three-time women's world champion Ng On Yee.
Powell continued the trend at the Morningside Arena as he dispatched Wilson, a five-time ranking event winner, by a score of 41-31 in the quickfire competition.
"That was amazing, the best event I have played in," said Welsh teenager Powell, who is two months older than Gradinari and turns 15 in August.
"The crowd were so good. I had a couple of early mistakes but then got back into it. I just tried to enjoy the occasion and I loved every bit of it."
Powell, from Tredegar in South Wales, practises with the likes of former world champion Mark Williams, Lee Walker and Jackson Page.
"As soon as I started playing snooker I loved it," he said on the World Snooker Tour website.
"Mark Williams has been fantastic with me, I'd like to thank him, Jackson and Lee for all the help they have given me.
"Any practice I can get them with is fabulous, I have learned a lot from them. I want to be world No 1 and world champion."
Gradinari, who is originally from Moldova but lives in Leeds, explained how it is difficult to play snooker in his home country.
"It is not really popular, we have three or four tables in the whole country," the reigning England U14 champion told World Snooker Tour.
"It [the win] feels amazing. I played my best game, at the table I felt calm. At the age of seven, I started playing snooker and we moved here two years ago."
World No 7 and last year's finalist Williams also advanced to round two, after racking up 98 points in his victory over Craig Steadman.
Iran's Hossein Vafaei beat Williams last year but has been knocked out by Shaun Murphy.
Elsewhere on Thursday, amateur Michael Holt, who won the event in 2020 while on the pro tour, made the highest break so far with 116 in his win over Lei Peifan.
Dominic Dale and Matthew Stevens contested the first 'blue-ball shoot out' of this year's competition, having finished tied at 49-49.
Dale went on to edge out former Masters and UK champion Stevens to progress into the second round.