UK Championship snooker: In-form Ding Junhui eliminated by Ricky Walden in York
Ding Junhui's bid for a fourth straight ranking title was ended by Ricky Walden in the last 16 of the UK Championship.
Last Updated: 04/12/13 6:58pm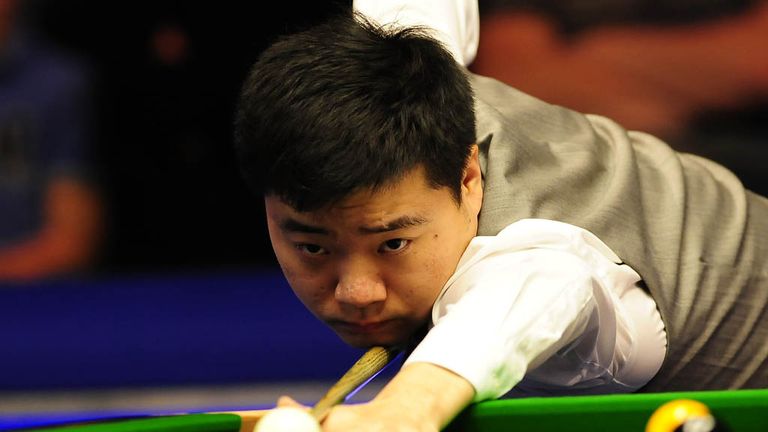 Ding had won the Shanghai Masters, the Indian Open and the International Championship heading into the tournament in York with a historic victory in his sights.
Winning the title at the Barbican Centre would have brought him the longest win of ranking victories since Stephen Hendry's five in 1990.
But Walden pulled out a hard-fought success after a tense finish to the 10th and final frame.
Meanwhile, Stuart Bingham enjoyed an easier time on the other table, beating Irish surprise package David Morris 6-1.
Response
Ding responded to losing the first frame with a break of 63 to level, but trailed 3-1 at the interval after an equal break from Walden.
The Chinese player came back to 3-3, making 76 in the first frame back, but Walden won the seventh after potting a superb black.
He moved 5-3 clear before Ding pulled one back with a 135 and the next lasted more than 50 minutes, coming down to a battle on the pink.
Walden was resigned to a final-frame shootout after leaving the ball over a pocket, but Ding amazingly missed the chance and left an equally straightforward one which Walden took.
"It was pretty tense towards the end, we both had a couple of chances to win that frame," Walden said.
"I was sat in my chair ready for a decider, thinking, 'I can't believe I've messed this one up'. I got a bit of luck there, to be fair, but thankfully today was my day."
Trump toppled
Mark Allen came from 3-1 and 4-2 down to beat world number four and fellow left-hander Trump 6-4 - in a performance that left the young Bristolian fuming.
"It just turned into a bit of a club game, to be honest," said Trump. "It's frustrating because I felt like so far, I've played the best snooker in the whole tournament."
Allen agreed with Trump's assessment and said: "I don't know how I've won that game, to be honest.
"I was really poor from start to finish, but one of my qualities is that I don't give up. I'm pretty proud of myself for coming back from 4-2, even though Judd let me off the hook."
Reigning champion Mark Selby had a low-key 6-2 win over Graeme Dott.
Dott's defeat ended his hopes of qualifying for next month's Masters, meaning Joe Perry's place is assured ahead of his last-16 clash with close friend Neil Robertson.