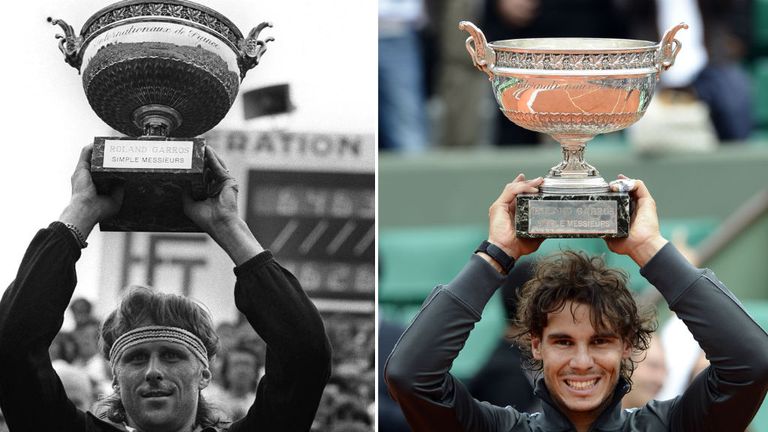 Rafael Nadal is without doubt the greatest clay-court player of all time after winning an unprecedented nine French Open singles titles.
The Spaniard is three clear of Bjorn Borg and returns to Roland Garros for the 2015 tournament with a career win-loss record on clay of 335-29. That compares to Borg's 245-39.
While we can drool over Nadal's ability on the red stuff, now also seems a good time to look back at some of those who have ruled the red dirt in days gone by.
Bjorn Borg
Wth six French Open titles, only Borg can compare to Nadal. To win six of the eight tournaments staged between 1974 and 1981 was phenomenal, although his ability to back it up at Wimbledon so often a few weeks later is arguably an even greater achievement. The 'Iceman' earned his nickname with his total focus on the courts of Roland Garros - he was prepared to trade all day from the back of the court if he had to. In Britain, Borg is best remembered for lifting that coveted gold cup so regularly at the All England Club in July. That makes him one of that event's greats, but he won more titles here. 
Mats Wilander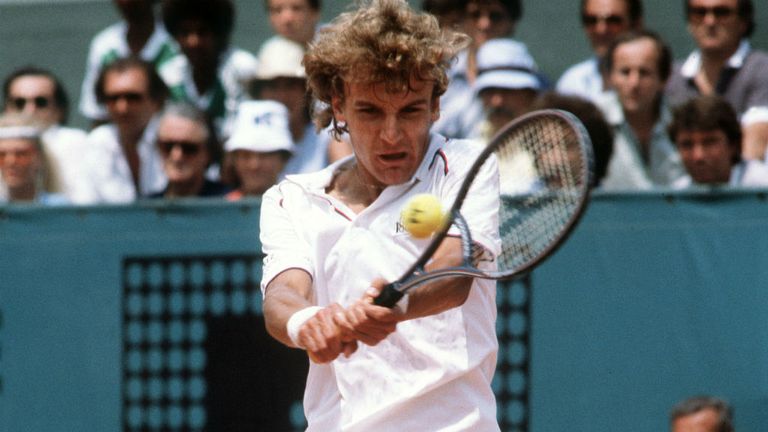 The stat reeled out most often about Wilander is that he won three of the four Grand Slams on offer in 1988, only missing out at Wimbledon. But perhaps the most remarkable aspect of the Swede's career was his win in Paris back in 1982. He arrived unseeded, but as the reigning junior champion some knew of his potential. What people didn't expect was him becoming the youngest-ever Grand Slam winner (a record broken three years later at Wimbledon by Boris Becker) with Ivan Lendl and Guillermo Vilas among his victims. Despite the final against Vilas featuring just four sets, with one of those being won 6-0, it had been the longest in the tournament's history, at four hours and 42 minutes, until Fabrice Santoro beat Arnaud Clement in a fourth-round match in 2004 which lasted six hours and 33 minutes. Wilander also won in the French in 1985.
Ivan Lendl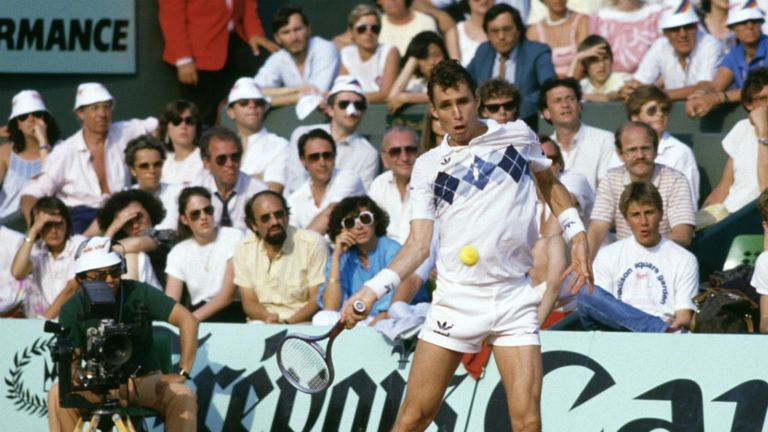 Andy Murray's former coach was never the most popular of players, but there is surely no doubting his clay-court pedigree. He dominated the French Open in the mid-80s, winning three titles in four years from 1984 to 1987. He may well have won more but famously opted to skip the event in 1990 to prepare for Wimbledon - the one Grand Slam that would elude him. His robotic nature mirrored Borg's professionalism but it was also an aspect which failed to endear him to the fans. Another was his constant tapping of his shoes. It was to clear the clay from his soles but he regularly carried on the routine on Wimbledon's grass too. Plenty of his critics were happy to see him beaten in Paris by a teenage Michael Chang in 1989, the American cracking Lendl's renowned focus with his famous underarm serve before going on to become the youngest-ever Grand Slam winner at the age of 17 years and three months.
Sergi Bruguera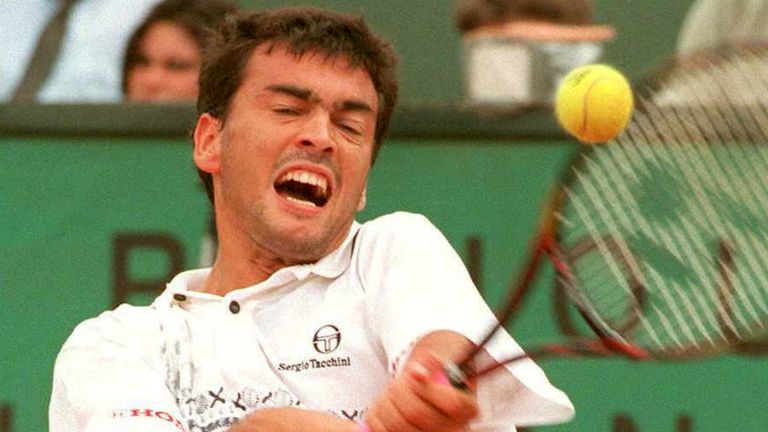 Some will argue his position among Spain's great dirtballers; others will claim he simply took advantage of a slip in standards. Jim Courier's best days were numbered, Pete Sampras was stifled by the clay, while Andre Agassi had yet to put his wild days behind him. But it's hard to argue with back-to-back French Open wins in 1993 and 1994, while Bruguera also made the final in 1997 after returning to the tour following a serious ankle injury. Hardly a spectacular player, what he did know was how to win on clay. Thirteen of his 14 ATP titles came on the surface.
Thomas Muster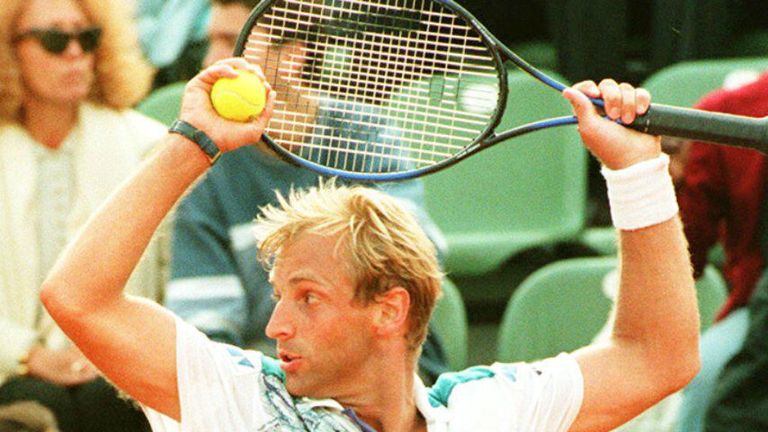 With just one French Open title to his name, many of you will doubt Muster's credentials to appear on this list. Having won in Paris in 1995, the Austrian, one of the grittiest of players, looked set to rule the roost for years to come. He failed to do so, but his achievements on the rest of the ATP circuit merit at least some sort of mention. In 1995, Muster racked up a 65-2 win-loss record on clay - the sort of figures not even Nadal has managed in recent years. He backed that up with a 46-3 record the following season but suffered the most unlikely of defeats to Michael Stich at Roland Garros. He ended his career with 44 ATP titles, 40 of which were captured on clay. Despite his limited success on other surfaces, Muster did manage to reach the world number one spot - something that riled the tennis purists.
Gustavo Kuerten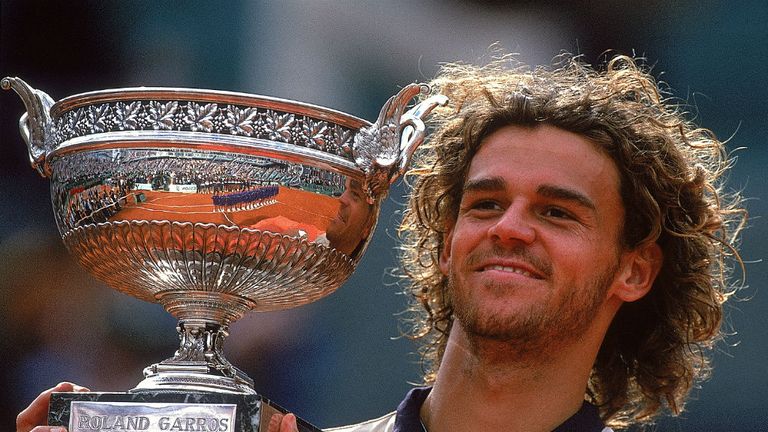 Arguably the most popular of champions at Roland Garros, he was simply loved by the Parisian crowd. The feeling was mutual. A memorable image of Kuerten's Roland Garros reign was him drawing a heart in the clay to symbolise his love for the tournament and its fans. Like Wilander 15 years before, Kuerten's first win of three came when he was unseeded in 1997. Ranked just 66 in the world at the time, he took out three former champions (Muster, Yevgeny Kafelnikov and Bruguera) en route to the title. After winning again in 2000, the third of his triumphs came after he saved match point on a bad day at the office against little-known American Michael Russell in the last 16 in 2001. It's widely regarded that he would have added more titles but for hip surgery, which meant he was never the same player. When he finally opted for retirement in 2008, it was no surprise he chose Roland Garros for his last-ever match.
Guillermo Vilas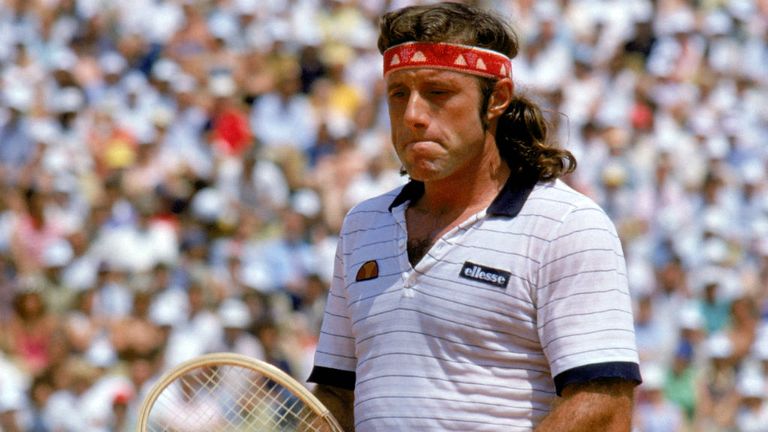 You will likely spot the Argentine in the stands of Court Philippe Chatrier over the next fortnight and he deserves his club membership, for he is the game's all-time title leader on clay, having racked up no fewer than 49 titles on the surface. Nadal currently has 46. However, just one came at the game's biggest claycourt tournament, Vilas crushing Brian Gottfried 6-0 6-3 6-0 in one of the most one-sided Grand Slam finals in history in 1977. He made three other finals but was beaten on each occasion, twice losing to Borg (1975 and 1978) and then being upset by the unseeded Wilander in 1982.