Rafa Nadal speaks to Sky about his tough year, but won't leave his uncle Toni
Last Updated: 28/09/15 2:21pm
Former world No 1 Rafa Nadal says he does not feel the need to get a 'super coach' to get back to his very best following the worst year of his trophy-laden career.
The 14-time Grand Slam champion has endured a tough 2015 having suffered from anxiety at the start of the season and then subsequently failed to get past the quarter-finals of any of the four showpiece major tournaments - ending his 10-year run of winning at least one major singles title.
Nadal lost in the quarter-finals of the Australian Open to Czech Tomas Berdych, the last eight at the French Open to world No 1 Novak Djokovic, before he was eliminated in the second round of Wimbledon by German qualifier Dustin Brown.
He then let a two-set lead slip for the first time in 151 matches at a Grand Slam to lose to Italy's Fabio Fognini at the US Open.
Despite claiming ATP Tour titles in Buenos Aires, Stuttgart and Hamburg, the Spaniard does not feel the need to abandon his uncle and coach Toni Nadal in order to regain his former glories.
He told Sky's Jacquie Beltrao: "I'm critical with myself and I [have] got used to not find excuses outside of myself so I know when the things are not going well is myself - it's not with the people who are around me.
"I have very good people around me. I'm having a great career with all those people around me so if everything was great with those people for [all] those years, they are not getting worse - that's my problem.
"I am going to be back to my best level with that team, I am sure of that. I believe in them and I believe that they believe in me. We hope to be ready for next year.
The nine-time French Open champion says he has the belief he can still add to his 14 major titles: "I don't know if I can win another Grand Slam, I don't know if I can do it, but I believe I can do it.
"If that happens - and I believe that's going to happen soon because I feel much better - I'm going to find my level of tennis."
The 29-year-old has been one of the game's most popular and successful stars, but feels he needs a big effort to get back among the best.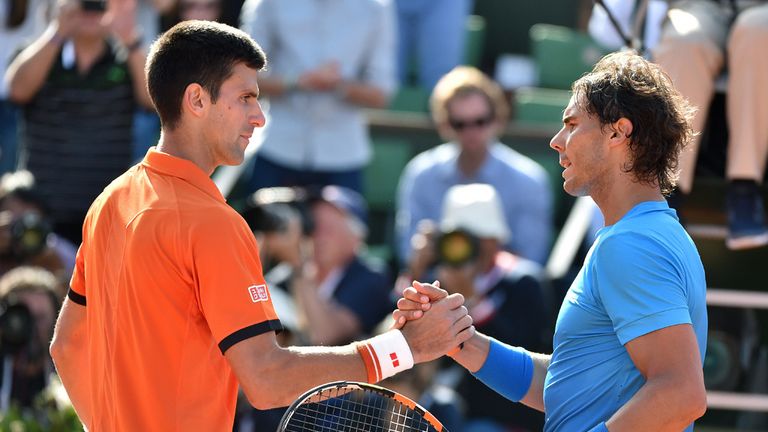 "Especially during the first six months I was feeling very tired - every time I was playing and practising.
"Being honest with you, I suffered this year - especially for those months. [But] the last couple of months I'm enjoying again and I'm not worried about my tennis level.
"I have to change, yes. I have to change one very important thing - be the player I was one year ago.
"That's the most important change. I get used to not finding excuses outside of myself - so I know when things are not going well it's myself, not the people around [me]."
Sky's Jacquie Beltrao was speaking to Nadal in his hometown of Manacor on Mallorca where he is currently developing a large tennis academy - which is set to open its doors in July 2016.
The £15m facility will have 26 courts, a sports museum, as well as classrooms and accommodation for 140 international students to develop their game as they continue their studies.
You can watch Nadal in action at the China Open, which is live from Monday 5 October, on Sky Sports 3 HD.