Davis Cup: How Great Britain went from no-hopers to champions
We look back at Great Britain's path which has taken them from Davis Cup no-hopers to champions for the first time in 79 years.
Last Updated: 03/03/16 12:39am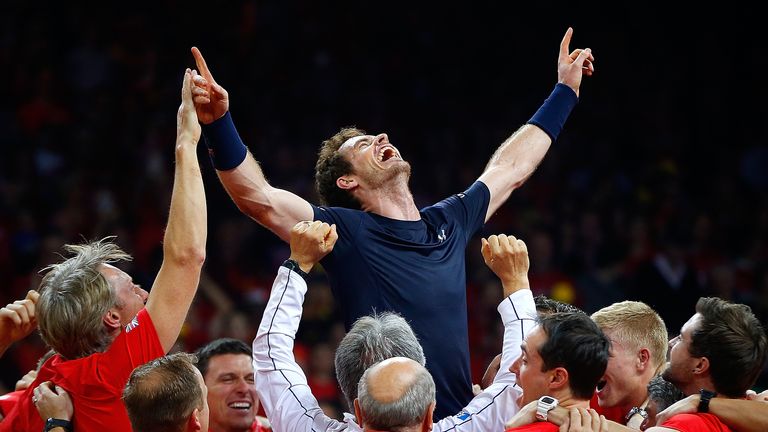 When Leon Smith took over as Great Britain's Davis Cup captain in 2010, to say he had a job on his hands was something of an understatement.
Their best player wasn't playing and his side were staring at possible relegation to the deepest depths of the competition's convoluted structure.
Five years on and Smith has led GB to the title - winning 12 of his 14 ties at the helm. It is the quickest rise to glory in the competition's history.
Here's a look back at the journey Smith's team took...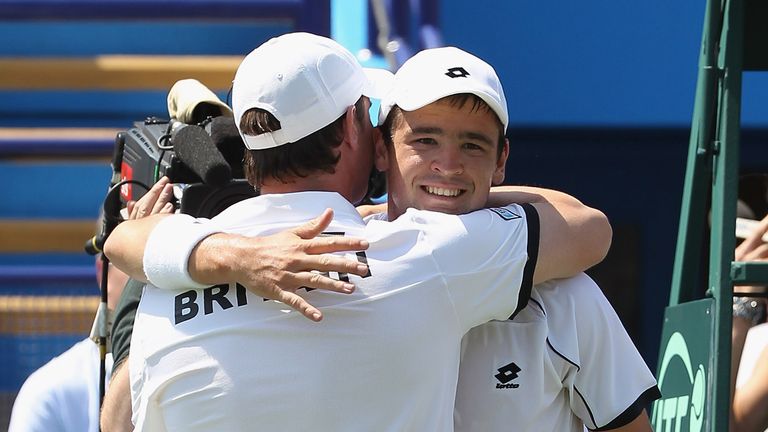 Beat Turkey 5-0 (Europa/Africa Group II relegation play-off, July 2010, Eastbourne, outdoor grass)
Nadir is usually the word most associated with this tie; defeat would have sent GB into the lowest tier of the Davis Cup. However, Leon Smith had replaced John Lloyd as captain and the new era began in stress-free fashion. Only one set was lost all weekend as the team of James Ward, Jamie Baker, Colin Fleming and Ken Skupski eased to victory.
Beat Tunisia 4-1 (Europe/Africa Group II first round, March 2011, Bolton, indoor hard)
This closely-contested tie was arguably the making of James Ward as a Davis Cup player. The then-24-year-old won his opening-day singles to level the tie and clinched victory for his side with an epic five-set victory over Tunisian number one Malek Jaziri on the Sunday, finally winning 8-6 in the fifth.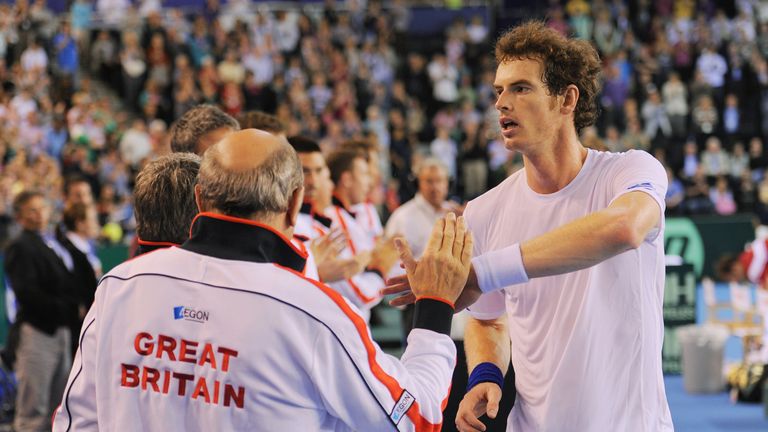 Beat Luxembourg 4-1 (Europe/Africa Zone II second round, July 2011, Glasgow, indoor hard)
In what was to be the first of four consecutive ties at Glasgow's Braehead Arena, it was perhaps only right that Andy Murray should play a leading role. Convinced to return to the team by close friend Leon Smith, the Scot, not for the last time, won three rubbers, all without dropping a set. The first was a remarkable, if somewhat excruciating, 6-0 6-0 6-0 victory over Laurent Bram, brought out of retirement for the tie. A doubles win with brother Jamie followed before Gilles Muller, who had put the visitors 1-0 up on day one, was seen off to clinch the tie.
Beat Hungary 5-0 (Europe/Africa Zone II promotion play-off, September 2011, Glasgow, indoor hard)
A third win of 2011 saw Great Britain promoted out of the Davis Cup's 'third division' - hardly a surprise for a team boasting a member of the world's top five. Andy Murray again posted a straight-sets win on day one and with James Ward a four-set winner, the hosts were in full control heading into the doubles which Colin Fleming and Ross Hutchins claimed in straights. However, it was to be Murray's last tie for two years.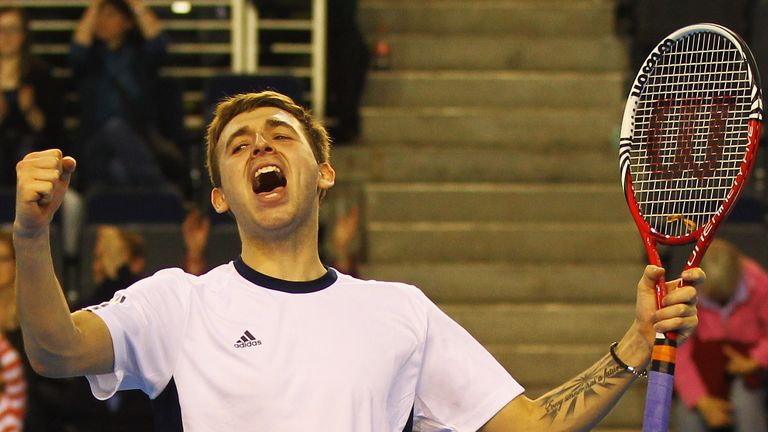 Beat Slovakia 3-2 (Europe/Africa Zone I first round, February 2012, Glasgow, indoor hard)
This one will go down among British fans as Dan Evans' tie. If Smith's first 18 months in charge had been plain sailing, everyone knew a Murray-less team was up against it here - indeed Slovakia started as strong favourites. But Evans gave them the perfect start, beating Lukas Lacko in straight sets only for Martin Klizan to defeat James Ward. A doubles triumph for the pairing of Fleming and Hutchins put GB ahead again but a second defeat for Ward sent the tie to the final rubber. Evans thrilled the Glasgow fans in it though. He took the first two sets for the loss of only two games, only for Klizan to level the match. But with GB's hopes seemingly fading fast, Evans responded, winning the final set of the final rubber 6-4.
Lost to Belgium 1-4 (Europe/Africa Zone I second round, April 2012, Glasgow, indoor hard)
Leon Smith's first defeat as captain came against the opponents he and his side faced in the 2015 final. Steve Darcis, Rueben Bemelmans and David Goffin were familiar foes in Ghent - all three played in this tie, one they dominated as GB finally met their match. Dan Evans was unable to reproduce his Slovakia heroics as he and Josh Goodall both lost on the first day. Victory for Fleming and Hutchins in the doubles gave them hope only for Goffin to seal the tie by beating Goodall in straight sets. GB's defeat condemned them to another season in the second tier of the competition.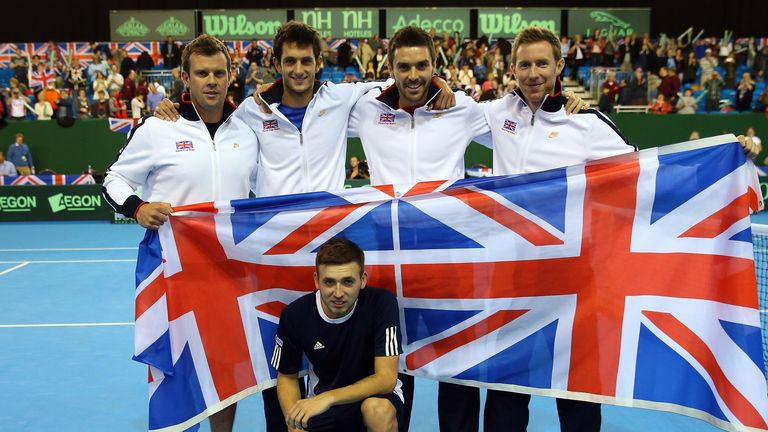 Beat Russia 3-2 (Europe/Africa Group I second round, April 2013, Coventry, indoor hard)
Comebacks from 2-0 down are pretty rare in Davis Cup but that's exactly the rabbit GB pulled out of the hat in Coventry against a team they had been expected to succumb to. When Dan Evans and James Ward both suffered agonising five-set defeats on the opening day of the tie, it seemed impossible to see how GB could fight back. But Colin Fleming and Jonny Marray got the ball rolling in the doubles before some remarkable events unfolded on the final day. Ward somehow managed to recover from the mental blow of blowing a two-set lead in his first rubber to defeat Dimitry Tursunov in five sets before Evans grasped the lifeline with both hands. The Midlander produced some excellent tennis to brush Evgeny Donskoy aside in straight sets and complete a stunning fightback.
Beat Croatia 4-1 (World Group play-off, September 2013, Umag, outdoor clay)
When Andy Murray opted out of representing his country, he did so saying it was time for others to step up to the plate. That is exactly what happened with the likes of Ward and Evans coming to the fore and with the team now just a win away from returning to the World Group, Murray made himself available again. His presence made GB favourites against a side without both Marin Cilic and Ivo Karlovic and he duly delivered, winning both of his singles and teaming up with Colin Fleming to claim the crucial doubles point. After a six-year absence, Great Britain were back in the World Group.
Beat USA 3-1 (World Group first round, January/February 2014, San Diego, outdoor clay)
With the quality of opposition having now risen considerably, it was becoming pretty clear what was required for Great Britain to be winning ties in the World Group - something they had not done since 1986. Andy Murray had to win his two singles and team up with someone else to add victory in the doubles. At least that was the theory. As it turned out, Murray wasn't even required to play doubles thanks to an upset win for James Ward over Sam Querrey, a player ranked 126 places higher, in a Californian baseball stadium. Trailing by two sets to one and 4-2, Ward turned the match around in stunning fashion, winning 10 of the last 11 games. Querrey's defeat left GB needing just one more point - which they duly got when Murray won his reverse singles - and critics questioning the Americans' choice of a claycourt on which to play the tie.
Lost to Italy 2-3 (World Group quarter-final, April 2014, Naples, outdoor clay)
GB had survived the claycourt test in the USA but they knew things would be even tougher on Italian soil and so it proved. They only came up just short though as they took a 2-1 lead into the final day following doubles victory for Andy Murray and Colin Fleming. Murray was unable to claim the third point required though, coming up against an inspired Fabio Fognini, who produced a majestic claycourt performance as he whipped the Neopolitan crowd into a frenzy. Italy sensed that by inflicting what was only Murray's second Davis Cup singles defeat, their job was almost done and they were right. James Ward could put up little resistance against Andreas Seppi in the final rubber and the game was up.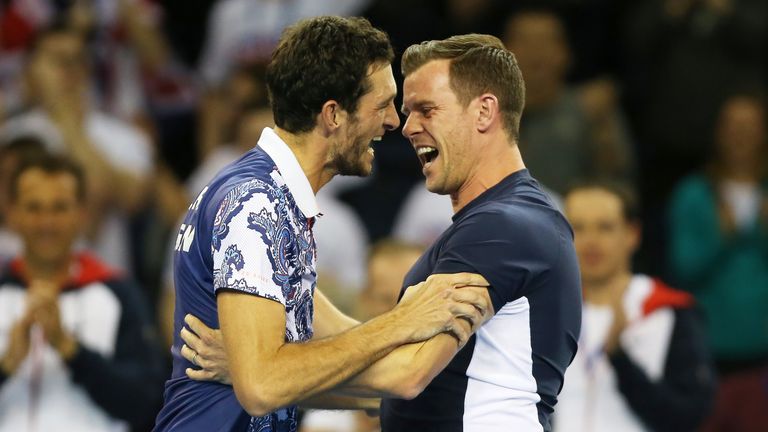 Beat USA 3-2 (World Group first round, March 2015, Glasgow, indoor hard)
Talk about déjà vu. Thirteen months on from his upset of an American, James Ward was at it again. This time he claimed the win of his career by taking down John Isner, recovering from a two-set deficit to win 15-13 in the final set. Captain Leon Smith described it as a "phenomenal result" before adding: "The mental resilience that he showed is as good as I've seen from any of the players since I've been doing this," Andy Murray, also a Friday winner, was subsequently not required for doubles duty, and was perfectly rested for his tie-clinching victory over Isner on the Sunday.
Beat France 3-1 (World Group quarter-final, July 2015, London, outdoor grass)
The week after Wimbledon, Novak Djokovic decided not to play Davis Cup and ante-post favourites Serbia were eliminated from the competition. Had a tired Andy Murray followed suit, GB would have stood little chance against a strong French side but there was never any suggestion the Scot would miss this tie and it soon turned into Murray against France. Make that the Murrays for Andy teamed up with Jamie for a vital doubles rubber win. The younger sibling clinched the tie the following day but not without some serious drama. He looked all at sea, producing error after error against Gilles Simon for the best part of two sets. However, from a set and a break down, Murray rallied, forcing a tie-break in which he trailed before levelling the match. Simon knew he'd blown his chance to land a knockout blow and was then blown away as GB reached their first semi-final for 24 years.
Beat Australia 3-2 (World Group semi-final, September 2015, Glasgow, indoor hard)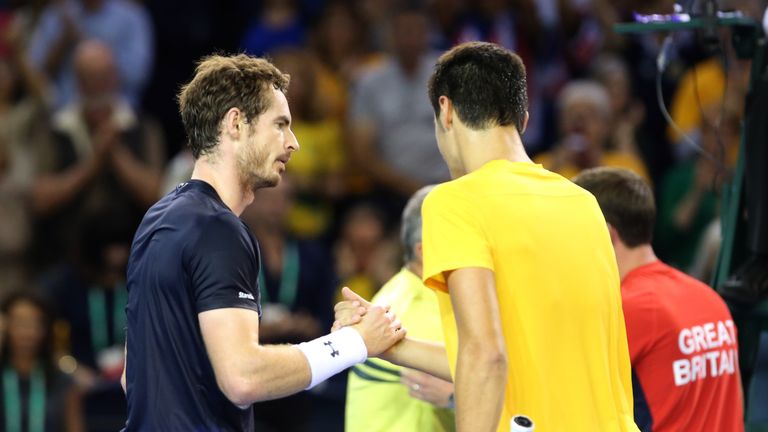 The Andy Murray Show returned for another series in September as he this time put Australia to the sword. This time his singles wins were routine - it was the doubles where the drama lay. Andy and brother Jamie won five straight games to turn around the third set and claim a two-sets-to-one lead. They then failed to serve out the match in the fourth before missing match point in the ensuing tie-break. And even when they led 3-0 in the decider, the Aussies fought back before finally GB prevailed in a four-hour classic. Murray took Bernard Tomic apart the following day and, from the brink of relegation to the competition's bottom tier, Leon Smith had led the team to its first Davis Cup final in 37 years.
Beat Belgium 3-1 (World Group final, November 2015, Ghent, indoor clay)
The fastest rise from the depths of the competition to champions in the history of the Davis Cup was completed, largely thanks to that man Murray. Having already won on the opening day and in doubles with brother Jamie, the Scot was in outstanding form as he saw off David Goffin in the fourth rubber to clinch GB's first trophy in 79 years. It might have been all over sooner had Kyle Edmund converted a two-set lead against Goffin on day one, although it seemed fitting that Murray was the man to seal the success. In beating Goffin he became the first man to win 11 live rubbers in a World Group season and remain unbeaten while doing so.