Angelique Kerber usurped Serena Williams to end 2016 as world No 1
Here's how she did it...
By Claire Thomas
Last Updated: 03/11/16 6:44am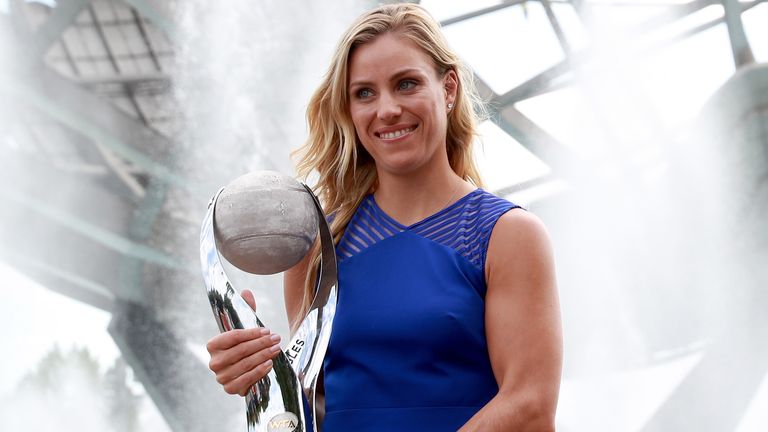 Double Grand Slam champion Angelique Kerber has had a year to remember on the WTA Tour.
In winning the season-ending WTA Tour Finals in Singapore last week, Dominika Cibulkova didn't just beat Kerber: she stunned the world No 1, in an 'upset' of a final which derailed what would have been a fairy tale ending to the German's majestic progress this season.
It is testament to Kerber's meteoric rise that the results sent such shock waves across the tennis community, for Cibulkova - a Grand Slam finalist and three time WTA event winner this year - is no easy opponent.
The holder of both major hard court trophies will have desperately wanted that one final bauble - a Tour Finals crown to round off a season during which she has amassed silverware and rankings points, but was simply outplayed by a ferocious opponent on the night, her dreams dashed in little over an hour - 3-6 4-6.
Ever level-headed, Kerber was able to contextualise the loss within an imperious campaign.
"The first special moment was in Australia when I won my first Grand Slam - a feeling I will never forget. I had a lot of great moments this year."
The Wimbledon finalist's emergence hasn't been entirely unheralded; Kerber has finished the previous four seasons in the top ten, and announced her presence on the global stage in 2011 with a Flushing Meadows final appearance.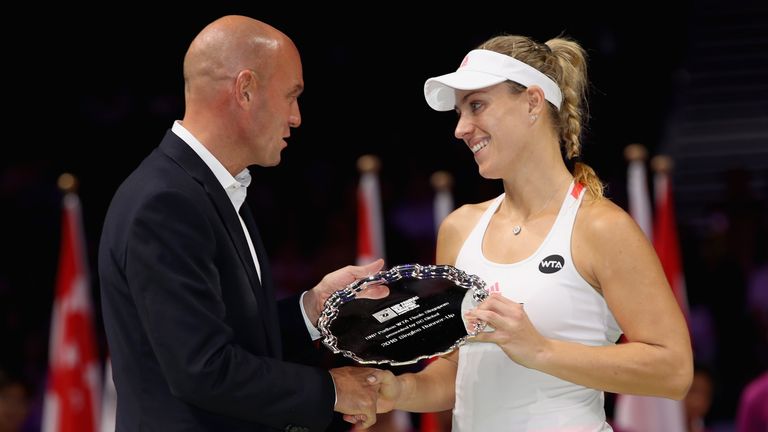 It has been this year, however, that she has developed a game with so few chinks that she is a threat on every surface (bar clay, perhaps), and the necessary composure to bear the mantle of top seed.
"It's completely different feeling right now," she said after the Singapore final. "Now I know how to go out there with all the pressures I have on my shoulders. I know how to play and how to focus on what I'm doing on the court."
"It doesn't matter who I'm playing or like what the score is or how the situation is," she added. "I think I learned a lot in the last few months. Doesn't matter if it's the first or last round, I'm just going out there to play my game."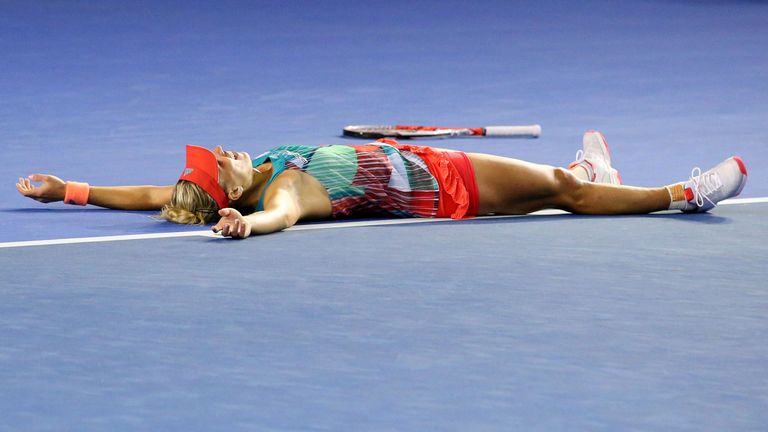 En route to a full house of round robin victories at the Tour Finals, making short work of Madison Keys, Kerber was suddenly aware of the tennis royalty courtside.
"I just looked once over there, and all the great legends and champions, sitting there," Kerber said of the moment she spied Chris Evert, Martina Navratilova and Monica Seles.
"Of course it's a great feeling that I'm on court and they are watching me. Now I can say I am one of those players that won Grand Slams and being the No. 1 player in the world."
Very few players could attract such legends of the sport, but - looking back upon Kerber's season - the star billing she can now demand is entirely justified.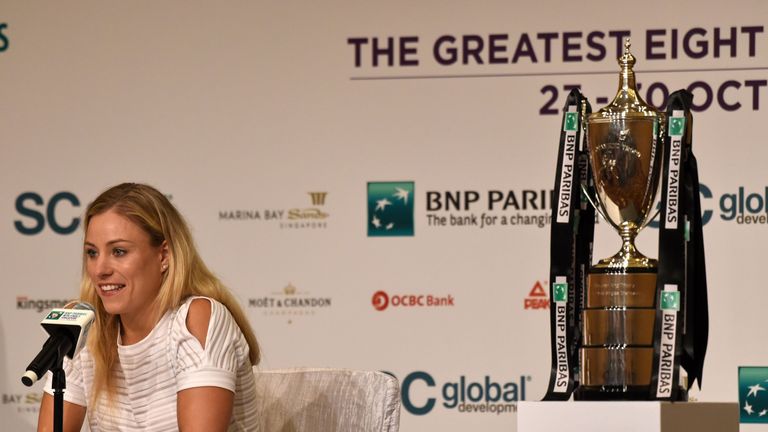 Here, we take a look back over the rise of the game's new star:
Australian Open
It was an inauspicious start in Melbourne for Kerber, who was forced to come back from a match point down against Misaki Doi in the first round. Once she hit her stride, however, it was a march to victory for the seventh seed, who won the next five rounds in straight sets, including taking the notable scalp of former world No 1 Victoria Azarenka.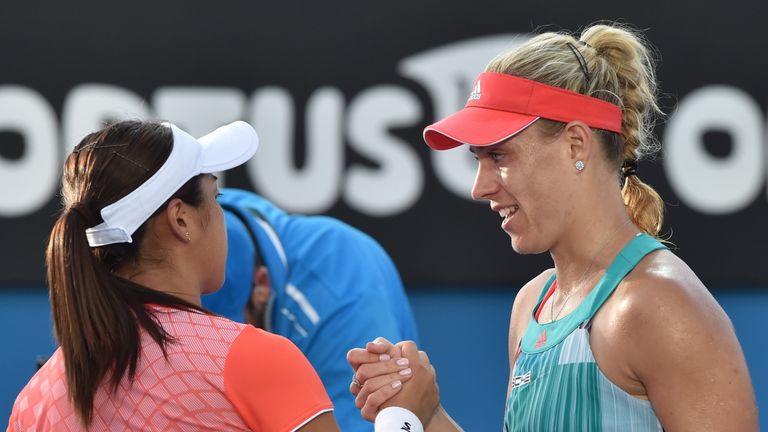 Serena Williams, in supreme form, was considered an insurmountable obstacle, but the first-time Grand Slam finalist produced a masterclass in shot making as she toppled one of the game's all-time greats 6-4 3-6 6-4. 
Her victory was the first major title by a German since 1999, and earned a career-high world ranking of No 2.
French Open
One to forget for Kerber. 
A crippling bout of winner's lurgy afflicted the latest admission into the 'Grand Slam Holders' Club', and a series of first round exits followed Melbourne, most notably at Roland Garros, where Kiki Bertens capitalised upon her relative discomfort on the red surface.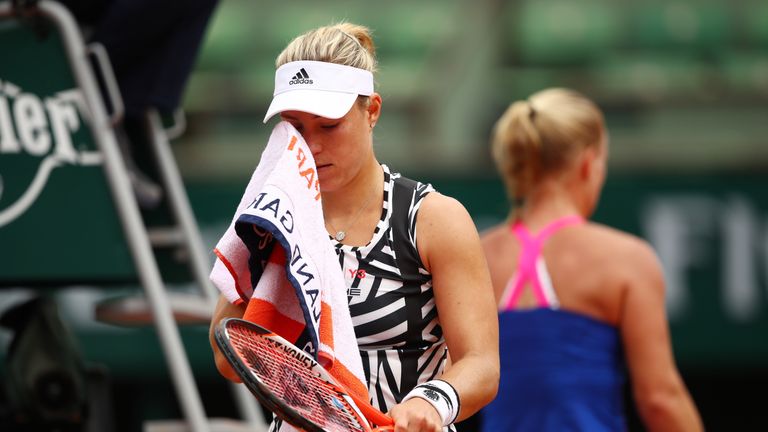 Wimbledon
Kerber reached the final without dropping a set - brushing aside Laura Robson, Misaki Doi, Simona Halep, and Venus Williams before appearing in an Australian Open rematch, against Serena Williams.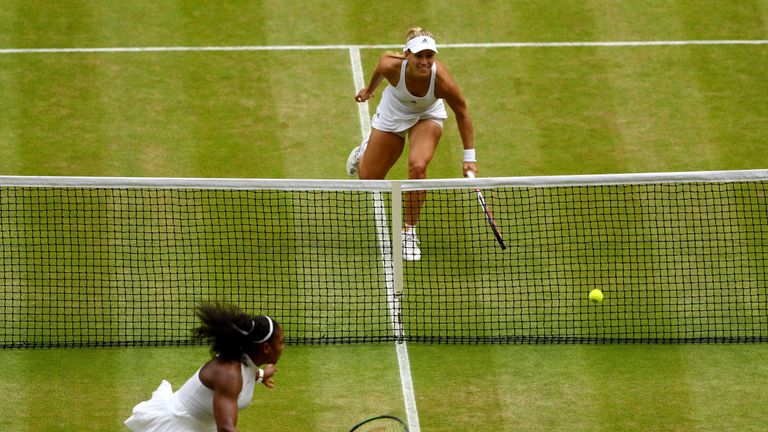 This time, it was the American who triumphed, in a close 7-5 6-3 encounter on Centre Court. Kerber hardly set a foot wrong, but Williams seized control of each of the crucial points with her unparalleled serve and wealth of finals' experience.
Rio Olympics
Kerber had long dreamt of an Olympic medal, and progressed smoothly through the draw, notching victories against Jo Konta, Eugenie Bouchard, and Madison Keys, before an electric, three-set final saw a dream come true.
Unfortunately for Kerber, it was the dream of Monica Puig, the unseeded 22-year-old from Puerto Rico.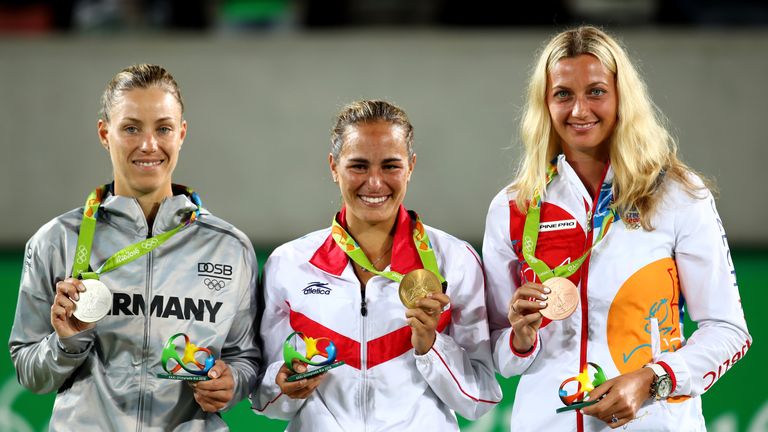 Ranked 34th in the world, the usurper's 6-4 4-6 6-1 victory was her country's first of any colour by a woman, and was a fine display of ball striking - even if she required six saved break points and four match points to clinch gold.
US Open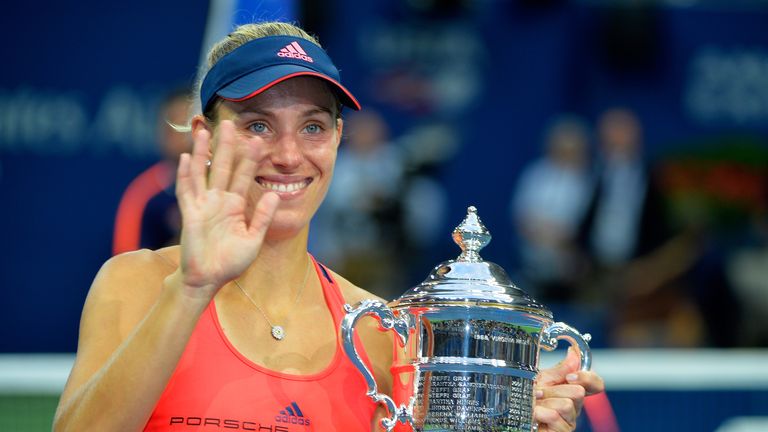 A doubly significant tournament for the German, who had - before even claiming the title - secured the world No 1 ranking for the first time, after Williams lost her semi-final encounter with Karolina Pliskova.
The final itself was a thrilling 6-3 4-6 6-4 battle between Kerber - in her third Grand Slam final of the season - and Pliskova - who arrived on an 11-match winning streak, including against Kerber at the previous month's Cincinnati Open.
Experience was the order of the day, as the eventual champion won what devolved into a battle of nerves in the final set, and avoided the inconsistencies riddling her opponent's game; Pliskova made 47 unforced errors. 
WTA Tour Finals
Living up to her billing as first seed in Singapore, Kerber dropped just one set en route to her final with Cibulkova, where she was driven from the court by a blistering salvo of groundstrokes.
A disappointing end, perhaps, to a remarkable season, but this certainly won't be her last Tour Finals.
In Singapore, Kerber was delighted to be watched by the greats of the game. If she continues to play with such consistency and flair, one can imagine future players enthusing about the presence of the great Angelique Kerber in the stands.
Angelique Kerber's stellar season
| | |
| --- | --- |
| Event | Result |
| Australian Open | Champion |
| French Open | Lost R1 |
| Wimbledon | Runner up |
| Rio Olympics | Runner up |
| US Open | Champion |
| WTA Tour Finals | Runner up |