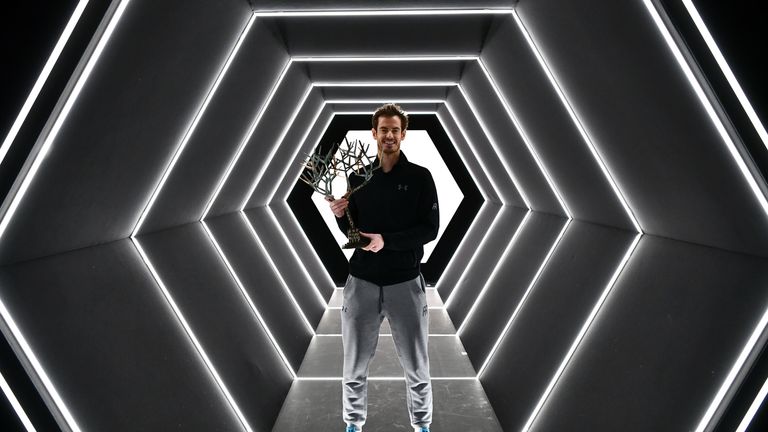 To mark his remarkable rise to the top, Sky Sports and HPE have combined to look at Andy Murray's amazing year and how he did it.
From the courts of Dunblane to the best player on planet tennis, Murray rubber-stamped his remarkable rise with a ninth title of the season at the ATP World Tour Finals, that confirmed his position as the number one ranked player in the world.
As recently as June, when Novak Djokovic became the first man in 47 years to hold all four major titles at the same time, the Serbian's lead appeared unassailable.
But Murray has been imperious in the months since, winning Wimbledon, Olympic gold, six other titles and losing just three matches.
He is reaping richly-deserved rewards for an outstanding end to 2016 and has set his sights of remaining at the very top of the game.
Murray has recorded a season's best tally of 78 victories and ended the year on a 24-match winning streak.
His form over the second half of the season has strengthened claims that Murray is now the best player in the world - and he has the ranking to prove it. The new challenge is whether he can command a period of dominance and achieve the longevity that has made his rivals legends of the game.
But Murray's story is a long one that started in the tortuous winter months of his training camp in Miami and began with another Australian Open final...
More Aussie anguish
With his wife, Kim, expecting the arrival of the couple's first child, Murray's mind was sure to be elsewhere. A renowned family man having spent his winter training in South Florida, he went to the Aussie Open with no pre-tournament practice other than an exhibition but reached a fifth final in Australia.
He had dropped two sets on route to the semi-final, where he faced Milos Raonic, and, but for injury, the Canadian may have turned a 2-1 advantage into victory. Murray rallied to set up another Grand Slam showdown with Djokovic.
The Serb claimed a fifth crown in Melbourne and a tearful Murray was left to reflect on an encouraging start, a flight home and the prospect of becoming a father.
In his speech, he said: "And to my wife Kim, I'm sure she's going to be watching back home just now. You've been a legend the last few weeks. Thank you for your support and I'll be on the next flight home."
2016 Most ATP singles titles
| | | | | |
| --- | --- | --- | --- | --- |
| | Total | Gland Slam | Olympics | Masters |
| Andy Murray | 9 | 1 | 1 | 3 |
| Novak Djokovic | 7 | 2 | - | 4 |
| Stan Wawrinka | 4 | 1 | - | - |
| Dominic Thiem | 4 | - | - | - |
| Nick Kyrgios | 3 | - | - | - |
Slow start
Murray took an extended break to enjoy the birth of his daughter, Sophia, and he resurfaced to win his two singles rubbers in Great Britain's Davis Cup match against Japan after a month off.
The following week, he headed to America for the traditional start to the Masters 1000 Series, with back-to-back tournaments in California and Florida.
Indian Wells has been a friend to Murray with just one final to his name, but a shock third-round exit to world No 53 Federico Delbonis was not on the cards - and neither was a loss to Grigor Dimitrov at the same stage in Miami, a tournament Murray has won twice before.
Murray then began to show signs of form with a strong start to his clay-court season, reaching the semi-final in Monte Carlo before a defeat to Rafael Nadal, who went on to claim his ninth title at the tournament.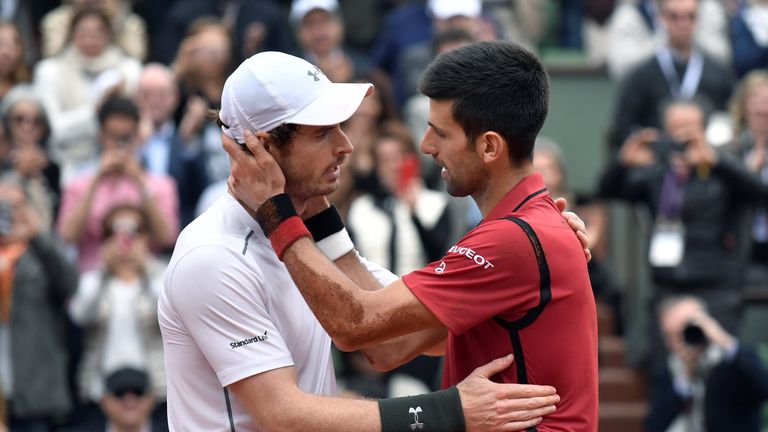 The Scot made amends in Madrid a few weeks later, beating Nadal in the last four before a three-set defeat to Djokovic in the final.
At the Rome Masters the following week and without a coach, Murray's golden run was to begin. He eased to another final showdown with Djokovic without dropping a set.
A magnificent match saw Murray claim his first title in the Italian capital with a 6-3 6-3 win over the world No 1 and he would head to Roland Garros and the French Open boosted by a notable win against Djokovic.
After three semi-final appearances in Paris, Murray went on to make a first final, but standing in his way again would be Djokovic. Murray, inspired by his Rome efforts, took the first set.
However, with Djokovic aiming for a career Grand Slam, Murray was to slump to another defeat to the Serb who claimed his 12th major title and would hold all four major titles at the same time.
A familiar face
With the grass court season in sight and an impressive clay-court season behind him, Murray was to turn to a familiar face before the Aegon Championships at Queen's Club.
Ivan Lendl returned to the Murray camp. The man who had been in the box when Murray claimed his first and second Grand Slam titles as well as Olympic gold would take up a familiar role alongside Murray for the Grand Slams and training blocks.
The result was instant as Murray claimed his sixth title at Queen's, recovering from a set down to beat Milos Raonic in the final. He headed to Wimbledon with hopes high of a third Grand Slam title.
Grand Slam glory
Straight-sets wins over fellow Brit Liam Broady, Yen Hsun Lu and John Millman at Wimbledon set up a last-16 clash with the enigmatic Nick Kyrgios. The Aussie was dispatched in three uncomplicated sets and an untroubled Murray was into the last eight again, while Djokovic's troubles were to begin with a third-round defeat to Sam Querrey.
Jo-Wilfried Tsonga was the opponent, and when Murray eased into a two-set lead, Britain relaxed. However, Tsonga was inspired and reeled off the next two sets to force a fifth, but Murray kept his cool and got the job done.
A routine win over Tomas Berdych followed and Milos Raonic lay in wait as Murray made an 11th Grand Slam final but for the first time would face an opponent that was not Roger Federer or Novak Djokovic.
The result was emphatic as Murray claimed Grand Slam title No 3 with a 6-4 7-6 7-6 victory.
Golden summer
Murray enjoyed a well-deserved summer off with the break seemingly invigorating the 29-year-old, who rather than slowing down, picked up the pace for what would become the run of his career.
As a fan of team sports, he made no secret of his desire for more Olympic success and having claimed the Olympic men's singles gold medal on Wimbledon's Centre Court at London 2012, he headed to Rio de Janeiro 2016 in spectacular form (one defeat in 24 matches) and confident of a second title.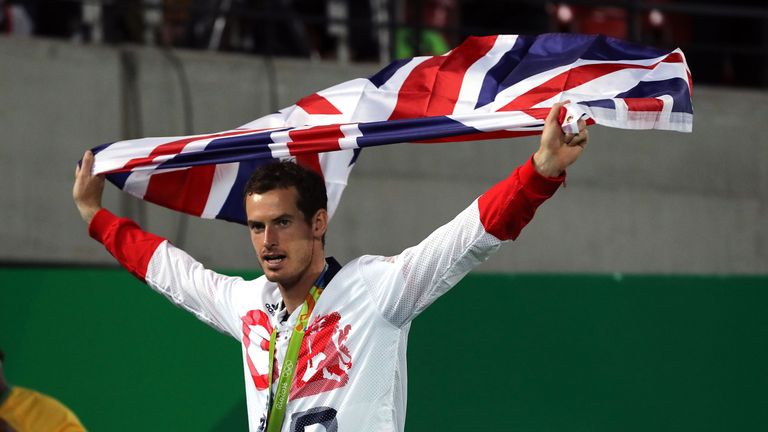 The Games got off to the perfect start when he was selected to be the flag bearer for Team GB at the opening ceremony, and he went on to defend the gold medal
Viktor Troicki, Juan Monaco, Fabio Fognini, Steve Johnson and Kei Nishikori were all dispatched as part of Murray's brilliant run to the final. There, he ran into Juan Martin del Potro, who had beaten world No 1 Djokovic in the first round.
The Argentine proved a tough nut to crack before Murray eventually prevailed in a near four-hour four-set marathon 7-5 4-6 6-2 7-5.
Targeting Novak
Murray v Djokovic 2016
| | | |
| --- | --- | --- |
| Andy Murray | | Novak Djokovic |
| 78-9 | Season Record | 65-9 |
| 9 | Tournament Wins | 7 |
| 2 | Head-to-Head - all finals | 3 |
| 18-3 | Clay Record | 16-2 |
| 12-0 | Grass Record | 2-1 |
| 48-6 | Hard Record | 47-9 |
With a third Grand Slam in the bag and a second Olympic gold around his neck, Murray re-evaluated his goals and set his sights on the seemingly impossible task of overhauling Djokovic at the top of the rankings.
Amazingly, after his draining success in Rio de Janeiro, he was back in action the following week at the Cincinnati Masters, where he progressed to the final without dropping a set before losing to Marin Cilic in the final.
Murray returned to Grand Slam action in New York but he suffered another early exit. His quarter-final defeat to Nishikori meant he had not gone beyond the last eight at Flushing Meadows since his 2012 Grand Slam breakthrough.
After Great Britain's Davis Cup defeat to Argentina, which included a loss as Del Potro gained his revenge, back-to-back titles in Asia took Murray to within striking distance of Djokovic, whose second half of the season did not match the heights of the first.
Murray's Shanghai victory took him to six titles in a year for the first time since 2009, and he added number seven in Vienna with a dominant display to head to the Paris Masters on the back of three successive tournament victories and within striking distance of Djokovic.
When the Serb crashed to a straight-sets defeat to Marin Cilic in the last eight, Murray followed up with victory over Berdych before claiming top spot when Raonic withdrew from their semi-final.
For good measure Murray claimed the title in the French capital and headed to London as the best player in the world.
Both Murray and Djokovic racked up three straight wins in the group stages, Murray encountering a three-and-a-half hour epic against Nishikori along the way was the Serb was showing ominous signs of being back to his very best.
The semi-finals were very different affairs, Djokovic breezed past Nishikori for the loss of a just a couple of games in just over an hour, while Murray saved a match point against Milos Raonic before eventually prevailing in 3hrs 38mins, the longest match in World Tour Finals history.
Was the Djokovic of the first half of the season back, how on earth could Murray gear himself to go again.
The answer was unequivocal as Murray triumphed 6-3 6-4 to claim his first ever title in the season-end event and confirmed his position as the number one player in the world, the challenge now is to build on it.
In much the same way Nadal rose to Federer's dominance, Djokovic to the Spaniard now Murray has to Djokovic.
Does the Serb have it in his locker to rise again, or will a new force emerge. Next year promises to be every bit as fascinating.
Find out more about Hewlett Packard Enterprise data solutions.