Shingo Kunieda has won 22 Grand Slams but no Wimbledon yet
By Gemma-Louise Stevenson
Last Updated: 12/07/18 6:19pm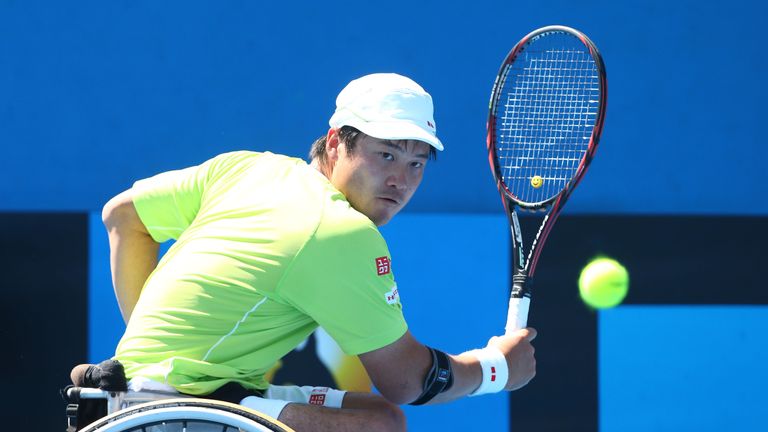 He has got 22 Grand Slam singles titles to his name, is a seven-time ITF World Champion and has spent over 420 weeks and counting at the top of the rankings over the course of his career.
It's no wonder that Japan's Shingo Kunieda is considered a legend within the sport.
And this season has seen him storm back into form, after a change in coaching team who helped him look at the game with fresh tactics, and claim every Grand Slam singles title on offer so far in 2018.
But despite all of his achievements, there is one Slam where he is yet to get his name on a trophy, Wimbledon, something he is hoping to change when he takes to the court at this year's Championships.
"It's the last one to get for me," Kunieda told Sky Sports. "And it's my biggest goal equal with Tokyo 2020 in a few years.
"The grass it will be tough and everyone is tough to beat but I have a lot of confidence going in because I've already won two Grand Slams this year at Australia and Roland Garros.
"I'm ready for Wimbledon and I want it."
Also ready for Wimbledon though are seven other top players who are just as determined to get their name on that title, so it is not going to be easy for Kunieda as the men's open wheelchair draw continues to be a competitive affair.
The defending champion
If there was one player that Wimbledon was made for it would be last years singles champion Sweden's Stefan Olsson, who has a 100% record of making it to competitive singles finals on grass.
Growing up playing on predominantly carpet has served him well when it comes to grass court season and while he can sometimes struggle against players with a lot of topspin on the hard courts that's not the case at SW19.
His clinical use of the slice, followed up by a forceful forehand, often putting pressure on his opponent and giving him the edge on this surface.
"Shingo is really tough to beat," Olsson said. "But if there's anywhere I should actually beat him it should be on my favourite surface - grass.
"If I can just come up to my highest level and use the right tactics I think it's possible."
The Brit pack
Kunieda has only lost four singles matches so far this year and two of the players that have managed to have come out on top against him are British.
World number two Alfie Hewett in the final of the Cajun Classic and most recently world number five Gordon Reid in the final at the Japan Open, which saw him successfully defend his 2017 title there.
Reid, who is in the top half of the draw with Shingo and could potentially meet in the semi-finals, has been on an incredible run of form over the last few months and is always a real threat on a grass court because of the different spins he can put on the ball as the only left-handed player in the top eight.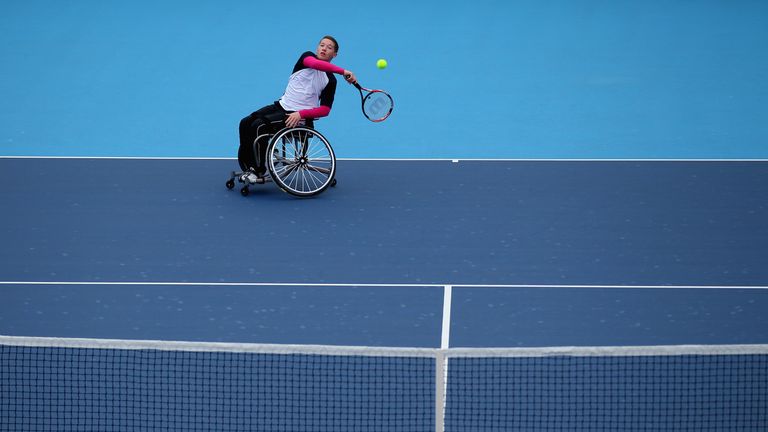 "As a player you gain your confidence by winning matches and winning tournaments," Reid told Sky Sports.
"Shingo's a great competitor and to see what he's done after a lot of time out for injury and a period where he wasn't at his best it's impressive and I have a lot of respect for what he's done.
"I played a great match against him in Japan and it gives me confidence to know I've beaten him recently but it's a different surface, a different style of tennis, a different challenge, so I'm just going to take it one match at a time."
World number two Hewett as well has serious potential to reach the final.
Having taken all of his opportunities to practice on the surface at Queens, Eastbourne and Surbiton ahead of this weeks Wimbledon, there is a real noticeable improvement in his grass court game.
He's able to get to the low balls even better than he does usually and handle a slice when he's up against the players who like to try to use that shot against him.
"I feel the opportunities we've been given this year to practice on grass ahead of Wimbledon it would have been silly not to take them," Hewett said.
"Of course the flip side of that is you have to be careful around the physical side and what pushing on this surface can do to your body but I think I've managed it well."
And having been voted the third best shot of Wimbledon 2017 behind Rafa Nadal and Roger Federer, with amazing pick-up of a drop shot followed by a cross-court winner in last years men's doubles final, he's definitely got the skill to triumph here.
"Let's just be honest the only reason Rafa and Roger got number one and two spot was because of their fan base," Hewett joked.
The wildcard
It's been a while since we've seen Joachim Gerard on a Grand Slam stage, an injury forcing him to take some time out in the middle of last year.
Meaning much of the beginning of this season has seen him building up the ranking points to get him back in business and ready to return to the Slams, Wimbledon handing the world number six the wildcard as he was just outside the top seven at qualification cut off.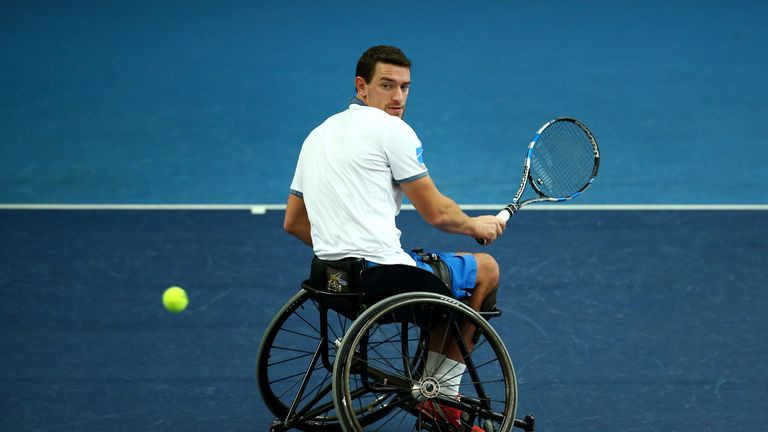 And it's a return that many are looking forward to as the lawns of SW19 wouldn't be the same without the sound of his bullying backhand twanging off his racket on court.
Like Britain's Reid he is on the same side of the draw as Kunieda, so will have to get past him to make it to the final but he has form in beating the World number one, not just this year at the Georgia Open but also way back in 2015 at the year-end singles masters event .
At the time Kunieda was on a nearly three year unbeaten run, but Gerard ended it on his way to lifting the title, defeating him twice in the same week.
"I can't wait to start the competition here," Gerard said.
And one of the aspects that could serve Gerard well is his serve, given that it's one of the most powerful in the men's game at the minute.
"I'm not going to go out there and try and make aces though I'm going to just try and get that first serve in," he said. "If I serve well it gives me a big advantage so I'm going to go out there and play game."
France's finest
Another player to have scored a victory against Kunieda this season is France's Stephane Houdet.
Over the years on tour the pair have built up quite the on court rivalry and they have already met in a Grand Slam final this year.
The result went Kunieda's way but it was a close and competitive match and with Houdet on the opposite side of the draw to the World number one there is potential we could get to witness another classic final.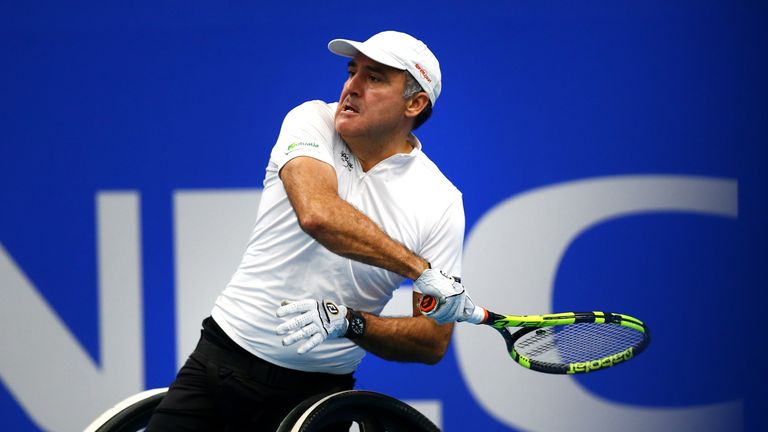 "We play chess on the tennis court every time," Houdet said. "Shingo knows the game perfectly, he analyses everything and also when you play Shingo you don't just face him you play the whole country because of the support he has.
"But like last year this men's draw is so open, we can never say this person is going to win - all of our matches are tough - and this is what's nice now in wheelchair tennis we have strong, competitive draws of eight players here at the Grand Slams."
Houdet will be joined on his side of the singles draw by compatriot, and doubles partner, Nicolas Peifer.
Peifer is also a player who when he is playing his best tennis and focused can wipe anybody off the court and he's coming into this week at Wimbledon having just scored a big win over Joachim Gerard at the Swiss Open tournament last week, giving him confidence.
The Argentinian ace
Gustavo Fernandez finished as runner-up last year to Olsson and is definitely looking to go one better and lift that trophy in 2018.
He opens his campaign this year against Kunieda and can go in confident knowing that at the warm-up tournament in Surbiton last week he scored a victory on grass over the world number one.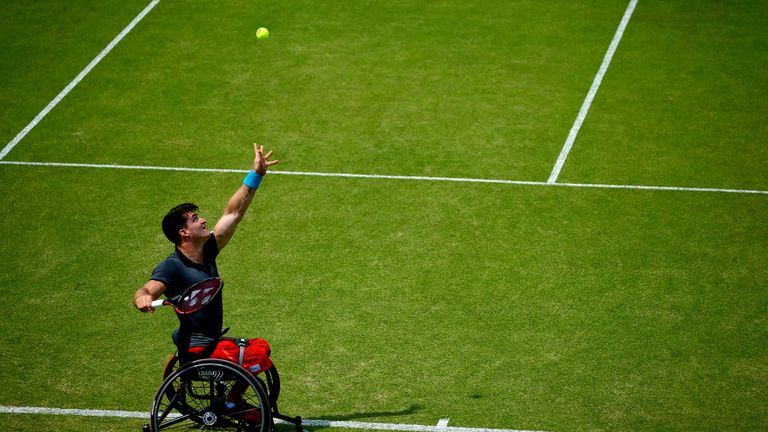 Fernandez however, is not taking that for granted.
"Surbiton is an exhibition tournament and Wimbledon is a totally different feeling as we're playing for points and there's a lot of pressure and tension," Fernandez said. "I think I have good chances and I'm ready to try and do my best and to play well at Surbiton has definitely given me confidence that I can."
And Shingo will also have to watch out for the Fernandez special when he takes to the court against him, as the Argentinian has the unique ability to throw his racket from his hand when striking the ball and still win the point.
Fernandez laughed as he said; "I don't know how I do it, maybe it's a quality I have or maybe it's just lucky."
We have Wimbledon covered from all angles via our website skysports.com/tennis then click through to our dedicated section skysports.com/tennis/wimbledon. On the move? Head to our app for mobile devices and iPad, or follow our Twitter account @SkySportsTennis to join in the conversation.
Our next tennis action comes from the German Open in Hamburg. Watch the action live on Sky Sports Arena from Monday, July 23 from 10am.
Never miss the big kick-off or have to deal with interrupted games or low-quality streams with a NOW TV Sky Sports Pass this summer. You'll get exclusive coverage of the 147th Open from Carnoustie, The Ryder Cup, ATP Tour, World Darts Matchplay, and loads more starting from just £7.99. No contract.