How Gordon Reid and Alfie Hewett have become an unstoppable force on grass
By Gemma-Louise Stevenson
Last Updated: 15/07/18 11:27pm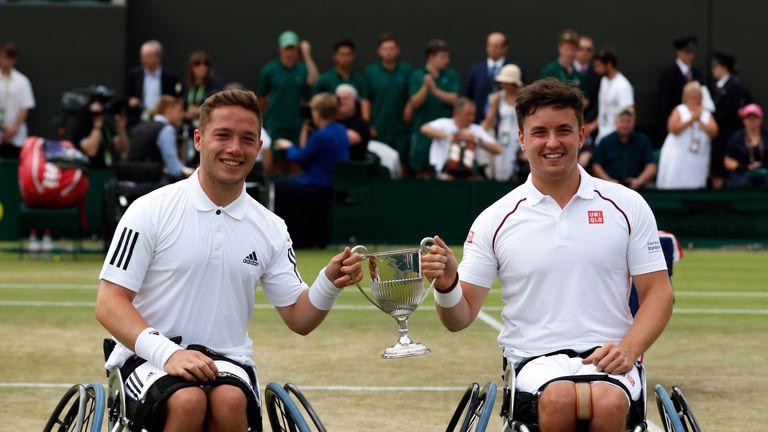 Great Britain's Gordon Reid and Alfie Hewett have etched their names into the history books once more.
They successfully defended their Wimbledon wheelchair doubles title with a 6-1 6-4 win over Belgium's Joachim Gerard and Sweden's Stefan Olsson to become the first pair to win a hat-trick of men's wheelchair doubles crowns at Wimbledon and remain unbeaten in The Championships.
So how have they become this unbeatable double act on a grass court? Sky Sports takes a look at their partnership to see why it works so well...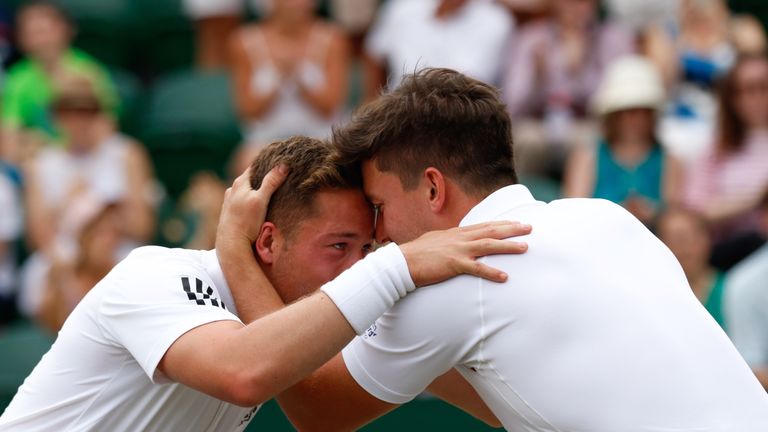 They don't shy away from the big moments
When Reid and Hewett came out onto Court Three on Saturday, they knew that there was a chance that they could make more history.
They first won the men's wheelchair doubles title together in 2016 as the first all-British pairing to be crowned champions.
When history-making moments come knocking at their door, they never shy away from the challenge taking them.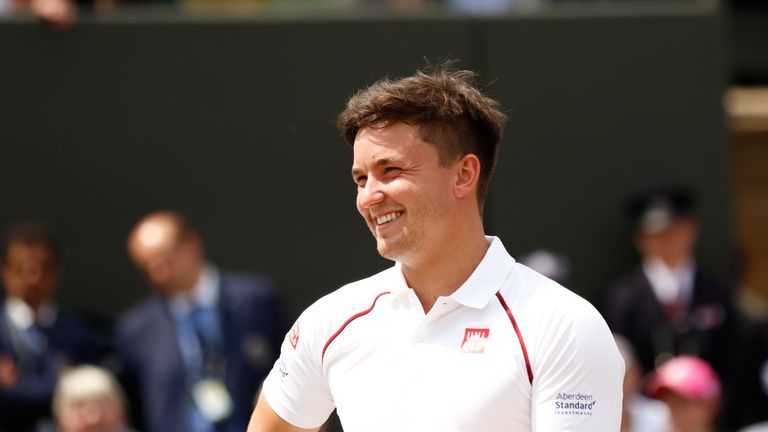 "It feels awesome, it feels amazing. We managed to get the job done this year quicker than the last couple of years but that doesn't change how special it is and how much it means to us," Reid told Sky Sports.
"I'm absolutely ecstatic to be champions again."
An unstoppable A-game
From the moment the first ball was hit in the final, you could tell it was going to be one of those days.
The days which see Reid and Hewett make magic on court and shock their opponents into submission with a performance that sees them work like a well-oiled machine.
There were flashes of it in their semi-final against Shingo Kunieda and Gustavo Fernandez particularly when they were down in the deciding set.
But the final saw them maintain their A-game and even go above and beyond it for the entire match and even though there was a slight momentum shift in the middle of the second set you still felt that the British duo were always in control.
The first set, in particular, saw them play their perfect brand of attacking tennis, missing hardly any shots and closing it out in 25 minutes.
"Well this guy here was firing out 90mph serves for a start so that helped us a lot," Hewett laughed as he spoke about his partner's performance.
The pair's ability to be on their A-game and play well together from start to finish is something that Reid really enjoyed about this win in particular.
"We've seen it in patches in certain matches all our careers as a partnership," he said. "And to be able to bring it all together essentially today was probably the most pleasing thing for me.
"It's great to be the champions again but to be able to do it with a performance like that is a really nice feeling."
Of course, there was a little tension in the match, as is to be expected when Team Heid, as they are known to their followers, take to the doubles court.
It came when Gerard and Olsson came from 3-1 down to level the second set and then broke to go ahead 4-3.
But then the Hewett and Reid machine kicked back into top gear almost immediately, taking the next three games and the title.
"The main thing for us was we knew what we were doing wrong and we knew what we had to change at that point," Reid continued.
"Stefan and Jo stepped up their level and whereas maybe in the past where it's taken us too long to switch it around we managed to do it quicker today.
That's so important when playing against them because once they get confident and get a bit of momentum they can steamroll through a few games but we didn't give them that chance."
Communication is key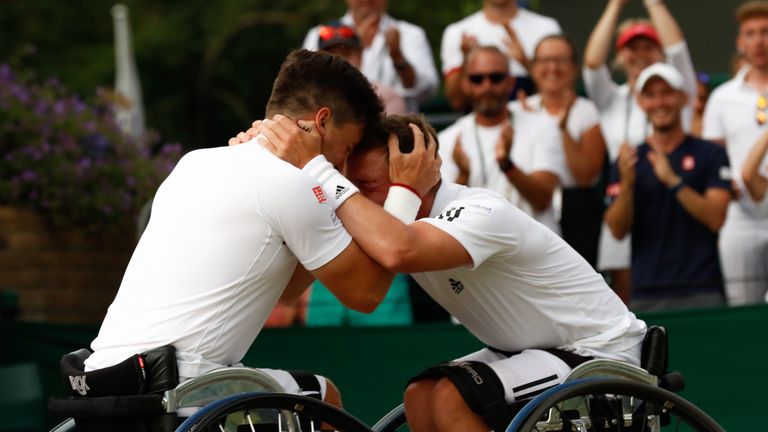 A key feature of Hewett and Reid's game is their incredible way of communicating with each other on court.
It not only is part of the entertainment factor of their matches but it also gives crowds a clue as to how well a match is going for them.
And this year's final was no different and at one point it even sounded like Hewett was singing to his doubles partner on court as he shouted "me, me, me, me, you, you, you, you" at Reid, a moment which saw the crowd laughing along with them.

"I was just trying to make it clear to everyone," Hewett joked. "When we're playing well we're listening to each other and we're telling each other what to do.

"And when I'm loud enough and you can hear me that's always a good sign."
Never underestimating any opponent
Hewett told Sky Sports ahead of the men's doubles draw starting, "I'd say it's probably the strongest that's been in the Slams.
"It's good though, it's what we want. It keeps it exciting for everyone and it keeps us on our toes."
And as soon as the pair heard the draw they knew their road to scoring a hat-trick of doubles titles was going to require them to play their best tennis.
"We knew going in that we could end up playing anyone in this final and it would be tough," Reid said after the final.
And while to the crowds they made it look effortless - Reid's spins on the ball not showing their full deadly effect until they reached his opponent and Hewett making getting to the toughest balls look like it's an everyday thing for him - it was much harder for the British duo.
"The final really wasn't easy to start with," Hewett added. "I think that we just played at such a high level that they didn't have any answers for us when we came out like that at the start.
Regular partnership
Wimbledon isn't the only tournament where Reid and Hewett team up and they are one of a few partnerships who stick together week in week out on the tour as much as they can, it's an integral part of what makes them such a strong team.
And they aren't ready to rest yet as next week they'll be pairing up again and looking to follow up their Wimbledon win with success at another home tournament, this time on the hard courts at The British Open in Nottingham.
They last won the title there in 2015 and Hewett is already eager to get back on court to see if they can reclaim it.
"It's gonna be fun," Hewett said. "This week here at Wimbledon has really brought us together quite well and we're feeling strong out there."
Sky Sports will be following their progress next week and seeing whether they can claim that second doubles title in as many weeks from the British Open.
Our next tennis action comes from the German Open in Hamburg. Watch the action live on Sky Sports Arena from Monday, July 23 from 10am.
Never miss the big kick-off or have to deal with interrupted games or low-quality streams with a NOW TV Sky Sports Pass this summer. You'll get exclusive coverage of the 147th Open from Carnoustie, The Ryder Cup, ATP Tour, World Darts Matchplay, and loads more starting from just £7.99. No contract.