The History Boys: How the quads paved the way for future generations
By Gemma-Louise Stevenson
Last Updated: 18/07/18 7:10am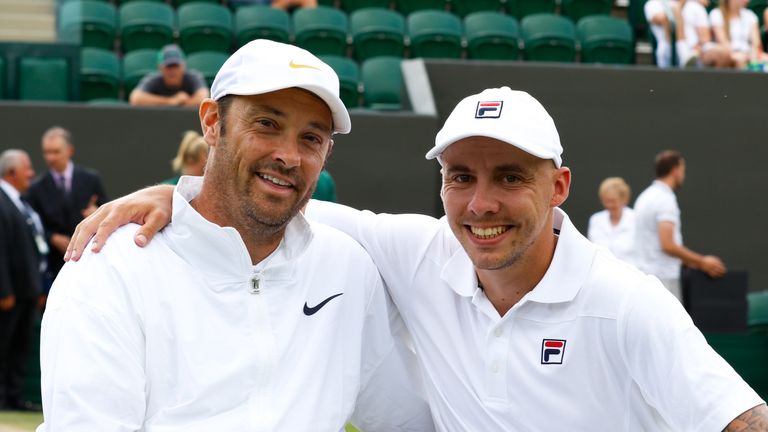 Wimbledon was where Britain's Andy Lapthorne's love of tennis began and this year he put his name on the Championships honours boards alongside the player who inspired him to pick up a racket - Lleyton Hewitt.
Lapthorne and doubles partner, American David Wagner, became the first ever quad division doubles champions at SW19 with a straight-sets win over Dylan Alcott and Lucas Sithole 6-2, 6-3.
"Its everything I dreamed of and more," Lapthorne told Sky Sports after Saturday's exhibition match on Court Three. "I'm just really happy to have finally had this chance to play here and show what our division can do.
"It was surreal coming here this year as an athlete as I've been here all these years before as a spectator, mainly supporting Gordon (Reid).
"But I'm proud that my home Grand Slam has given us guys a chance to perform at what I call the Mecca of tennis. Wimbledon is the Wembley Stadium and the Lords of this sport - this is the place, this is tennis."
Lapthorne is thankful to those in the sport who have supported him for the last 10 years while he has been working hard to achieve his dream getting quads playing at Wimbledon, including chairman of the All England Club, Philip Brook.
"I have to give Phil Brook credit as he's travelled and watched me playing at other Slams and been in my corner," the world No 3 said. "Him and his wife Gill have really helped make this happen for us, they're huge supporters of the game."
"I was enjoying every moment," Wagner added. "If you look back at the pictures I probably have the biggest smile on my face in all of them."
What is the quads division?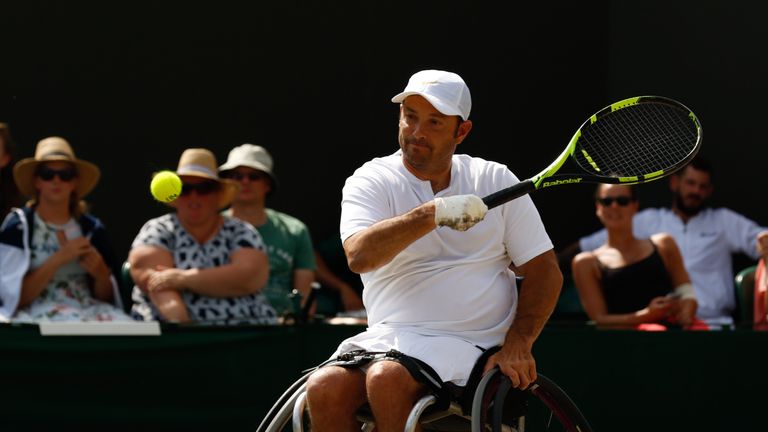 The quads division is for players who have a disability that affects three or more limbs.
You will see athletes with their hand taped to the racket, athletes with one arm and in some cases athletes using a powerchair to get them around the court.
The division is not split by gender, but apart from that, there is not really much difference to the game the open division players play at SW19, where the only rule change is that wheelchair tennis players are allowed two bounces.
The game does have a different feel though when watching as a spectator, and there are not many long rallies, with players instead preferring all-out attacking tennis.
"For us it becomes less of a power game and more of a strategic style of tennis," added Wagner. "So we manipulate the ball with maybe more placement rather than spin or pace like the open guys.
"But other than that we're out there every week competing hard and enjoying the moment just like everyone else."
A solid partnership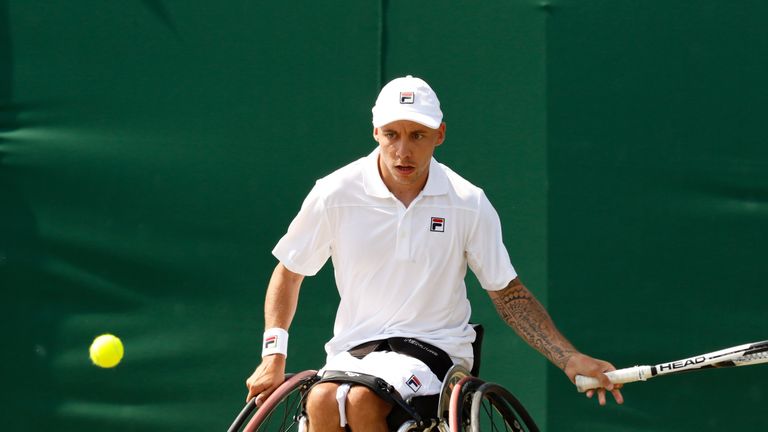 The pair of Lapthorne and Wagner, or "Lappo" and "Wags" as they are known on tour, are quite a formidable force on the doubles court and have won many titles together, including three at the Australian Open.
Their style of play suits each other well, Lapthorne's movement allowing him to cover the baseline expertly while Wagner waits for the perfect moment to pounce with one of his killer drop shots.
But for the British No 1, joining forces with the world No 1 - "one of the smartest movers on court" - at this year's exhibition match at Wimbledon was about more than just going for the first-ever title.
"To get to share the court and first title with David is special because the guy's done so much for our division," Lapthorne said. "He was here before I started and he'll probably be here a long time after and he's won it all during that time.
"It's given me great pleasure that I could be part of making sure he had the opportunity to play here because for a guy like David to retire without having played at Wimbledon, that would have been a real shame."
Their opponents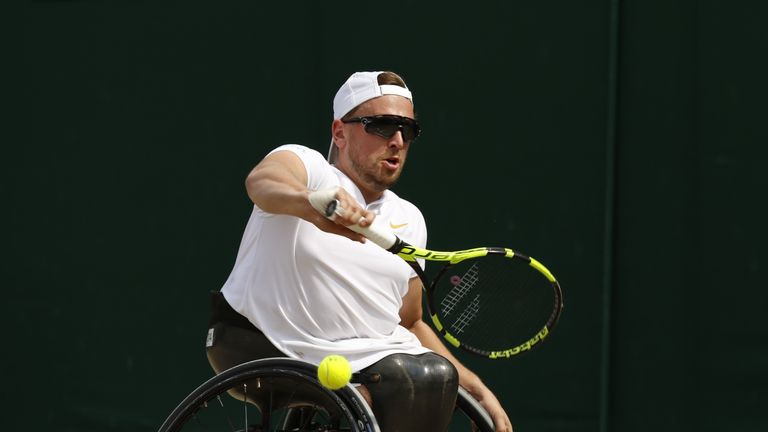 At the other side of the net to Lapthorne and Wagner were two more of the worlds top quad players, who have done just as much to champion the sport and the division.
Australia's Dylan Alcott is a Paralympic gold medallist and multiple Grand Slam winner, but when he's not playing, he is working on helping young disabled people achieve their dreams through the Dylan Alcott Foundation while also working as a radio presenter.
He's been a major driving force in building interest in wheelchair tennis in his country and at this year's Australian Open, he was the chosen athlete to front the main sponsors advertising campaign during the whole tournament.
Playing at Wimbledon has seen Alcott not only bring his unique brand of tennis X-factor to the UK, but also realise that black is not the only colour he can get away with wearing on court.
"I'm from Melbourne and we love wearing a bit of black," Alcott told Sky Sports, "I don't wear white often but I'm into it now, I reckon this is my new jam. I'm loving it, I look awesome and so does everyone else!"
Playing with Alcott was South Africa's Lucas Sithole, who like Lapthorne and Alcott, is considered one of the best movers around the court.
"It's meant a lot to be here," Sithole said. "We've been stuck for a while on only being able to play in two Grand Slams - Australia and the US - so if we get offered a full draw in Wimbledon, it's also going to open a lot of doors to the other players and the future of the sport."
What next for quads at Wimbledon?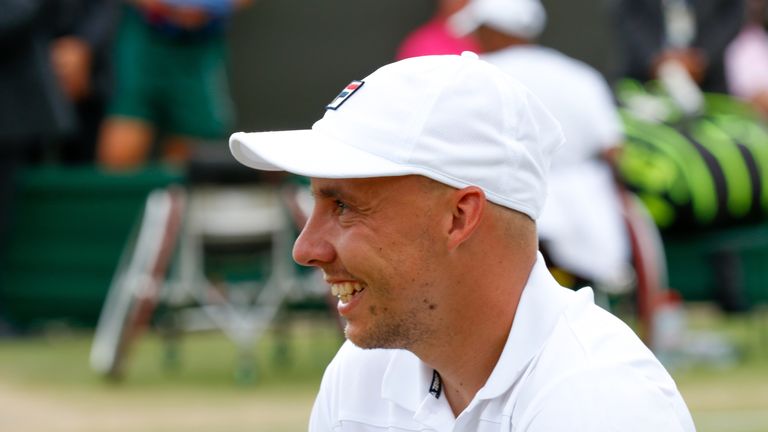 While there has been no official decision yet on whether there will be a full draw in singles and doubles for the quads division at Wimbledon 2019, those who played in this year's exhibition event are clear in their hopes for the future.
"We came here with a plan and the plan was to showcase the best that we've got with the hopes that Wimbledon recognise that," Wagner told Sky Sports after the match.
"We are so appreciative of everyone who has helped get us here and allowed us this opportunity but by far we're definitely not finished with the process, this is just the start.
"And the next part of the process is next year a full eight draw for quads here, equal with the open division and why not think big and put a wheelchair tennis match on centre as well?
"We've done it at Arthur Ashe, we've done it at Rod Laver Arena so why not do it at Wimbledon, I think we're ready for it."
"It's got to be equal to the other two divisions," said Lapthorne. "I'd love to play singles at Wimbledon and I've said since I played Dylan in our singles final out on Rod Laver, where there were thousands of Aussie's shouting for him, at the 2017 Australian Open, I want our rematch to be at Wimbledon, at my home Slam.
"The match you've seen at Wimbledon this year was just a taster of what could be."