French Open 2014: Rafael Nadal celebrates another victory at Roland Garros
Last Updated: 08/06/14 9:30pm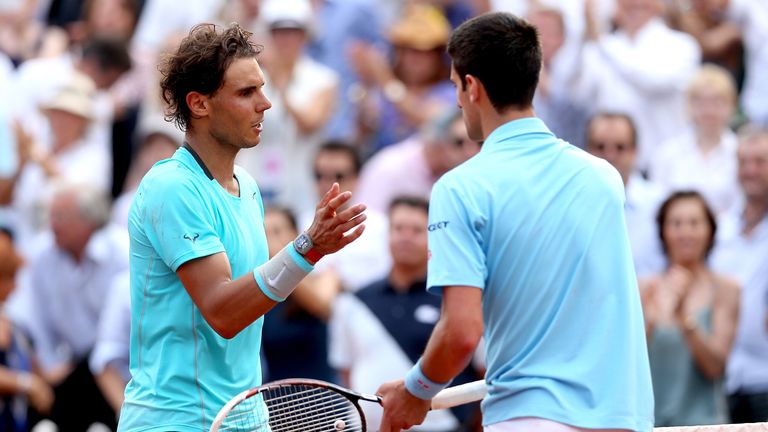 Rafael Nadal was delighted to hit back from his Australian Open final loss earlier this year to win a ninth French Open title at Roland Garros.
Nadal maintained his phenomenal stranglehold on the year's second grand slam by defeating Novak Djokovic in the final.
Djokovic had been bidding to become only the eighth man to win all four grand slam titles but, although he won the first set, Nadal fought back to triumph 3-6 7-5 6-2 6-4.
The Spaniard becomes the first man to win five successive French Open titles and extended his record to a remarkable 66 matches won on the Paris clay from 67 played.
He is now tied with Pete Sampras on 14 grand slam singles titles, three behind Roger Federer, while victory for Nadal also ensured he will stay world number one.
Djokovic hired Boris Becker as his head coach to try to give him an extra edge at precisely these moments but he has now lost five of his last six grand slam finals.
After taking victory, Nadal was quick to recall his his 6-3, 6-2, 3-6, 6-3 defeat to Stan Wawrinka in the Australian Open final in Melbourne in January where he needed extensive treatment on his injured back.
"It's an amazing, emotional moment for me. I lost the Australian Open final this year when I had a problem with my back. Today tennis has given me back what happened in Australia," said Nadal.
Big challenge
"Playing against Novak is always a big challenge for me. I lost against him the last four times. Every time I have the chance to beat him it's because I play to my limit. I'm sorry for him, I think he deserves to win this tournament, I'm sure he will in the future.
I'm sorry for him, I think he deserves to win this tournament, I'm sure he will in the future.
Nadal on Djokovic
The top two players in the world were meeting for the 42nd time, more than any other two men in the Open era.
Nadal had beaten Djokovic in all their five previous meetings at Roland Garros but Djokovic has been getting closer, pushing Nadal to 9-7 in the fifth set 12 months ago in a semi-final he probably should have won.
Djokovic had started the fortnight as the favourite after beating Nadal in Rome but that changed after the semi-finals on Friday, when Nadal crushed Andy Murray and Djokovic struggled against Ernests Gulbis.
The match ended on a Djokovic double fault after a fan in the crowd had shouted out but the Serb reflected: "The support of the crowd was big for him and me.
"There's always a lot of tension. You can't find excuses in the crowd. It's part of sport. Life goes on."
Djokovic admitted that Nadal probably handled the 30-degree heat best.
"I was struggling in the third set but I felt better in the fourth," he said.
"But overall I wasn't at the level I was at when I beat him in Rome last month. At this level, it takes it out of you. Rafa was the better player in the crucial moments."