Five things we learned from the Monte Carlo Masters...
Race to Roland Garros gathers pace
By James Dielhenn
Last Updated: 20/04/15 12:35pm
With fortunes differing in Monaco's extravagant setting for Novak Djokovic, Rafa Nadal, Roger Federer and co, James Dielhenn looks at what we learned.
Novak Djokovic is streets ahead as the world's best player after winning the Monte Carlo Masters...
He may be yet to lift that elusive, first French Open but his remarkable form heading into Roland Garros suggests Djokovic may be just weeks away from completing a career Grand Slam.
The Serb has become the first player to win the opening three Masters 1000 tournaments of a calendar year, having succeeded at Indian Wells and Miami before bringing his relentless brand of winning tennis across the Atlantic.
Djokovic has lost just twice in 2015, but lifting a trophy on the clay courts of Europe added another string to his ever expanding repertoire. Beating Rafael Nadal in the Monte Carlo semi-final must be replicated at the French Open before the pendulum will fully swing but, after also dispatching Tomas Berdych in Sunday's final, the ball is in his court.
... But Rafa Nadal is hot on his heels heading to Roland Garros
Such was the expectation on Nadal's shoulders heading into the clay season, it was easy to forget that the nine-time French Open champion was recuperating after a spell on the sidelines. His semi-final elimination at the hands of Djokovic is not evidence of his dwindling powers, according to Greg Rusedski, who believes Nadal remains the 'King of Clay' until his Roland Garros dominance is interrupted.
In front of Prince Albert in Saturday's semi-final, Nadal lost in straight sets but displayed glimpses of his stunning ability intermittently. Although he has lost five of their last six matches, Nadal retains a winning 23-20 record against Djokovic heading into his speciality tournament. He may be finding his feet ahead of a remarkable La Decima of French Open championships.
Tomas Berdych is quietly improving under Dani Vallverdu and Aziz Simcich's coaching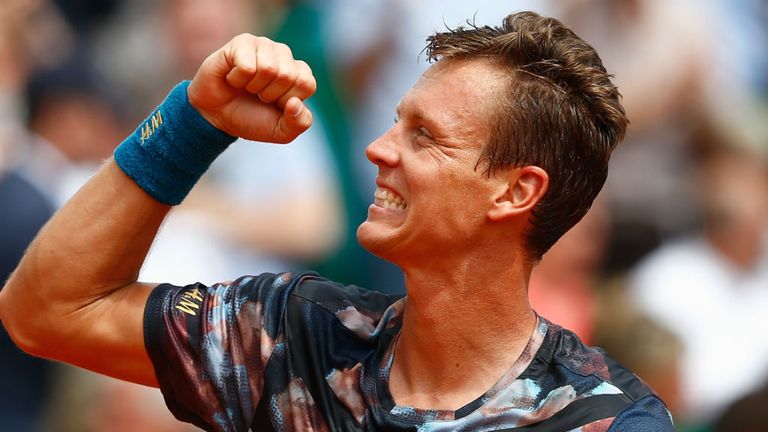 The Czech sported a 2-18 losing record to Djokovic heading into their Monte Carlo final but was still able to put up a spirited battle despite the apparent disparity between the finalists.
Berdych broke Djokovic's serve in the opening game, allowing him just a pair of points in the first two games. He withstood two set points before finally caving into Djokovic's class but prevailed into forcing the final to go the distance.
He rebounded from a rain delay to take the second set before succumbing but his ascension into one of the world's top players is noticeable since Vallverdu and Simcich took the reigns. He reached the semi-finals of the Australian Open and finished as runner-up in Doha and Rotterdam this year.
The partnership with Andy Murray's ex-coaches has only been in place since December so watch out for Berdych to improve his world No 7 rankings over the summer months.
Gael Monfils continues to entertain us but does he prioritise style over substance?
Monfils enhanced his reputation as one of the world's most thrillingly eccentric players but, as ever, the question remains how much he must sacrifice results to maintain that excitement.
The elaborate Frenchman was thrashed 6-1 6-4 by Berdych in the Monte Carlo semi-finals but he remains a key component of the entertainment surrounding the Monaco tournament, with his full array of showmanship on display.
A win over Roger Federer evidences that Monfils can mix it at the highest level but, having performed numerous wacky moments during the course of the tournament, he still hasn't found the balance. But do we want him to?
Roger Federer and Stan Wawrinka had a poor week on the clay courts
The Swiss duo endured surprising exits within hours of each other in the third round in Monaco, raising questions about the Grand Slam champions' suitability on clay.
Wawrinka's first and only Masters 1000 title came in Monte Carlo last year when he beat Federer in the final but this year both players fared much worse.
Against Grigor Dimitrov, Wawrinka was sent packing inside an hour having sent 41 unforced errors astray. Federer, similarly, fired 38 unforced errors as he was dumped out by Monfils.
Did they treat Monte Carlo as a mere warm-up for the French Open? We'll find out.
Need more live clay court action? The Barcelona Open is live on Sky Sports 3HD every day this week from 12.30pm except Friday when we start an hour earlier.