Tennis Expert & Columnist
Kei Nishikori can beat Novak Djokovic to the French Open, says Barry Cowan
Last Updated: 26/04/15 7:17pm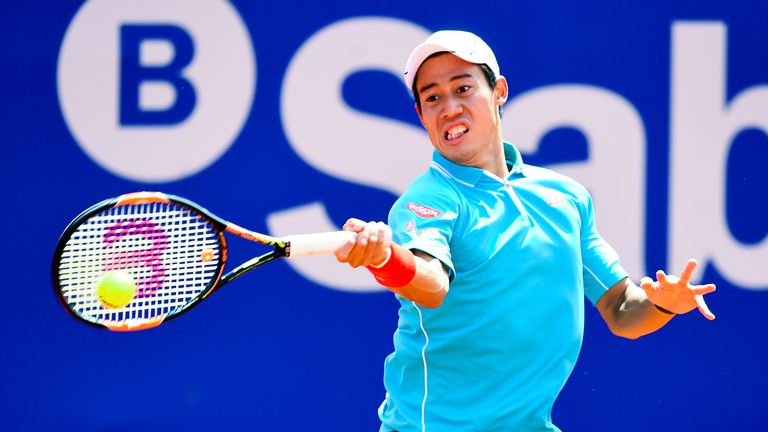 Kei Nishikori can add the clay court season's most prestigious tournament, the French Open, to his Barcelona Open title, says Barry Cowan.
The Japanese star won his second consecutive title in the Spanish city on Sunday after defeating Pablo Andujar 6-4 6-4 in the final.
But the world No 5 is still awaiting his maiden Grand Slam crown, and Cowan has backed him to challenge the established elite such as Novak Djokovic.
Definitely, Kei Nishikori is one that you can put into the mix to win the French Open.
Barry Cowan
"If Novak doesn't win the French, then Nishikori can," said the Sky Sports expert.
"He's a very good clay-courter, we saw that last year, and he knows he belongs in the higher echelons of the game.
"Definitely, Kei Nishikori is one that you can put into the mix to win the French Open."
Impressed
While world No 1 Djokovic and nine-time champion Rafael Nadal will be the favourites to succeed at Roland Garros, Cowan believes they will be challenged by up-and-comers like Nishikori.
And although he writes off serial entertainer Gael Monfils, Cowan insists the likes of Tomas Berdych can continue their improvement into the clay court season – Andy Murray has also been backed by the pundit.
"I was very impressed with Berdych last week," he said. "He's played some exceptional tennis.
"I think he's getting closer to playing the style of tennis that he needs to be able to beat the very best and that was lacking for a long time last year.
"In terms of Monfils, no. Gael can play great, can have a big day when he can beat a top player, but he showed last week again that he can have a day when maybe he's been ramped up a bit, then he can just come out and put in a poor performance. Over seven matches, it's not best-of-five sets, he cannot afford to have those fluctuations.
"Nishikori, Berdych, Nadal and Roger Federer – and there is no reason why Murray cannot have a good clay court season. All those players at the moment are in a pack."       
The clay court season resumes on May 4 at the Madrid Open, live on Sky Sports 3 HD.