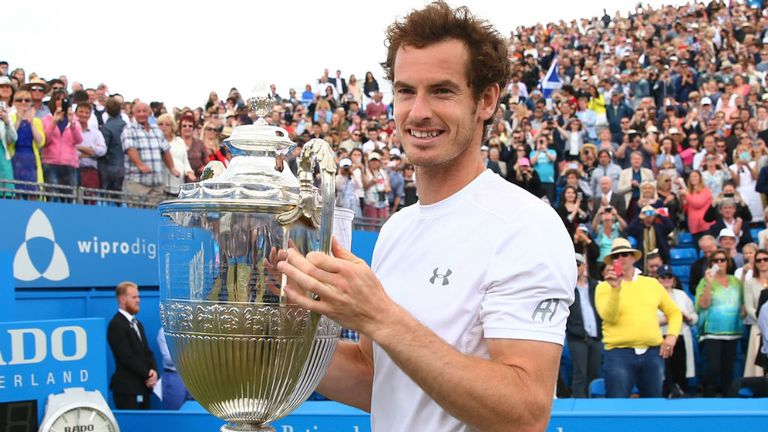 Andy Murray claimed a record-equalling fourth title at Queen's Club with a majestic 6-3 6-4 demolition of South Africa's Kevin Anderson in the final of the Aegon Championships.
The 28-year-old – playing in his 50th tour-level final and his first final on grass since his historic Wimbledon triumph in 2013 – joined John McEnroe, Boris Becker, Andy Roddick and Lleyton Hewitt as the only four-time winners of the Wimbledon warm-up event in the Open era.
Murray, who was pulling double duty after seeing off Viktor Troicki in a delayed semi-final earlier in the day, won in just one hour and four minutes by outclassing his opponent.
Anderson was well rested after blitzing his way into his first Queen's final with 34 aces against Gilles Simon on Saturday to take his tally for the tournament to 96.
He had enjoyed notable victories over Hewitt and French Open winner Stan Wawrinka en route to the final.
But Murray had won four of his previous five meetings with the 6ft 8in South African and maintaining his 100 per cent record in Queen's finals proved no problem.
"I played better as the week went on. I came up with some great shots today and I had to play that way if I wanted to win," Murray said.
"You want to go into Wimbledon with grass matches under your belt. I'm playing better than I did in 2013 but it's extremely difficult to win these events."
No signs of fatigue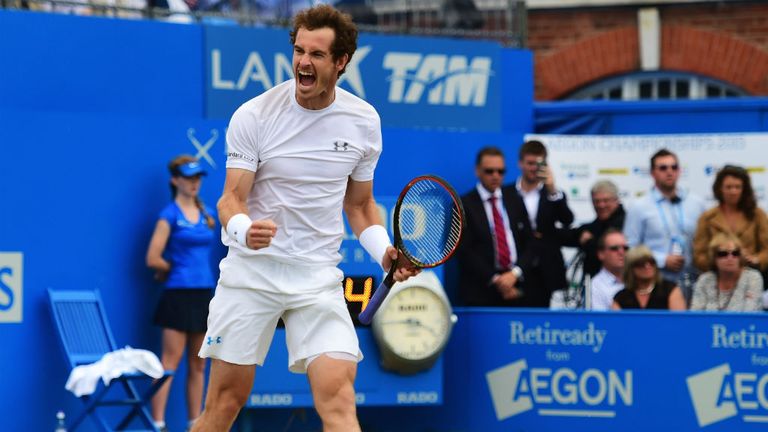 Murray had already won twice in one day this year, seeing off Lukas Rosol and Roberto Bautista Agut to clinch the Munich title last month.
And there was no sign of any fatigue as the Scot made a dynamic start against Anderson, unloading crisp ground-strokes and reading his opponent's serve well enough to secure two break points in the fourth game.
Anderson turned to brute force in response, slamming down a 141mph (227kmph) serve, but Murray managed to keep it in play and the rattled South African lost his cool as he buried a mistimed smash into the net.
That was all the incentive Murray needed and he kept Anderson completely out of sync with his astute use of drop shots before one whipped forehand cross-court winner that bent away from his opponent as if on a string.
Anderson reached 100 aces for the tournament before the set was over, but Murray was never seriously troubled as he closed it out with a perfectly measured backhand slice.
Slipping away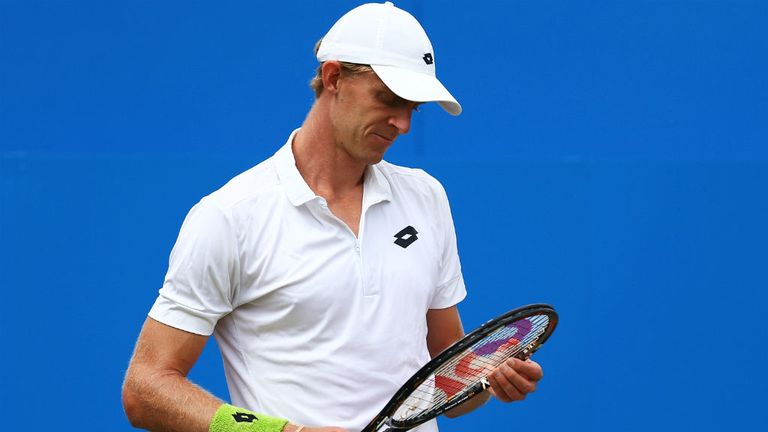 Anderson could sense his hopes of becoming the first South African to win Queen's since his childhood idol Wayne Ferreira in 1992 were starting to slip away.
The 29-year-old had lost six consecutive finals since winning his second ATP title at Delray Beach in 2012, and Murray ensured his opponent's barren sequence continued as he pressed home his advantage with a break in the fifth game of the second set.
Again it was a Murray drop shot that did the damage, catching Anderson behind the baseline after the South African had been pulled out of position by a precise lob.
Unfurling one outrageous winner after another, Murray couldn't be stopped and it was only a matter of minutes before he was hoisting the giant silver trophy high into the sky.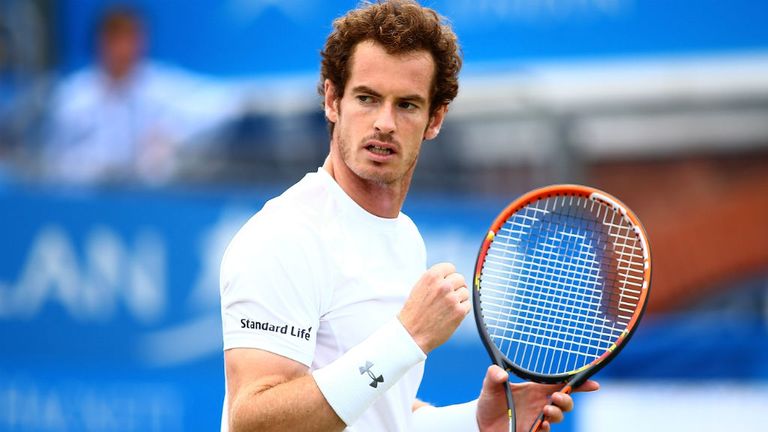 I'm playing better than I did in 2013 but it's extremely difficult to win these events.
Andy Murray
"Andy is a terrific player," said Anderson. "It's tough playing him here, but I can take a lot of positives from this week."
It was Murray's third ATP title of 2015 after his victories on clay in Madrid and Munich, continuing his superb form since marrying Kim Sears in April.
With 34 career ATP titles, including six on grass, Murray moves up to 18th on the Open era list – level with Arthur Ashe, Michael Chang and John Newcombe.
Having already triumphed in 2009, 2011 and 2013, the top seed laid down an eloquent marker for Wimbledon.