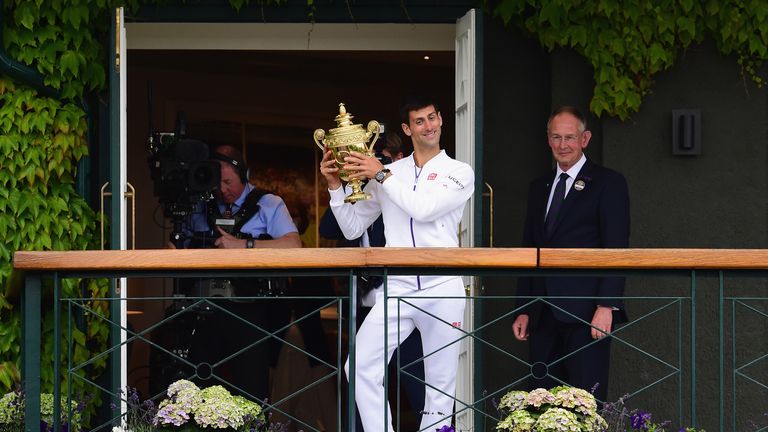 Novak Djokovic has revealed he and Serena Williams revived an old tradition by dancing at the Wimbledon champions' dinner.
Fresh from their triumphs on Centre Court, the pair received a standing ovation from guests after showing off their moves.
They became the first players to dance officially at the London Guildhall event since Bjorn Borg and Chris Evert in 1976.
And Djokovic, who won his third Wimbledon title on Sunday after beating Roger Federer, said their performance was inspired by classic Bee Gees song Night Fever.
The Serbian said: "There was no practice, I suggested the idea to (All England Club chairman) Philip Brook and Serena, and fortunately they accepted.
"I was very pleased because Serena is a great dancer.
"I was thinking of more of a waltz - something more sophisticated, something that blends into the environment and the beautiful hall we were in.
"But Serena wanted to move a bit more and we considered other options. So it was Night Fever. Night Fever came to life and you can imagine how that looked."
Djokovic was in a good spirits after seeing off Federer 7-6 (7-1) 6-7 (10-12) 6-4 6-3 for his ninth Grand Slam title.
He is the favourite to win the US Open, which starts on August 30, despite losing in four finals at Flushing Meadows.
And the world No 1 said he is confident of going far again having reached at least the semi-finals in New York every year since 2007.
"I am approaching the US Open this year with two Grand Slams won and one final," he added.
"The confidence level is very high and I'm going to use that to have a shot at the title.
"I'm not the only player who is going to New York to win the trophy - there are many, many others, but if you look at the consistency of my results at the US Open I think it's been my best Grand Slam.
"I only once made that final step in 2011 but I'm going there with the thought that I like the surface, the conditions, playing at Arthur Ashe and with all the achievements behind me, I think I'm in a very good position to go far."