Australian Open 2015: What did we learn Down Under?
And what questions remain?
Last Updated: 02/02/15 11:12am
Novak Djokovic and Serena Williams' Australian Open victories will have surprised few, but questions surround the supremacy of the men's game's 'big four' and whether the women's No 2 can ever close the gap...
The 2015 Melbourne Park season opener taught us a lot about the forthcoming tennis campaign but there are still so many answers ahead. 
Can Andy Murray win a Grand Slam in 2015?
The past fortnight will have done plenty to convince sceptics that he can, yet the final defeat to Novak Djokovic will have proved to doubters that he still trails the world No 1 significantly. But with progress apparent in his relationship with coach Amelie Mauresmo, he has once again demonstrated his prowess among the world's elite and showed his seeding - sixth - was a false position. With a further six months of continuing his rejuvenation with Mauresmo before the grass court season, all eyes will again be on Wimbledon for Murray's likeliest Grand Slam of 2015.
Is Roger Federer too old to win another major title?
Much will depend on the continued greatness of the competition - and specifically Djokovic - rather than his own age or physical deterioration. While it may not have been as trophy-laden as his early years, Federer played some of his finest tennis in 2014 indicating that an 18th Grand Slam may be achievable. A surprise exit at the Australian Open at the hands of Andreas Seppi, coupled with just one French Open title back in 2009 indicates the clay courts of Paris may not be the scene of his next triumph. But Federer's excellence at Wimbledon should not be disregarded.
Will injuries prevent Rafa Nadal from regaining his place at the top of the sport?
The Spaniard had played just four matches since Wimbledon before entering the Australian Open and a quarter-final loss to Tomas Berdych, whom he had defeated 17 straight times, was a fine effort. Nadal has won a Grand Slam in each of the past 10 years and his French Open dominance - nine Roland Garros titles and 66 wins in 67 matches including against Djokovic in last year's final - means you cannot write him off. The upcoming May tournament will tell us whether Nadal is physically ready – if he is, a tenth title is certainly possible but chronic knee problems and an 11-6 record since his last French Open mean he may not be as heavily backed this time around.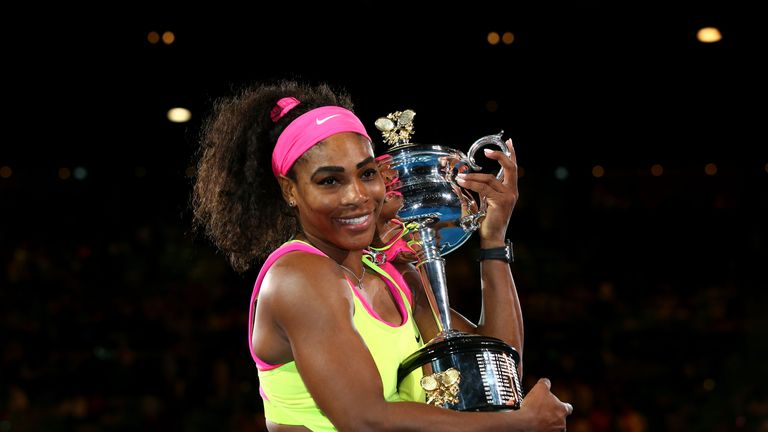 Can Serena Williams catch Steffi Graf's all-time major winning record?
A 19th Grand Slam championship in Australia has catapulted Williams past the illustrious duo of Chris Evert and Martina Navratilova, who embraced her on court at last year's US Open when she tied their total of 18. Aged 33, her power game from the base-line is showing little chance of dwindling. Her physical attributes haven't declined to the point where there is a more explosive challenger, and her big-match mentality is best demonstrated with her decade of dominance over world No 2 Maria Sharapova. Williams requires three more Grand Slams to equal Graf's 22 and there is little reason to doubt that she could achieve the milestone by the end of 2015.
Will Maria Sharapova ever beat Serena Williams again?
The Russian's 10-year inferiority to Williams is a fascinating saga in the women's game that shows no sign of ending. Sharapova, the world No 2, has lost 16 straight games to her American rival continuing into the Australian Open final. An ill Williams, who had skipped training the week prior and vomited during the match itself, was still able to overcome Sharapova. While it is difficult to ascertain whether Williams brings out the worst in Sharapova or vice versa, the Russian's inability to deviate from a power-based method certainly aids the Australian Open champion's winning streak that goes back to 2004.
Can Kei Nishikori, Milos Raonic and Grigor Dimitrov threaten the big four?
There had been suggestions that an emerging crop of contenders could compete for major silverware this year, but Nishikori, Raonic and Dimitrov had all departed by the end of the quarter-finals. Positives could be taken from their performances, with Nishikori and Raonic again holding their own at a Grand Slam. Japan's Nishikori impressed, ousting Spanish duo Nicolas Almagro and David Ferrer on his way to the last eight, where he was defeated by Stanislas Wawrinka. Raonic's run also appeared to be gathering speed with wins over Benjamin Becker and Feliciano Lopez, but Novak Djokovic defused the big-serving Canadian in the quarters. Russia's Dimitrov was beaten by Andy Murray in the fourth round, proving that the top stars still have a stranglehold on the latter stages of the competition.
Should we expect more from Nick Kyrgios? 
The 19-year-old Australian bolstered his reputation as one of the most exciting talents on the men's tour after reaching his second Grand Slam quarter-final. Kyrgios, a fiery competitor, had thrilled the home crowd during a gruelling five-set win over Federico Delbonis in the opening round. He then battled past the booming serve of Ivo Karlovic before mastering Malek Jaziri in the third round. Lifted by his vociferous support, the 19-year-old overcame a two-set deficit to defeat Andreas Seppi in the last 16. But Andy Murray ruthlessly ended his run with a straight sets win. Kyrgios could still look back with pride on his progression and will surely add to his solitary ATP Tour win.