What did we learn at Indian Wells from Novak Djokovic, Andy Murray and co?
And what questions remain ahead of Miami?
Last Updated: 24/03/15 10:20am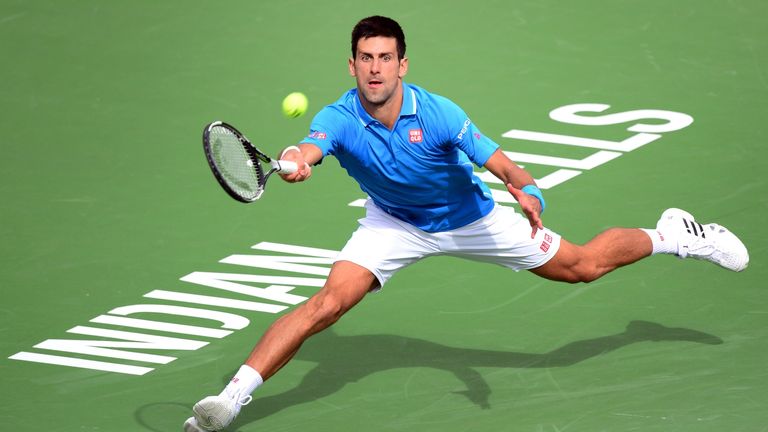 Novak Djokovic won Indian Wells while Roger Federer demonstrated how he is still an elite competitor and Andy Murray showed encouraging signs. So what did we learn?
Andy Murray must emulate Roger Federer to revitalise his Grand Slam charge
Sky Sports experts Peter Fleming and Barry Cowan agree that Murray must evolve his game to add the same weapons that Roger Federer has recently developed.
A run of six straight defeats to Novak Djokovic - the latest being a straight sets loss in the Indian Wells semi-final - indicates that the British No 1 may require a new method to topple the brilliant Serb.
Our pundits believe Murray possesses the necessary skills to become dominant at the net and should look at the example of Federer in recent years, with the Swiss great masterfully adjusting his game to remain elite at the back-end of his career.
But as Murray's injury-strewn 2014 becomes ever more consigned to memory, the grass courts on which he thrives edge closer.
A few more months of developing his burgeoning relationship with coach Amelie Mauresmo before Wimbledon, once again, arrives as his likeliest Grand Slam of the year amid recollections of his fabled win over Djokovic two years ago.
Djokovic stands alone at the pinnacle of the sport
In dispatching Federer so sumptuously over the weekend in the Indian Wells final, Djokovic asserted authority over the only player to give him trouble in recent times.
Federer had won their previous two meetings and still boasts a 20-18 overall record against Djokovic, but the pendulum swung dramatically towards the Serb in the midst of California's desert.
His 50th ATP title, scored against the sport's greatest player, elevates Djokovic's world No 1 status to that of the undisputed conqueror of his competitors - with his recent dominance over Murray long established.
Claiming a maiden French Open title in May represents another opportunity for Djokovic to evade a major obstacle - Rafael Nadal's clay court sorcery is part of tennis folklore but Roland Garros is one of increasingly few destinations where Djokovic hasn't made his mark.
Nadal's French Open supremacy will be tested like never before
The clay surfaces in Paris are so intertwined with Nadal's left-handed strokes that, since his first title a decade ago, he has been installed as the obvious choice to win the tournament regardless of interchangeable factors such as form or challengers.
But Djokovic's recent brilliance (added to his desperation to add a first French Open to his eight Grand Slams) compared to Nadal's slow return to full flow makes for ominous reading for the Spanish veteran.
An Australian Open humbling to Tomas Berdych and an Indian Wells elimination at Milos Raonic's hand implies that the creaking Nadal is being overhauled by young, hungry challengers and he will pay for those defeats by entering Roland Garros amid more questions than ever.
Yet victory in France every June except 2009 in the past 10 years means that, Djokovic or not, Nadal could serve up a treat come late May.
Raonic can improve his world ranking of No 6
The giant Canadian has long been heralded as a talent to watch and his Indian Wells win over Nadal demonstrated that he is ready to remain among the sport's top players.
He dramatically saved match point, having fought back from dropping the first set, to eventually win 4-6 7-6 7-5. It was the manner of the drawn-out, battling performance more than the victory itself that initiated Raonic into the top echelon of players.
He is ranked at No 6 but it has recently been Kei Nishikori that seemed likelier to interrupt Djokovic, Federer, Nadal and Murray - until Raonic, punctuated by that blistering serve, provided a timely reminder of his abilities. Something similar in Miami would underline his improvement.
The world's top players are treating us... and there's more to come on Sky Sports
The dust-up in the desert of California demonstrated the world's greatest players at the peak of their powers – whether it be the insurmountable Djokovic or Federer whose runner-up medal doesn't do justice to the tennis he served up.
Check out videos on this page for the best shots at Indian Wells and remember the best players are also on show in Miami from Wednesday.
Tune in for the Miami Open begins on Wednesday at 3pm on Sky Sports 3 HD.