US Open: Kei Nishikori beats Milos Raonic in record late finish at Flushing Meadows
Last Updated: 02/09/14 12:10pm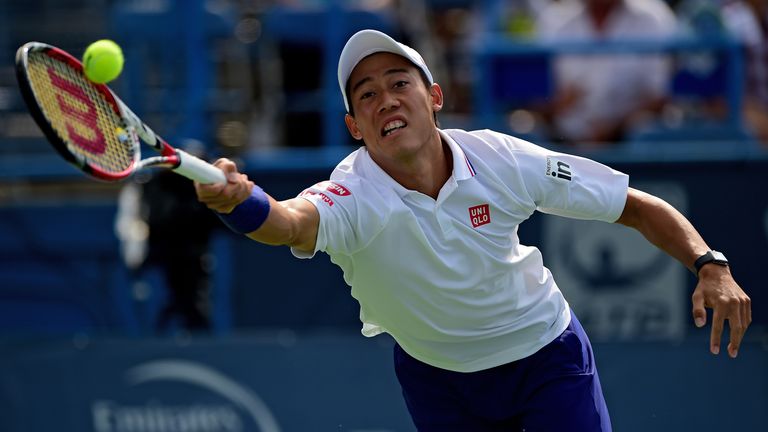 Kei Nishikori emerged victorious from a marathon battle with Milos Raonic in a five-setter that tied the record for the latest-ever finish at the US Open.
The Japanese star won an epic battle 4-6 7-6 6-7 7-5 6-4 after four hours and 19 minutes on Arthur Ashe against Canadian Raonic.
The match stretched late into the New York night and finished at 2.26am – equalling the record for the latest finish at the US Open, luckily in the city that never sleeps.
2.26am was also the finishing time for the matches between Philipp Kohlscheiber and John Isner in 2012 and Mats Wilander and Mikael Pernfors in 1993.
While 10th seed Nishikori defeated the fifth seed, it was not so much of a shock given he held a winning record over Raonic going into their fourth-round match.
Raonic enjoyed a superb run to the Wimbledon semi-finals in the last Grand Slam event, but he fell a couple of round short this time around as Nishikori finished stronger.
After hanging on to claim the fourth set and level the match, Nishikori claimed the vital break in the fifth game of the fifth and final set to lead 3-2 - a lead he managed to hole on to right to the end.
"I was down 2-1 in the third it was really tight and it was really tough," said Nishikori. "He had great serve I just tried played one point at a time and keep fighting."
Nishikori now goes on to meet Australian Open champion Stan Wawrinka in the quarter-finals at Flushing Meadows.