Roger Federer describes Australian Open title defence as 'very special moment in my life'
"Defending my title from last year, sort of the fairy tale continues"
By Sky Sports Tennis
Last Updated: 24/05/18 2:31pm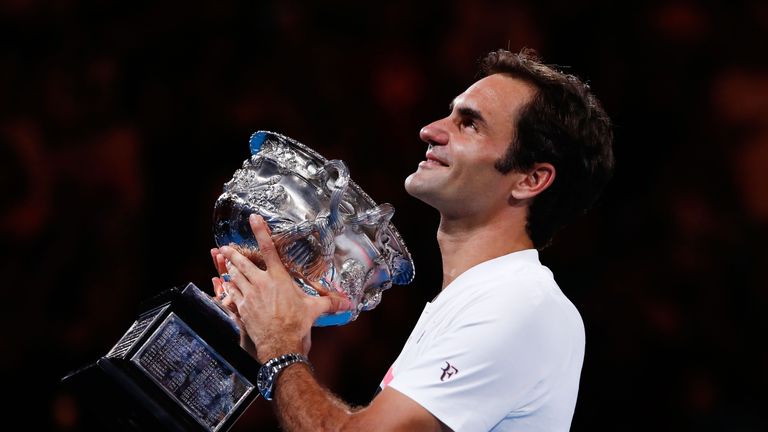 Roger Federer described making a successful defence of his Australian Open title to claim a record-extending 20th Grand Slam success as a "very special moment in my life".
The 36-year-old secured his sixth Melbourne crown - to equal Roy Emerson and Novak Djokovic - with an absorbing five-set victory over Marin Cilic, who was chasing his second major victory after winning the US Open in 2014.
Federer started in imperious fashion against his Croatian counterpart but was forced to dig deep amid a barrage of powerful forehands from Cilic, who forced a decider by winning five successive games in the fourth set, before prevailing 6-2 6-7(5) 6-3 3-6 6-1 in three hours and two minutes.
"Defending my title from last year, sort of the fairy tale continues," Federer said in his post-match press conference.
"That's what stands out for me, maybe not equalling Emerson or Novak. They had their own unbelievable careers.
"It's definitely a very special moment in my life again."
The Swiss great failed to win a Grand Slam between his Wimbledon title in 2012 and the Australian Open last year but has since won three majors to become the first male player to reach the landmark 20th title.
When asked whether he could sustain his impressive form on the sport's biggest stage, Federer said: "Honestly, I don't know. I have no idea. I've won three slams now in 12 months. I can't believe it myself.
Veterans dominate Grand Slam scene
Roger Federer and Rafael Nadal are the only two players to win a Grand Slam from the past five majors.
"I [have] just got to keep a good schedule, stay hungry, then maybe good things can happen. Then I don't think age is an issue, per se. It's just a number.
"But I need to be very careful in my planning, really decide beforehand what are my goals, what are my priorities.
"I think that's what's going to dictate how successful I will be. Exciting times ahead."
Members from the world of sport were quick to praise the achievement of Federer including Rod Laver, who was courtside to watch the match unfold.
Emerson. Djokovic. Federer. 6 x Australian Open crowns apiece. Astonishing then, incredible now.

— Rod Laver (@rodlaver) January 28, 2018
Cilic, who has now lost back-to-back Grand Slam finals, admitted the late decision by tournament officials to play the final under the roof due to hot conditions contributed to a slow start for the Croatian, who lost his serve twice in the early stages of the contest.
"Throughout the tournament I played all my matches outdoors, also preparing (for) a hot day, 38 degrees," Cilic, who will rise to a career-high world No 3 when the rankings are updated on Monday, said.
"Then (for) the first match for the final to play with the roof closed, it's difficult.
"I have to say that decision, could it have been different? I guess so. I think that it was just little bit difficult to adjust, especially the beginning of the match.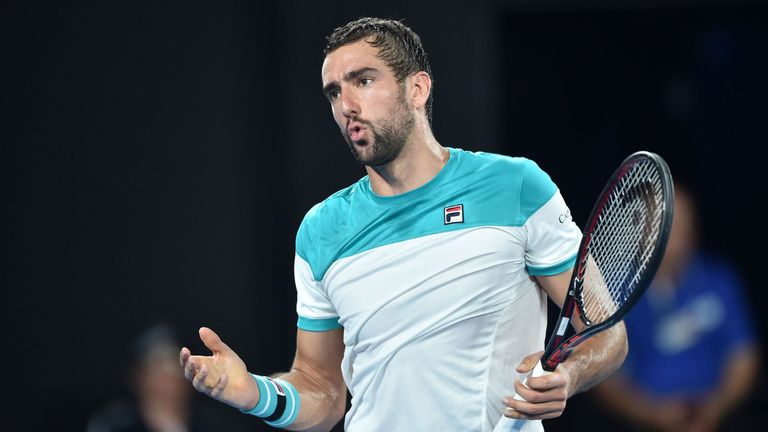 "With the roof closed, it was way, way cooler than I expected. That was very, very difficult, especially for the final to be in that kind of a situation."
The Croatian, competing in his third Grand Slam final, was also left to rue the two break points on the Federer serve which slipped by but he was keen to look on the positives gained from his deep run at the season's opening Grand Slam.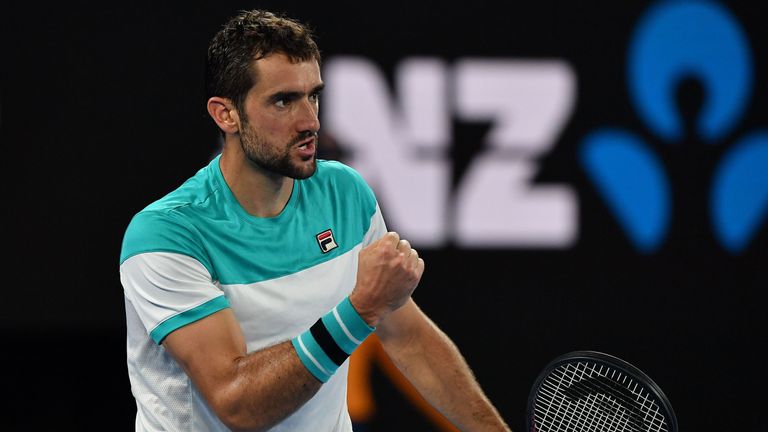 My ultimate goal is to reach No 1. Even in these last one or two years, the progress that I did is big.
Marin Cilic
"Really happy with the performance that I did. Mentally (I) was tough," Cilic, who was unable to capitalise on two break points in Federer's opening service game of the final set, said.
"My ultimate goal is to reach No 1. Even in these last one or two years, the progress that I did is big. Last year, I improved a lot in different areas.
"Now in these last couple months, I improved even more. So that gives me big confidence."
Hats off to @cilic_marin for taking him the distance but when it matters nobody does it better than @rogerfederer. 20 and counting for the Swiss maestro

— @Marcus Buckland (@marcus_buckland) January 28, 2018