Stan Wawrinka may have won the French Open but it was his shorts that stole the show
Last Updated: 08/06/15 6:14pm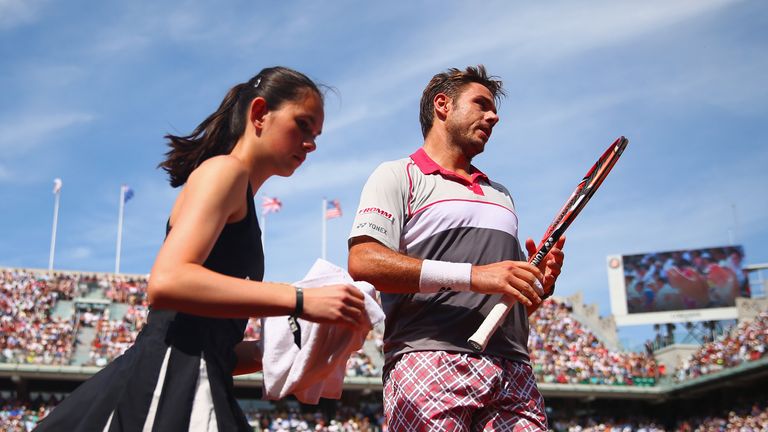 Forget the breathtaking backhands, formidable forehands and astonishing aces that Stanislas Wawrinka produced during his magnificent run to the French Open title - it was his bizarre red and white checked shorts that stole the limelight on Sunday.
Where did he get the design? A pair of pyjamas tucked away in his father's wardrobe, or was it from a 1970's wallpaper still hanging on an old relative's house? Perhaps it was from a blanket handed down in the family over generations.
The hullabaloo over his "lost property" park-player outfit was not lost on the new champion on Sunday as he draped the baggy shorts over the dais in front of him, placing them next to the gleaming Musketeers' Cup.
"I know a lot of people talk about it, and it's quite funny that they won the French Open," grinned Wawrinka after joining the likes of Mats Wilander and Ivan Lendl in completing the boys' trophy-Musketeers' Cup double at Roland Garros.
A few days after declaring he was going to "swim, play tennis and then sleep in them", he announced that the star attraction of the 2015 French Open was heading for a new home.
"They will be in the museum of Roland Garros. You will see my shorts every day if you want," he added to hoots of laughter.
"Everybody talks about those shorts since I put them on. Apparently I'm the only one who likes it."
Jokes aside, Wawrinka was still struggling to digest the fact that he had won a second Grand Slam title, and did it by overcoming a player who had until Sunday, been unbeatable on clay in 2015.
Novak Djokovic was on a 28-match winning streak. The world number one had beaten nine-times champion Rafa Nadal and third seed Andy Murray to enter the final with a 16-0 record on clay this year.
The Serb had also beaten Wawrinka in 17 of their previous 20 meetings.
Despite the stats stacked against him, Wawrinka showed that what happens in the past does not dictate the future.
"To say that I won the French Open, it's something completely crazy," said Wawrinka.
"Winning this one is really special, playing Novak here in final, the number one player. He won almost everything since beginning of the year.
"I'm still surprised the way I played, because I think I played amazing today. I was really nervous but I didn't choke.  I was always going for my shots."
A slow-starter who won his first major at the Australian Open 18 months ago, Wawrinka added: "It's quite strange when I tell myself that I have an (Olympic) gold medal, the Davis Cup and two Grand Slams. It's quite amazing. Never expected that so late in my career."    
Live tennis returns to Sky Sports on Monday June 15 with Day One of the Gerry Weber open from Halle, live on Sky Sports 3 from 11am.