Five lessons learned from the Wimbledon final between Novak Djokovic and Roger Federer
By Raz Mirza
Last Updated: 13/07/15 8:29am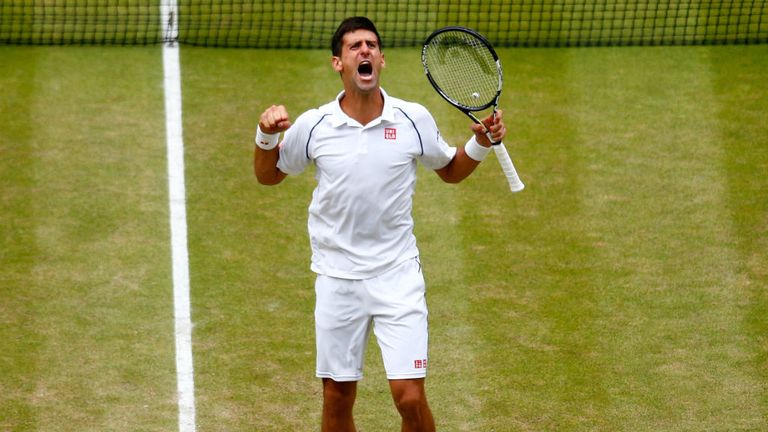 Novak Djokovic won his third Wimbledon title and ninth major crown with a 7-6 (7-1) 6-7 (10-12) 6-4 6-3 victory over Roger Federer on Sunday.
Djokovic outmuscled, outhustled and outran Federer in a repeat of last year's Wimbledon final, to retain his title and match his coach Boris Becker's All England Club record.
Here we look at five lessons learned in the Serb's successful title defence ...
Nerveless Novak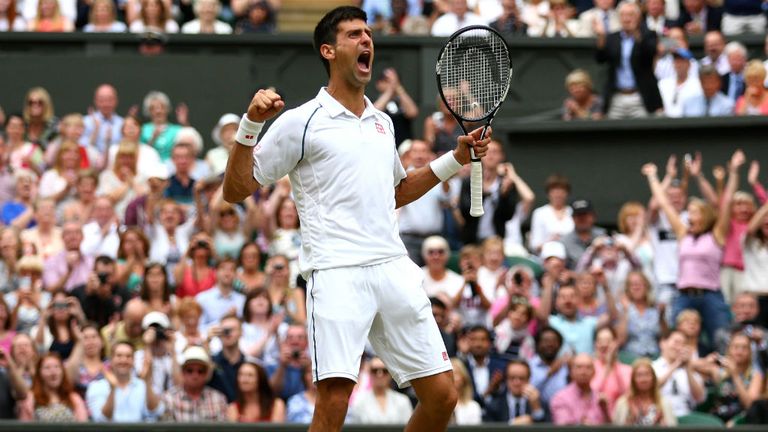 Djokovic showed just why he is referred to in tennis terms as a 'man of steel' by showing phenomenal fighting spirit on Centre Court. After falling 4-2 behind in the first set following Federer's first break, Djokovic was under the cosh from the world No 2.
But the top seed gave the perfect response, breaking in the next game with a blistering return that the Swiss great couldn't handle. It was a significant blow for Federer, who was broken for just the second time in the entire tournament.
Then faced with two set points for Federer at 5-6 in the first set, Djokovic came up with a 122mph serve to save the first, then staved off the second to force a tie-break that he took in emphatic fashion. Tellingly, Federer had only beaten Djokovic once before when he lost the first set.
Victory helped Djokovic equal his coach Becker, who won the title in 1985, 1986 and 1989. Just five men in the Open Era have won three or more Wimbledon titles.
Superb rearguard action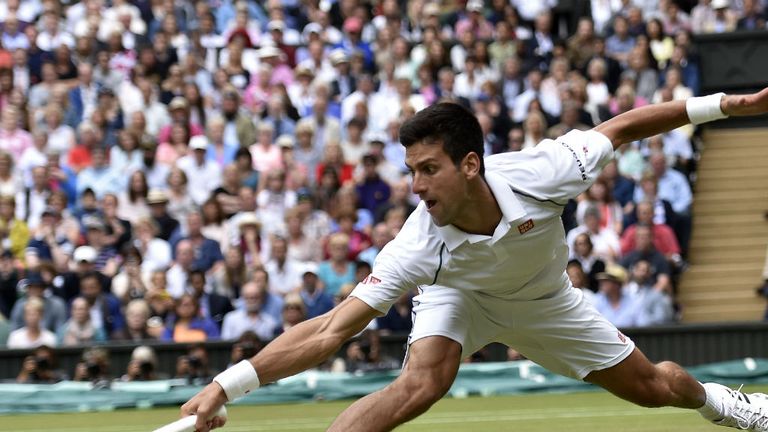 In the longest Wimbledon final tie-break since 2000, Federer staged a brilliant rearguard action as he saved seven set points. Producing blistering serves and thunderous winners from the baseline, he kept his hopes alive long enough to snatch the set when a perfectly placed return made it 11-10, giving him the chance to serve it out, which he obliged.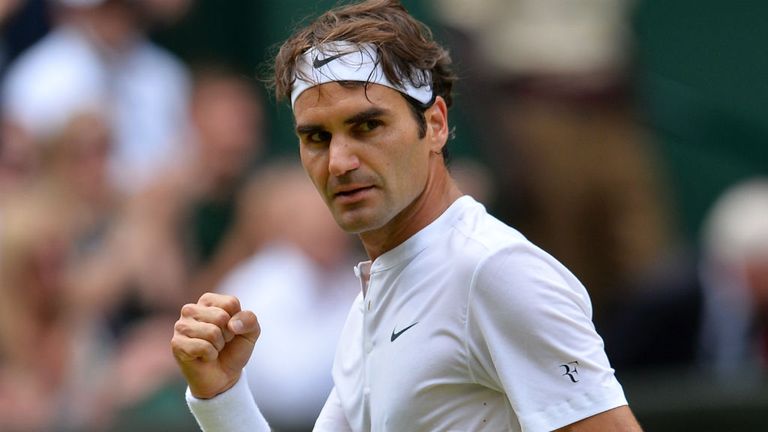 The breaker encapsulated everything great about, well, the great man and gave spectators watching the response they had hoped for from the Swiss who had so eloquently ended Andy Murray's hopes with a near-perfect display in the semi-finals.
His first serve percentage matched the Serb's at 74 per cent, but his second serve percentage dropped below 50 per cent and that was a crucial statistic. Djokovic enjoyed a 60 per cent success while making just 16 unforced errors to Federer's 35.
Momentum stealer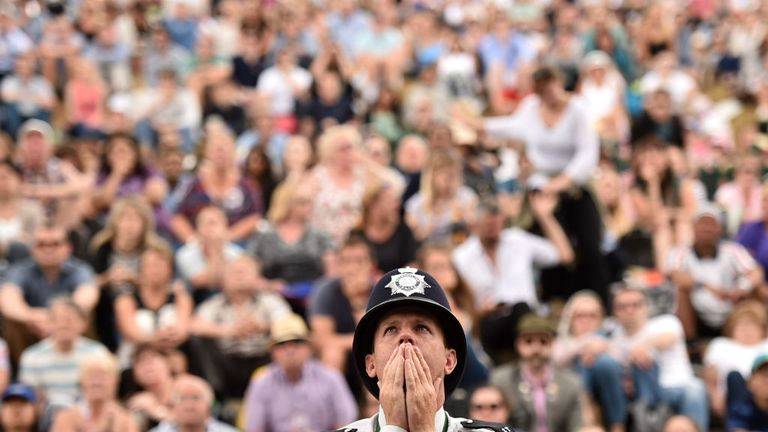 The Centre Court crowd, on Federer's side throughout, had raised the decibel count to ear-splitting levels and the sense was the Swiss could take control.
Yet it was Djokovic, displaying all his counter-punching skills, who wrestled back the momentum with a crucial break in the third game of the third set when he harried Federer into a mistimed forehand. The Serb showing quickness of feet and his usual elasticity to fend off the threat and strike a dagger to Federer's heart.
The pair have now met four times in 2015 - Djokovic winning the finals at Indian Wells and Rome after Federer had come out on top in the Dubai final, but the latest victory at the All England Club will hurt the world No 2.
Federer running out of time
With Djokovic a break up at 3-2 in the third set, a light shower forced a 20-minute delay and it was Federer who seemed more affected when play resumed. He meekly allowed Djokovic to close out the set and then surrendered his serve in the fifth game of the fourth set as the Serb surged to victory.
Djokovic has now denied Federer the chance to move past the seven-title record he shares with Pete Sampras two years in a row. Federer would have become the oldest Wimbledon champion of the open era with victory over Djokovic, but was unable to impose his mastery on the 28-year-old.
Every year Federer fails in his bid for the magic eighth All England Club crown leaves the fear that he may simply run out of time in that quest.
Sweet taste of err .... grass!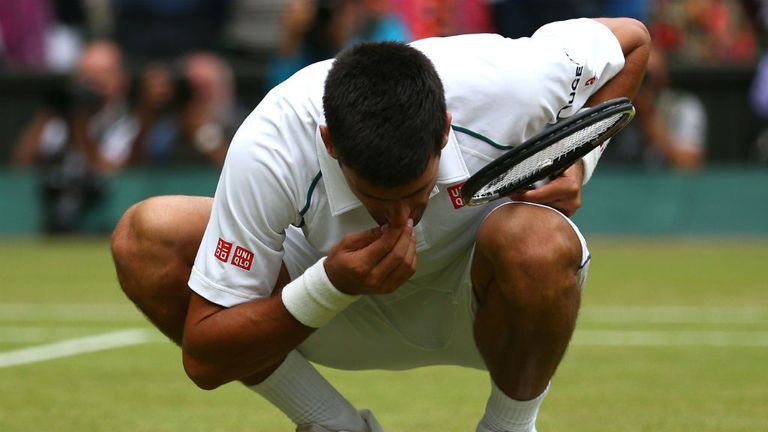 Djokovic celebrated his third Wimbledon title with his now traditional nibble of the famed Centre Court grass.
"It tasted very, very good this year. I don't know what the grounds people have done but they have done a great job," said Djokovic.
"It is a little tradition. As a kid I was dreaming of winning Wimbledon.
"You dream of doing something crazy if you win and that was one of the things."
Djokovic is 48-3 in 2015 after collecting a fifth Australian Open as well as Masters titles at Indian Wells, Miami, Monte Carlo and Rome and now his successful defence in south west London.
With nine Grand Slams to his name and two already under his belt this year, he will look to write his name in the annuals of tennis history by making it three out of four majors this year ... and who can possibly stop the Serbinator? Answers on a postcard please ...
Watch all the build-up to the US Open with the US Series of tennis live on Sky Sports this summer.