Nick Kyrgios into US Open third round after umpire intervention
Australian will face Roger Federer in third-round blockbuster on Saturday
Last Updated: 31/08/18 1:09pm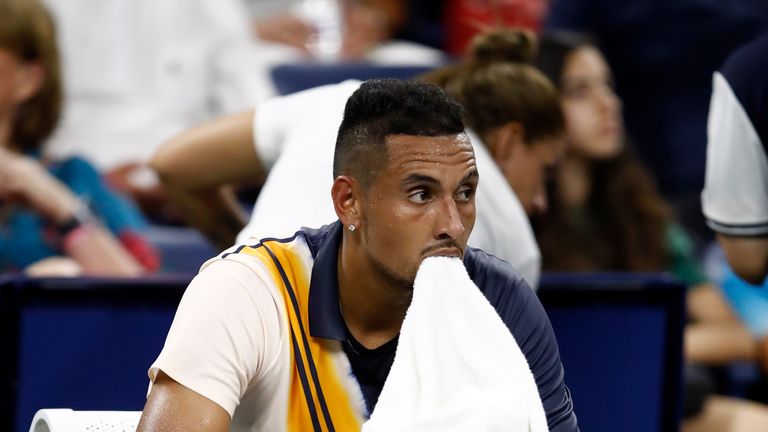 The trials and tribulations of Nick Kyrgios took another turn at the US Open as he moved into the third round but only after bizarre intervention from the chair umpire.
Kyrgios battled back from a set and break down to beat France's Pierre-Hugues Herbert 4-6 7-6 6-3 6-0 and reach a last-32 showdown with Roger Federer, but the defining moment came at the crucial juncture when he trailed 3-0 in the second set.
The Aussie appeared to be offering minimal effort on the Herbert serve, something he has been accused of in the past and his actions have consistently left fans, umpires and opponents flummoxed.
However on this occasion, the chair umpire, Mohamed Lahyani, took it upon himself to intervene at the change of ends.
As Kyrgios sat down Lahyani got down from his chair and, amidst an animated dressing-down that lasted almost a minute, the Swedish official was heard to say 'I want to help you, I know this is not you.'.
Kyrgios went on to see the trainer a couple of games later and was still trailing 5-2 before eventually breaking back to overturn the deficit and then run away with the contest in the third and fourth sets.
When asked afterwards about Lahyani's intervention, Kyrgios said: "He was concerned about how I was playing, like, 'Nick, are you OK?' I said everything was fine, I just wasn't feeling great. He [Herbert] let me back into the second set
really."
Kyrgios was grilled in his press conference but was quick to downplay any influence from the umpire: "I'm not sure it was encouragement. He said he liked me. He just said that it's not a good look.
"I wasn't feeling good, I know what I was doing out there wasn't good. I wasn't really listening to him, but I knew it wasn't a good look - it didn't help me at all.
"I was down 5-2, if it was 3-0 and maybe if I would have come back and won six games in a row, fair enough. It didn't help me at all."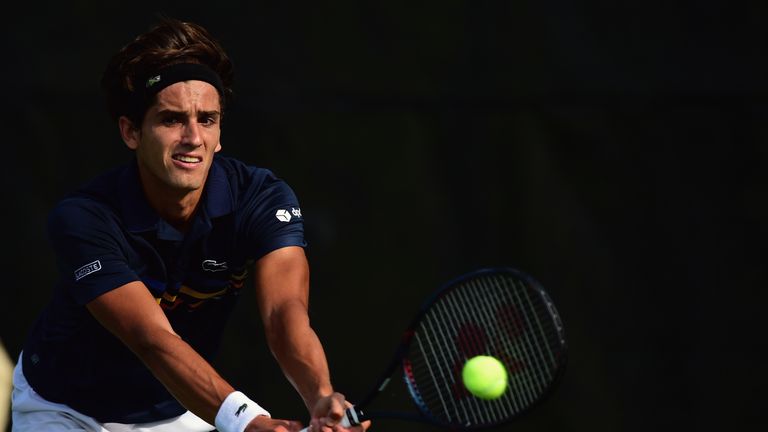 US Open tournament referee Brian Earley issued a statement to explain what transpired: "Chair umpire Mohamed Lahyani left his chair to check on the condition of Nick Kyrgios.
"He came out of the chair because of the noise level in the stadium during the changeover to make sure he could communicate effectively with Kyrgios.
"Lahyani was concerned that Kyrgios might need medical attention. Lahyani told Kyrgios that, if he was feeling ill, that the tournament could provide medical help. He also informed Kyrgios that if his seeming lack of interest in the match
continued, as the chair umpire, he would need to take action.
"He again suggested to Kyrgios that he could receive medical attention. At the next changeover, Kyrgios, down 1-4, received treatment from the physio."
Kyrgios' opponent was also asked about events on Court 17 and Herbert admitted that the Aussie was a changed man after the conversation while insisting he should have been able to close out the set himself.
"I tried to focus on myself. I just saw that Mohamed went down at the chair, I was a little bit surprised," he said in his press conference.
"I didn't listen to what they said, I just saw that Nick from that point started to play really focused, 100 per cent. Then I saw what happened after the match.
"First of all, I'm upset against me because I should have finished the second set. You never know what would have happened if Mohamed didn't go down off the chair and started talking to him.
"The umpire doesn't have to talk to him at all, the only thing he can tell him is, 'pay attention because if you continue like this I'm going to give you a warning', something like this.
"He can tell him from the chair, he doesn't need to go down. He doesn't need to say the words he said on the video. I think this was not his job. I don't think he's a coach, he's an umpire, and he should stay on his chair for that."
Kyrgios is no stranger to controversy and has admitted at times switching off or 'tanking' during matches. most notably following his match with Mischa Zverev at the 2016 Shanghai Masters when Kyrgios was fined and banned for eight weeks for 'lack of best efforts'.
Thursday's bizarre scenes prompted an outcry on social media, with the umpire criticised for his role in how events panned out.
Additional reporting Press Association
We have every major tennis event covered from all angles via our website skysports.com/tennis. On the move? Head to our app for mobile devices and iPad, or follow our Twitter account @SkySportsTennis to join in the conversation.
Tennis is back on Sky Sports screens with the Laver Cup in September while we will also have coverage of the ATP Finals in November with every match live on Sky Sports. But first, we will be across the final major of the year in New York as the US Open right through to the final with live blogs, reports, features and reaction.