Alfie Hewett reflects on double US Open triumph
By Gemma-Louise Stevenson
Last Updated: 12/09/18 4:18pm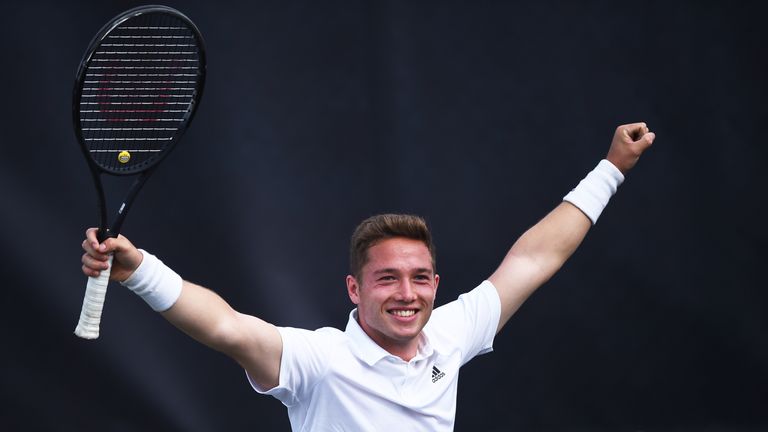 When he arrived in New York, Britain's Alfie Hewett had one target - to leave with both singles and doubles titles in the men's open division of the wheelchair tennis draw at the US Open.
As a result of performances that demonstrated what hard work, determination and passion can achieve, he did just that and he'll be travelling back to the UK with two trophies beside him on that plane.
"It feels good," Hewett told Sky Sports. "It's a bit of a strange one at the moment though, it hasn't really sunk in.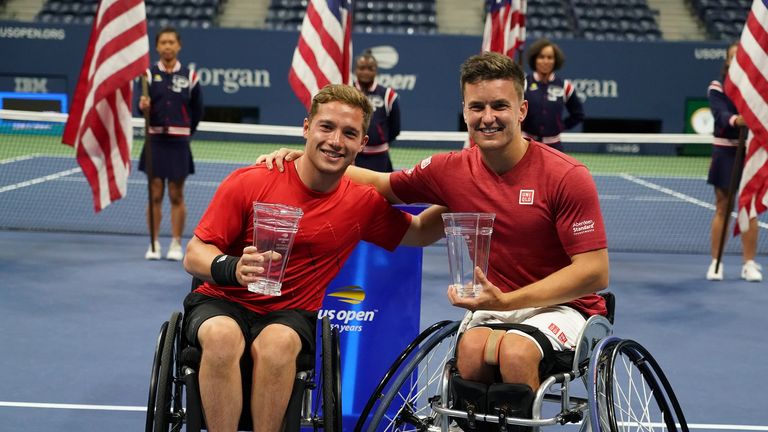 "I think there was so much emotion in the match and I was quite vocal on court as I normally am and to come through after such a close second set, I'm just relieved as well."
Alfie Hewett
His doubles win with compatriot Gordon Reid was another competitive late-night affair between GB and France which was decided on a super tie-break and eventually went Hewett's way 5-7 6-3 11-9.
The singles saw him come out on top against a player who has seen an incredible return to form this season, beating Shingo Kunieda in straight sets to be crowned champion without dropping a set throughout his whole campaign.
The 20-year-old can now boast seven Grand Slam titles and became the first player to break the domination of Shingo Kunieda and Stephane Houdet in the singles trophy at the US Open since 2006 when Robin Ammerlaan claimed the title.
"Really, I think I was about six years old when that happened, I didn't know that," Hewett laughed.
"I did look up at the big screen today and it said Shingo Kunieda 22 singles Grand Slams and I was thinking: 'Jeez I've got a long way to go.'
"It just shows what an amazing player he is, the way he keeps fighting to be back where he is he deserves to be there as a legend within our sport.
"He's my idol and it's an honour to be sharing a court at a Grand Slam final with him and congratulations to him on how he's come back and dominated and been consistently making finals this season."
Doubles defence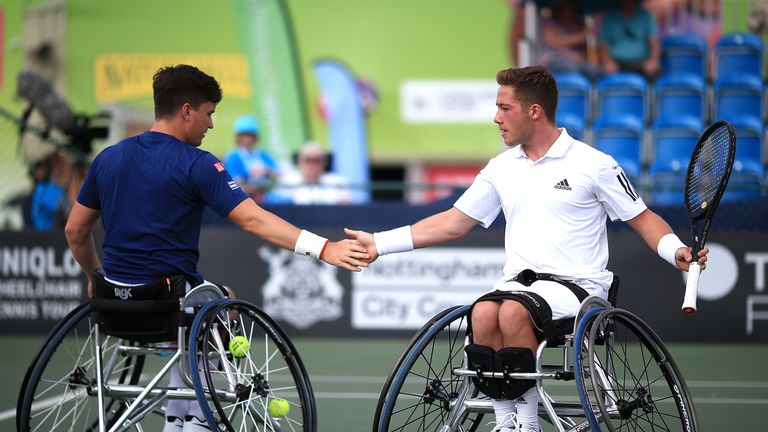 Hewett and Reid went into this year's US Open as defending champions in doubles and they were both determined to get their names on that title once more.
The final saw the Brits go a set down, before levelling it up to one set apiece and then take the momentum of getting themselves back in the game into the deciding super tie-break.
At 9-3 up in the decider it felt like the ball was really in their court and those watching on at 11pm thinking they start making plans to head home for bed.
But then a stirling comeback from the French duo of Stephane Houdet and Nicolas Peifer saw it level at nine all, before Hewett and Reid then kicked themselves back into action again and took the next two points, the match and the title.
"I still have to apologise to Gordon for the end of the match," Hewett said.
"It was going great and we were playing with such aggression and intensity but at 9-3 I think I got a little too confident and went for a bit too much too soon and it led to me definitely getting a little bit tight out there.
"But Gio pulled it out of the bag with that drop shot at nine all and it made the difference, honestly. It was a late finish but I'd have done it all again for that feeling of defending the title."
Storming singles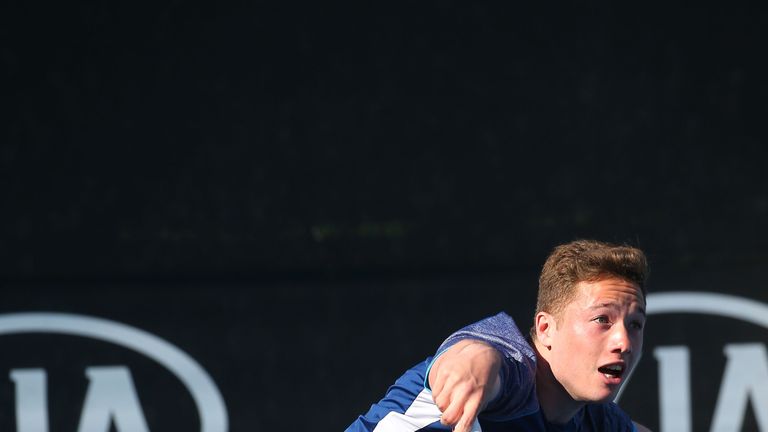 None of Hewett's matches on the way to the singles title were easy and they were never going to be with such a strong field in the men's division so he had to play smart and change his game plan to suit each opponent he faced.
Focusing on what he could do to gain the edge, watching Hewett on his journey to eventually lifting the title was like watching a master executing the most perfect game of chess.
"I really felt like I could bring it home in the singles," he said. "I'm playing some of my best tennis and my confidence is really high at the moment so I knew that if I went out there and played my game in the final like I had done the rest of this week I had a good shot at winning.
"Shingo came out of the blocks firing and thankfully for me I won that game when I was 2-0 down in the first set because I was getting a bit frustrated, I was doing the right things but it just wasn't happening.
"But once I got a bit of rhythm in the match and some flow around the court he kind of retreated a little bit.
"The games he was winning he was maintaining his court position and being aggressive like he did in the first couple of games, but once he gave me that sniff of hope I found a bit of confidence and I started to get on the front foot earlier in the point and that's what made the difference."
Switching focus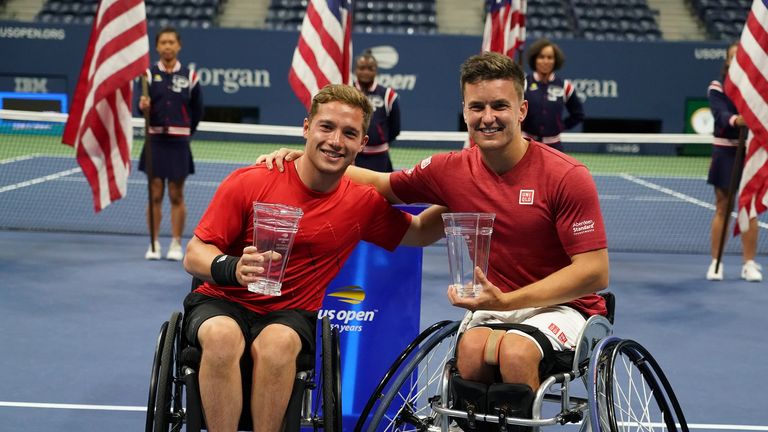 Hewett celebrated his double US Open victory with a trip up the Empire State Building followed a by a New York take on his favourite post-tournament winning treat, pizza.
"I've always said that's something I have to go and get - a New York pizza," Hewett said. "I didn't have one last year and they're known for their pizzas round here so I got my brother and sister to order one in and just chilled."
With the final Grand Slam of the year out of the way and having not really had much time out since Rio 2016, his immediate focus once he steps off that homeward bound plane is spending some time with his family to reflect on everything he's achieved as well as enjoy some downtime.
Having already clocked up seven Slams and a long career still ahead of him he's already achieved so many things that others his age can only dream about.
"There's a flip side to that though, it's a sacrifice that I've made growing up that I've spent a lot of time on tennis and maybe haven't had that normal teenage lifestyle," Hewett added.
"But it's swings and roundabouts. To be able to play on the stadiums I do is a credit to my journey and once again the sacrifices I and everyone around me have had to make to be able to get there.
"To be able to do it at such a young age it shows my upbringing and who I've had around me has made such a difference. To do what I've done so early on and be able to maintain it is something I'm really happy about."
Looking further ahead, when it comes to the Slams he's got his sights firmly set on another target, making his mark at the only one left where he's yet to to take home a title.
"The Australian Open is a big thing for me and I haven't performed well the last two years I've been there," he said.
"So I want to make my mark there. The calendar finishes so late in the year the Christmas period is always so busy and there's not necessarily that time to rest and go again.
"So I'm really going to focus on Australia this time around and hopefully go again and do something great out there next year."
We have every major tennis event covered from all angles via our website skysports.com/tennis. On the move? Head to our app for mobile devices and iPad, or follow our Twitter account @SkySportsTennis to join in the conversation.
Tennis is back on Sky Sports screens with the Laver Cup in September while we will also have coverage of the ATP Finals in November with every match live on Sky Sports.