Roger Federer has no regrets over missing out on world No 1 ranking
"Regrets? I don't have any. But maybe losing to Tommy Haas (in Stuttgart) and Evgeny Donskoy (in Dubai) ended up haunting me"
By PA Sport
Last Updated: 16/11/17 7:19pm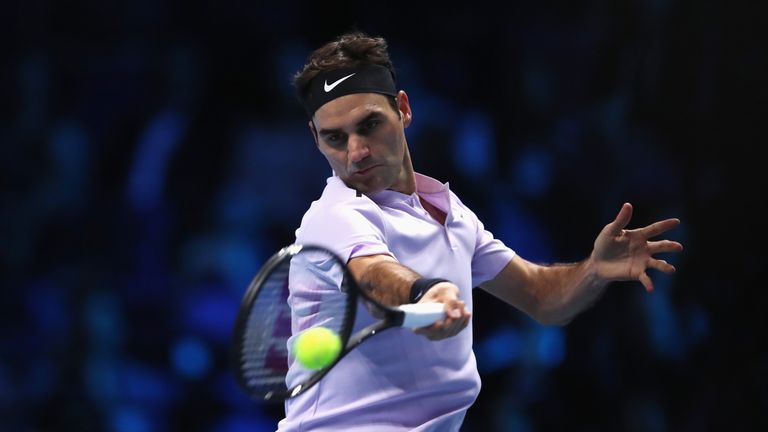 Roger Federer says he has no regrets over his season, despite missing out on finishing the year as world No 1.
Federer's decision to skip the Paris Masters last month ended any hopes he may have had of catching Rafael Nadal at the top of the rankings.
Nadal subsequently withdrew from this week's ATP Finals in London after just one match through injury, clearing a path for Federer to claim a seventh title and the potential 1,500 ranking points on offer.
Yet victory in the final on Sunday would leave the 36-year-old Swiss, who faces either Dominic Thiem or David Goffin in the semi-finals on Saturday, just 140 points shy of his rival.
However, Federer said: "Regrets? I don't have any. But maybe losing to Tommy Haas (in Stuttgart) and Evgeny Donskoy (in Dubai) ended up haunting me.
"I had match points in both matches. It's not like I didn't try. To have regrets because of these matches - if I miss out because of that for world number one, then maybe I was unlucky.
"But I also did win matches in Miami, saving match points against Tomas Berdych, and other matches throughout the season could have gone either way as well.
"So I'm just happy I'm playing a great season. I'm so happy that I was able to reach this level of play and still being able to play also at the end of the year.
"I have no regrets because I totally exceeded my expectations. I'm just happy that I'm injury-free and healthy right now and enjoying myself still."
Federer did not appear to be enjoying himself a great deal after finding himself a set behind and facing a break point against already-eliminated Marin Cilic in the final round-robin game on Thursday.
But, having qualified for the semi-finals regardless of the result, the 19-time Grand Slam winner came through 6-7 (5) 6-4 6-1 to make his 14th semi-final in 15 appearances at the ATP Finals.
Cilic, who endured a painful defeat to Federer in July's Wimbledon final, said: "I think today was a solid match.
"Obviously it's a little bit more difficult mentally knowing that I'd had two losses, and that I wasn't going to be able to go through.
"But still I played those first two sets at a really good level. I even had a break point there early in the second.
"In the third set I felt like I dropped a little bit with my serving percentage. Once Roger got the break, he was playing little bit looser. He obviously played well."
The season-ending extravaganza ATP Finals ends another memorable year which will be covered via our website www.skysports.com/tenniswith live blogs, reports, reaction and expert analysis as the season reaches its climax.
On the move? Head to our app for mobile devices and iPad, or follow our Twitter account @SkySportsTennis to join in the conversation. Who will win the World Tour Finals this year? Have your say...