Grigor Dimitrov feels he overcame barrier with ATP Finals win
"I feel confident, to be the last man standing is always a great thing"
By Richard Cooke
Last Updated: 20/11/17 6:39pm
Grigor Dimitrov believes he is finally fulfilling his potential after winning the season-ending ATP Finals.
The 26-year-old Bulgarian became the first debutant to win the tournament when he defeated David Goffin 7-5 6-4 6-3 in Sunday's final at London's O2 and he believes it is a springboard to future success.
Dimitrov told Sky Sports News: "I've put myself in very good positions before, semis, finals of big tournaments and have just never been able to win.
"This year, in particular, I think I have jumped over that barrier a little bit more, playing a little bit more loose, a little bit more confident so there are a lot of things that are starting to come together.
"I don't feel like there are many other things that I've changed, it is just the constant work that I have been putting in and the results are here right now."
It all means that Dimitrov, who finished the season as the world No 3, will be a marked man at the Australian Open in January but he is unfazed by the prospect.
"Yeah, absolutely, I know I am going to be on the radar there," he added. "That is something that actually excites me and that is what I play tennis for, just to compete.
"I feel confident, to be the last man standing is always a great thing."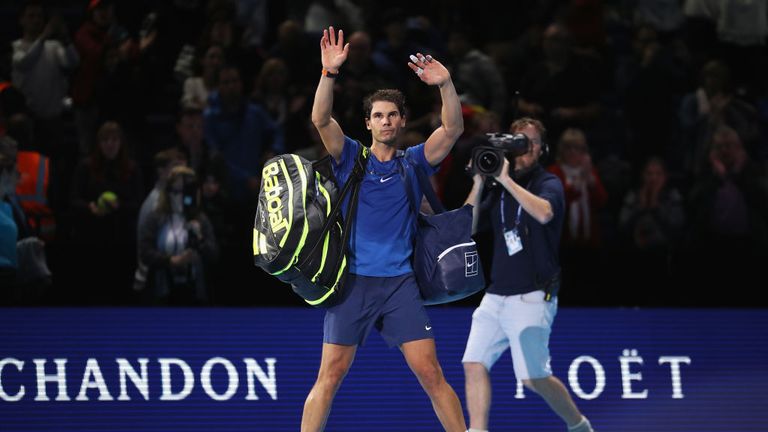 Dimitrov is in no doubt that he has benefited from spending time with Rafael Nadal this year.
He went on: "To be around a legend like him is unbelievable. I really appreciate the gesture. It was great when I went out there.
"We spent quite a bit of time on the court but also we had time to spend off the court. We went on his boat, we chatted a bit, we jumped in the water.
"It was very natural and I think that's something we don't see nowadays considering how competitive the sport is."
The season-ending extravaganza ATP Finals at London's O2 ends another memorable year which we have covered on www.skysports.com/tennis with live blogs, reports and expert analysis. See you in 2018 when we return for the Australian Open.
On the move? Head to our app for mobile devices and iPad, or follow our Twitter account @SkySportsTennis to join in the conversation. Who will win the Australian Open? Have your say...