Former Benfica, Fiorentina, AC Milan and Portugal midfielder Rui Costa chooses his #One2Eleven on The Fantasy Football Club.
The former Portugal international had a plethora of talent to choose from, having also made 94 appearances for his country, and he puts together a very strong XI. 
Costa has gone with a 4-2-3-1 formation and told The Fantasy Football Club who makes his XI...
GOALKEEPER: Vitor Baia
The best goalkeeper I played with was Vitor Baia, who was my team-mate from the Portuguese national team. And aside from Vitor, I can't not mention Toldo and Dida, but Vitor Baia is first choice. I only played with him for Portugal but he's a great friend and was a great team-mate. He was great between the sticks and the whole team could always rely on him.
RIGHT-BACK: Cafu
Cafu is my right-back. A team-mate of mine at AC Milan, who played for Brazil. He was a right-back who seemed more like a winger at times. He moved to Milan when he was already in his thirties, but stood out in every game.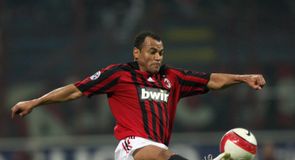 CENTRE-BACK: Alessandro Nesta
This is difficult because I played with some greats. For this 11, I'm going to pick two. Nesta, my team-mate at AC Milan. Nesta was probably the most elegant player I played with. He was really quick, had great acceleration and had his own way of defending. He was brilliant in one-on-one situations and is a great friend of mine.
CENTRE-BACK: Carlos Mozer
The second is Mozer, a team-mate of mine at Benfica. He's perhaps the centre-back that I look up to the most because of his ability as an athlete, his skill and the fact he was a winner.
LEFT-BACK: Paolo Maldini
At left-back, the best player I played with was Paolo Maldini. A great captain, a great footballing man, a great man and a great team-mate. When I played with him at AC Milan he's already won everything but every day he showed that he had the desire to keep on winning and this rubbed off on the other players at Milan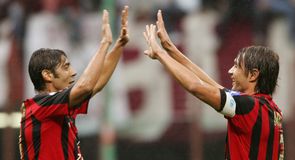 CENTRE MIDFIELD: Andrea Pirlo
I have to pick my boy Pirlo, who actually started out in football as a number 10, in my position. He went to Milan and played as a second number 10 and ended up the best number six in the world. He was possibly the most technically gifted player I ever played alongside.
CENTRE MIDFIELD: Paulo Sousa
Playing alongside Pirlo I'd have Paulo Sousa, a team-mate of mine from the Benfica youth team days and later on in the national team. Paulo was brilliant tactically. He had the ability to understand and anticipate what was happening in a game. That's why I'm picking him for this team.
RIGHT WING: Luis Figo
It's almost impossible to pick four attackers but I'm going to pick my colleague from the national team, and a lifelong friend, Luis Figo. He won the Ballon d'Or when I was his team-mate. He was possibly the best winger I've ever seen. His ability in one-on-one situations, his crossing. He wasn't a winger that just stayed wide because he would come inside, play and create chances.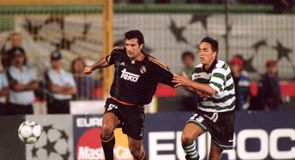 ATTACKING MIDFIELD: Kaka
In the number 10 role, I'm choosing another player I was lucky enough to watch grow. I'm talking about Kaka. He came to the club as a youngster and I was almost at the end of my career. Any player about to lose their place in the team wants their replacement to be a great player and a humble person. At half-time in every game he would look over to me to see if I was going to give him any advice. It was an honour for me to play a part in Kaka's development.
LEFT WING: Cristiano Ronaldo
On the left I've picked another Ballon d'Or winner and another team-mate. It's obviously Cristiano Ronaldo. What stands out for me with Ronaldo is his work ethic. He always had this drive from when he was a kid until he joined the national team and he knew he would be the best player in the world.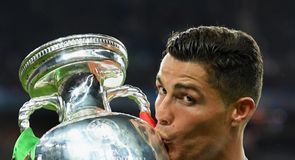 STRIKER: Gabriel Batistuta
I'm going to choose the player I played the most with, who I built the strongest bond with - Batistuta. We're lifelong friends as well, we had a great relationship on and off the pitch.
Out of all the strikers I played with, he had the best knack of scoring goals. He could score a goal from anywhere. Free-kicks headers, penalties, from outside the area, with his back, shoulder and heel, he scored goals in so many different ways. We weren't the best team in Italy, but we had a mission at Fiorentina to have the best attack.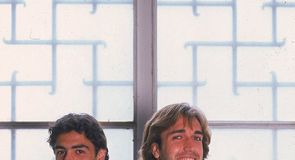 Obviously because we had Batistuta, we often achieved this which was a big deal for us. Alongside Batistuta I should mention Shevchenko, Inzaghi, Crespo and Vieri towards the end of his career.