Tyler Breeze excited for WWE's post-WrestleMania tour of Britain
Breezango member can't wait for "rowdy" British audiences
By Jefferson Lake, WWE Editor
Last Updated: 09/02/18 9:20am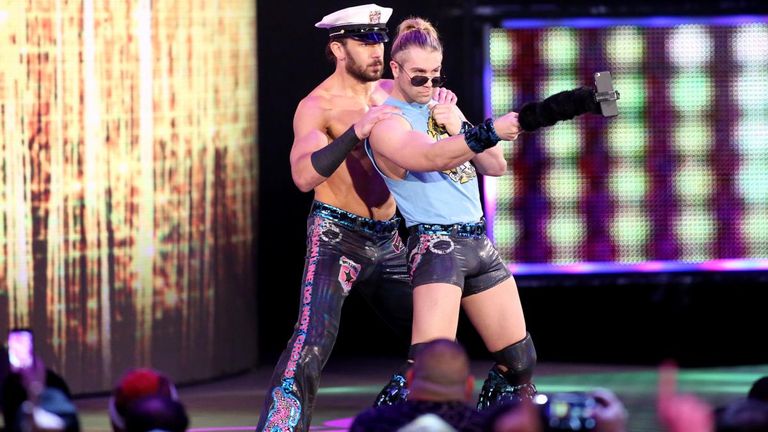 Tyler Breeze says the WWE roster are counting down the days until they return to the United Kingdom for their next tour.
WWE head to Europe after WrestleMania and have nine dates in Britain and Ireland, beginning in Dublin on May 9 and concluding at Sheffield on May 18.
Raw and SmackDown will both be filmed live at London's O2 Arena and Breeze - whose Fashion Files segments alongside Fandango as the Fashion Police have been hugely popular - cannot wait to feel the electricity from the British fans.
"We don't get to go there too often so when we do show up, the crowds are a little bigger and they're very, very excited to see everything that they watch every week on TV in front of their faces, live," he told Sky Sports.
"When we go over there we're so excited because the crowds are so excited and you can't help but feed off that energy and give it back.
"As soon as we finish those tours, we can't wait to go back. We're literally sitting here waiting to see what the schedule is going to be and what cities we're going to be going to.
"It's something that we get to look forward to. Some of those shows are so much fun."
Previous visitors from the other side of the Atlantic to British venues have commented on the unique nature of the fans, with many citing the fondness for football-style chants as the key difference between them and audiences in North America.
"They all have a little trait that stays with you," said Breeze. "You almost have to get people to explain sometimes when the chants break out.
"You'll be in the ring wondering what they're saying. It's a big thing over there and it's great that people get into it that much.
"It's all part of the atmosphere and the culture and it's really cool to see people that into what we do."
You can catch your favourite Superstars in person during the WWE UK Live Tour from 9 May - 18 May. To find your nearest show, visit http://www.bookingsdirect.com.