"Guys, my back is fine. Has been fine. #fakenews," tweeted Seth Rollins a couple of weeks ago, shutting down reports that he had been dealing with an ongoing back injury.
But while Rollins was able to give clarity on his condition, what remains uncertain is what role the former world champion will play on the road to WrestleMania.
It was announced last week that his tag-team partner Jason Jordan has been injured, and underwent successful neck surgery which will rule him out of action for the foreseeable future. Rollins' regular partner, Dean Ambrose, is also on the injured list.
His unlikely alliance with Jordan saw the two win the Raw tag titles and be involved in a back-and-forth feud with Sheamus and Cesaro.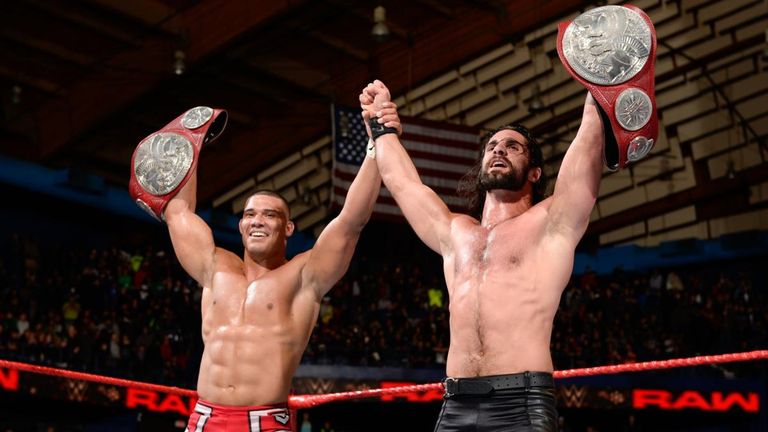 Having dropped the belts to The Bar at the Royal Rumble, it seemed that the seeds were now being planted for a program between Rollins and Jordan, with a possible blow-off match at WrestleMania.
With Jordan now sidelined, Rollins is without a partner and at this point he is not scheduled to be involved at the Elimination Chamber event a week on Sunday.
The Architect has slowly seen his main event status pass him by. Universal champion Brock Lesnar, the increasingly-popular Braun Strowman and Intercontinental champion The Miz to name but a few, have all moved ahead of Rollins in the Raw pecking order.
So how does Rollins, a man who in 2015 was the WWE world champion and United States champion at the same time, get back into the upper echelon of WWE ahead of WrestleMania?
A finishing move that was as devastating as the RKO and as lethal as the Stone Cold Stunner made its return to Rollins' impressive move set last month on RAW - the Curb Stomp.
Three years ago, Vince McMahon banned the finisher as he felt it was not a good representation deemed for a "top guy" of the company. This move was Rollins' greatest weapon. Along with his 450 Splash, Frog Splash and Falcons Arrow, it was the move that made you get out of your seat in anticipation when you saw Rollins' opponent down in position.
During the period upon the move's return, Rollins went from using HHH's Pedigree to a knee strike finisher. Neither move had the same impact for him the way the Curb Stomp did, and you always felt that was the move that made Rollins so unique and set him apart from everyone else.
So it was no surprise that when Rollins nailed Finn Balor with the move last month on Raw, it sent the viewers into a total frenzy.
Now all that is missing for Rollins heading into a pivotal next couple of months is a high-profile dance partner - and that dance partner could come in the shape of an Olympic Gold medallist.
Since it was revealed last summer that Jason Jordan was Raw general manager Kurt Angle's son, Angle has faced an uphill battle in keeping his son in check. From demanding high-profile matches week after week, to persistent hassle at unwanted times, Jordan has given Angle more than he can handle for the best part of five months.
But if it is a high-profile storyline leading up to WrestleMania that Rollins is looking for, Kurt Angle could be the ideal adversary that will tie in perfectly with this storyline. After all, it was Angle who came up with the idea of pairing Jordan and Rollins as a tag-team.
In the coming weeks and months, Rollins could slowly revert back to his more natural heel persona and accuse Angle of trying to steal the spotlight when he stepped in for a sick Roman Reigns to be the third member of The Shield.
Rollins could also blame Angle for trying to derail his progress by pairing him with his son, because he is envious of what he has accomplished in his career so far.
And this could all lead to an incredible one-on-one encounter in New Orleans at WrestleMania.