WWE Smackdown results: Daniel Bryan and Roman Reigns win Tag Team Turmoil Match
Fan favourites down The Usos, The Ascension and more...
Last Updated: 16/02/15 11:56am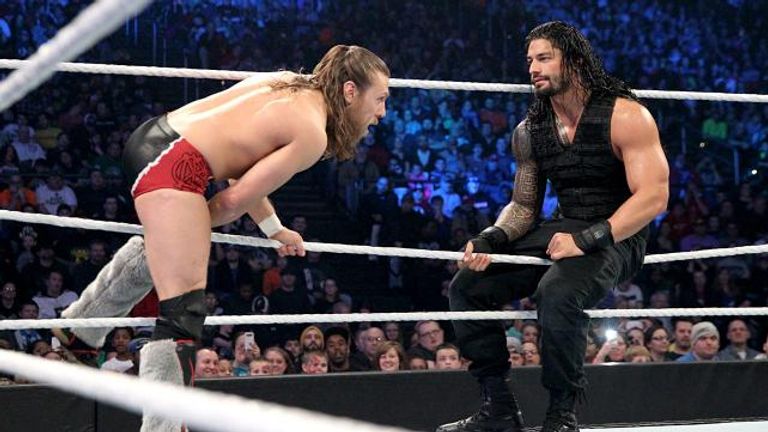 Daniel Bryan and Roman Reigns formed an uneasy alliance to win a Tag Team Turmoil Match on the latest edition of Smackdown.
Bryan and Reigns will square off at WWE Fastlane on Sunday evening for the right to fight WWE World Heavyweight Champion Brock Lesnar for his title at WrestleMania 31 in Santa Clara.
There has, therefore, been tension between The Submission Specialist and The Big Dog in recent weeks, with Bryan accidently kneeing Reigns in the face on Raw and the former Shield man responding by flooring the bearded grappler with a spear.
However, while the Bryan-Reigns tag team was not kink-free on Thursday evening, the potential WrestleMania main-eventers functioned long enough to defeat six duos, including WWE Tag Team Champions The Usos and the powerful pairing of Kane and Big Show.
Bryan rolled out the Running Knee and the "Yes!" Lock to knock off The Miz and Damien Mizdow, The Usos and, Los Matadores in that order, before Reigns' Superman punch-spear combo conquered Heath Slater and Titus O'Neil.
Bryan and Reigns were victorious again when The Ascension's over-zealous assault forced them to be disqualified and the fan favourites picked up a sixth success when Kane and Big Show went into meltdown.
Kane questioned his partner's apparent time-wasting tactics and the giant replied by knocking The Big Red Monster out, only to then be speared by Reigns and hit with Bryan's Running Knee en route to losing the contest.
Elsewhere, Bray Wyatt bamboozled R-Truth with his eerie Spider Walk before downing the rapping Superstar with Sister Abigail, while Fandango polished off Adam Rose with his Last Dance leg drop.
Plus, Paige vanquished Summer Rae with the PTO, as her Fastlane opponent, Divas Champion Nikki Bella, watched the action unfold at the announce desk, alongside her twin sister, Brie.