Ryder Cup: The top five singles matches from Hazeltine National
By Raz Mirza
Last Updated: 03/10/16 6:38pm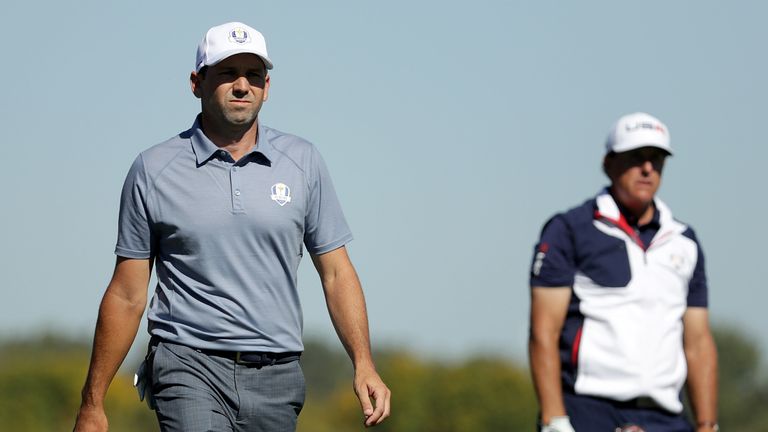 Europe needed to overturn a three-point deficit in Sunday's 12 singles matches to claim an unprecedented fourth straight win in the biennial contest, but USA proved too powerful on the final day.
Although Darren Clarke's side won three of the first five matches convincingly, wins for Rickie Fowler, Brooks Koepka, Brandt Snedeker and Ryan Moore took the home side over the winning line.
The final score of 17-11 was the biggest winning margin for Team USA since a team containing the likes of Jack Nicklaus, Lee Trevino, Johnny Miller, Tom Watson and Raymond Floyd won by nine points at Walton Heath in 1981.
Here, we look at the best five singles matches after a feast of golf on Sunday...
Sergio Garcia halved with Phil Mickelson
The first match of the day has turned out as good as advertised. Mickelson and Garcia played the best golf from start to finish. It was so good that Mickelson made four straight birdies but was only 1 up through five holes. Garcia won the first two holes on the back nine for a 1 up lead, 'Lefty' responded with a birdie on the toughest hole at 12, and then it was a battle to the end.
Garcia squared the match with a birdie on the 16th. Mickelson made a stunning 25-foot birdie putt on the 17th, and Garcia matched him from 10 feet. The 46-year-old five-time major champion, competing in a record-equalling 11th Ryder Cup this week, made an 18-foot birdie putt on the final hole, and Garcia matched him again from 8 feet to halve the match. They combined for 19 birdies, and both would have shot a remarkable 63 in medal play.
"I love the Ryder Cup," said Garcia. "There is nothing like it. I loved every minute of it, even all the bombs Phil was making on me. There were so many great things this week that I will never forget."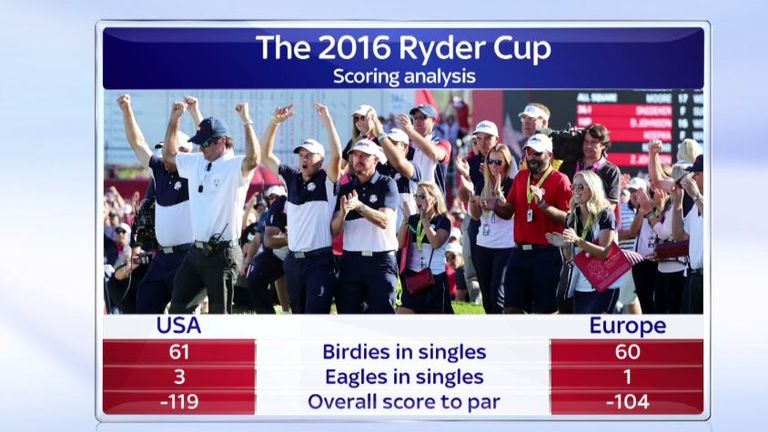 Patrick Reed beat Rory McIlroy 1 up
With both players at the top of their game, this was a match that lived up to its billing. 13 of the 18 holes were halved, and a four-hole stretch on the front nine left the gallery breathless. Reed squared the match by driving the fifth green to 8 feet for birdie. They halved the next two holes with birdies, and after McIlroy holed a 60-foot birdie putt on the 8th Reed answered with a 35-foot birdie putt to halve.
The blistering action started to take its toll on McIlroy, who's putter cooled, starting with a 5-foot par putt on the 9th that would have won the hole. Reed went ahead with a 6-foot par on 12, McIlroy missed a 5-foot par that would have won the 13th, and Reed pulled 2 up with a birdie from the bunker on the 16th.
With McIlroy in tight for a chance at a half, Reed closed him out with a 7-foot birdie.
"We're playing the Europeans, but at the same time we play golf with these guys every single week," Reed said. 'We want to beat them at their best, they want to beat us at our best."
Brooks Koepka beat Danny Willett 5&4
The only American rookie to qualify for the team, Koepka had the shortest of singles matches to take the home
side to within two points of victory.
Masters champion Willett had a forgettable Ryder Cup debut although he struck first with a birdie on the second and still lead until Koepka holed out for eagle on 7 for a 1-up lead.
Koepka won three straight holes with a Willett bogey and two straight birdies, and he closed out the match by holing a 6-foot par to halve the 14th hole.
Martin Kaymer beat Matt Kuchar 1 up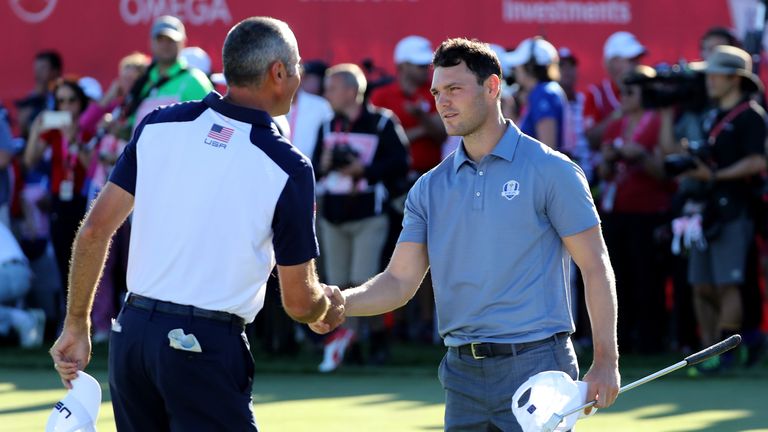 Kaymer showed some of the resilience that was missing from his game earlier in the week. Kuchar had four birdies in the opening seven holes to put the German former world No 1 on his heels, and this match appeared to be an American victory early.
Kaymer didn't give anything away and cut the deficit to 1 down when Kuchar bogeyed the 13th hole. Kaymer took it from there with three straight birdies to build a 1-up lead, and they halved the final three holes, by which time the destination of the trophy was already known.
2016 Ryder Cup: Singles scoring
| | | |
| --- | --- | --- |
| | USA | Europe |
| Eagles | 3 | 1 |
| Birdies | 61 | 60 |
| Pars | 116 | 115 |
| Bogey or worse | 20 | 22 |
| Points | 7.5 | 4.5 |
Ryan Moore beat Lee Westwood 1 up
Moore went from being the final captain's pick to clinching the Ryder Cup for Team USA a week later. He wasn't even on the team a week ago but wound up making the point that clinched victory for the American.
Westwood shook off his missed 2-foot putt that cost Europe on Saturday afternoon by staying in the contest and making putts at crucial times. Neither player was more than 1 up until Westwood made a birdie on the 15th hole to go 2 up and appear headed to victory.
Moore hit to 7 feet on the par-5 16th for an eagle, he birdied the 17th to square the match and he won on the 18th when Westwood went bunker-to-bunker and made bogey. His point gave the Americans 14.5 points needed to win the Ryder Cup.
"I mean, I don't even know. This is unbelievable right now, to actually get the point that clinches it," Moore said,  who has won five US PGA titles, the most recent coming last month at the John Deere Classic. 
"That birdie on 17 and then to win with the par on the last hole, it's - honestly, I don't even know what to tell you. It's incredible."
Watch the World Grand Prix Darts, England's tour of Bangladesh, plus the Japanese Grand Prix and Premier League football on Sky Sports. Upgrade now and enjoy three months at half price!