Team USA: A look at the players in Davis Love III's Ryder Cup side
By Ben Coley
Last Updated: 27/09/16 10:25pm
Which players can Ryder Cup punters count on? Ben Coley unpicks the individual records of the USA team members.
Dustin Johnson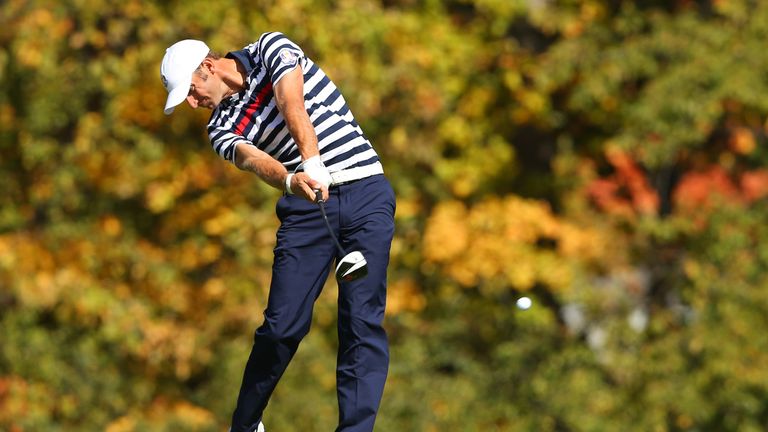 Breakthrough major champion Dustin Johnson returns to the side having missed the 2014 renewal. His return is a massive boost to the US side as it was Johnson who held himself together best at Medinah in 2012, when underused by Davis Love - who will not make the same mistake twice.
Johnson has now won his last four Ryder Cup matches - having lost his first three - and the fact that he's won both singles matches with a degree of comfort suggests that whatever the situation come Sunday at Hazeltine, he will be placed in what's considered to be a key position in the line-up.
The US Open champion was coupled with Matt Kuchar in 2012, with the pair winning both fourball matches in a classic short and long, straight and wild combination. Johnson's driving since then has become his biggest weapon, but it's his improvement with the scoring clubs which has allowed him to become one of the very best players in the game.
Love shouldn't feel obliged to pair him with someone more obviously consistent and he's surely going to be asked to play four, if not five matches.
Foursomes: W0-L1-H0
Fourballs: W2-L2-H0
Singles: W2-L0-H0
Jordan Spieth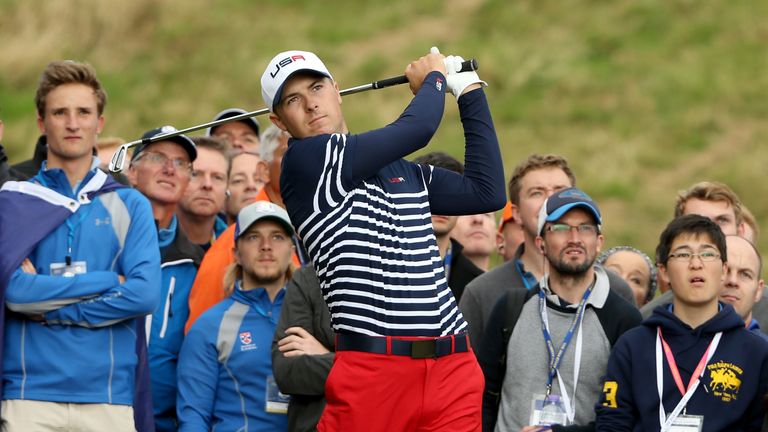 Talk in the aftermath of the last Ryder Cup was of Tom Watson's curious decision making, with arguably his strangest and least forgivable act of being to leave out Jordan Spieth on Friday afternoon - after he and Patrick Reed had produced a scintillating performance to down Ian Poulter and Stephen Gallacher in the morning.
Although arguably not in the very best of form this time, only the sheer depth of the US squad even hints at the possibility he would be benched again - and surely not if the tenacious match player makes such a resounding win.
The two-major winner's only defeat at Gleneagles came in the singles, when he was reeled in by a brilliant Graeme McDowell having led early, but the fact he was sent out in the first match for a trailing US side reveals his importance.
A partnership with Reed will be expected, but he's also paired with DJ in the Presidents Cup and is particularly close with Zach Johnson, with fellow Texas resident Jimmy Walker another option.
Foursomes: W0-L0-H1
Fourballs: W2-L0-H0
Singles: W0-L1-H0
Phil Mickelson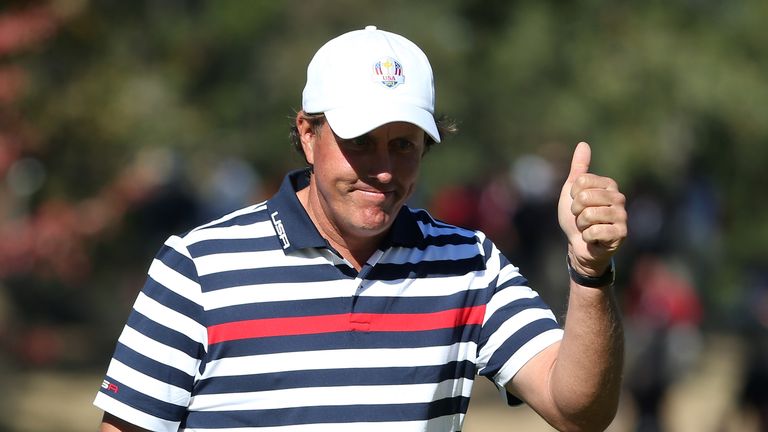 It's more than 20 years since Phil Mickelson announced his arrival as a Ryder Cup player with three wins from three at Oak Hill, when his Sunday singles win in match 12 helped the US survive a European fightback.
Ever-present since, it would take until 2004 for Mickelson to produce his first losing record. A devastating partnership with Keegan Bradley helped him secure three points from three in pairs matches at Medinah in 2012, before a spectacular fightback from Justin Rose saw him lose a crucial Sunday singles encounter.
Mickelson won two from three at Gleneagles, again partnering Keegan Bradley, but with a lack of rookies in the side his most likely partner may be Zach Johnson. The pair, whose styles are so very different, combined brilliantly at the Presidents Cup, the first time since 2011 that Mickelson played team golf alongside someone other than Bradley.
Having had success alongside Jim Furyk, Justin Leonard and Chris DiMarco in the past, it would appear to make sense to pair the notoriously wayward Mickelson with someone more accurate and his reliable friend fits the bill.
Foursomes: W4-L6-H4
Fourballs: W7-L8-H2
Singles: W5-L5-0
Patrick Reed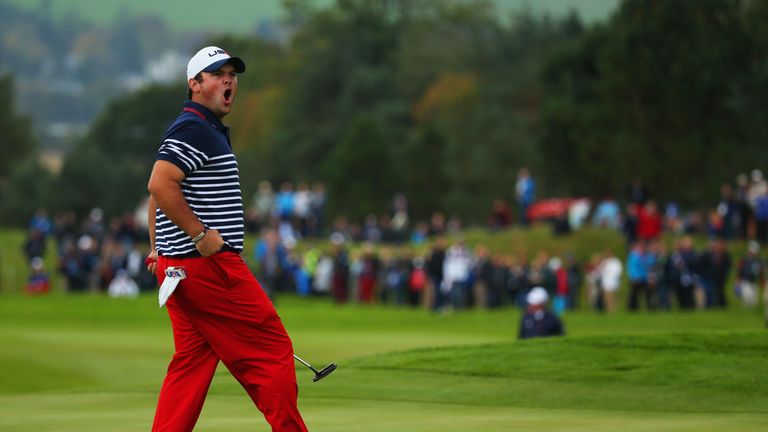 After qualifying for his Ryder Cup debut in 2014, the fiery Patrick Reed took the competition like a duck to water, going unbeaten as the star man in the US side. Paired with Spieth, Reed won 5&4 and 5&3 in two foursomes matches, halving one four-ball having been controversially benched on Friday afternoon by captain Tom Watson.
In the Sunday singles, he took on an experienced, top-class European in Henrik Stenson, and won a tight match 1up. It was a stunning debut for a quality, confident player, and he and Spieth have since paired up once in the Presidents Cup for a 3&2 four-ball victory over Jason Day and Charl Schwartzel.
Reed halved his singles match with an in-form Louis Oosthuizen but lost two foursomes, this time alongside Matt Kuchar and Rickie Fowler. All told, he's lost two of eight matches in USA colours, winning four and halving the other two.
Having returned to winning form in The Barclays, in the process qualifying automatically, he's likely to be handed a prominent role by Love - who would surely be wise to put him back alongside Spieth given that they're unbeaten in four matches together.
Foursomes: W0-L0-H1
Fourballs: W2-L0-H0
Singles: W1-L0-H0
Jimmy Walker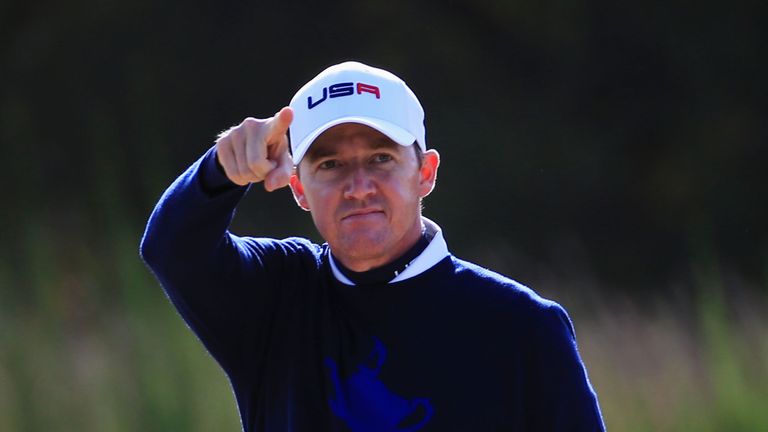 Jimmy Walker earned great credit for his Ryder Cup debut in 2014, when he perhaps surprisingly was asked to play all five matches.
He certainly appeared to carry an out-of-sorts Rickie Fowler through the first three, before the pair were thrashed by Victor Dubuisson and McDowell.
It's to Walker's credit that he bounced back to beat Lee Westwood in the singles, and although unable to back that up in the Presidents Cup he has since become a major champion to earn his place in the side.
Walker is wayward off the tee, typically, but when the stars align is a relentless birdie-maker who appears well-suited to the format. He's also extremely popular, and fellow Texan resident Spieth would be a potential partner. Unlikely perhaps to play five matches again, but it would be a surprise were he not a feature in foursomes at some stage.
Foursomes: W0-L1-H1
Fourballs: W0-L0-H2
Singles: W1-L0-H0
Brooks Koepka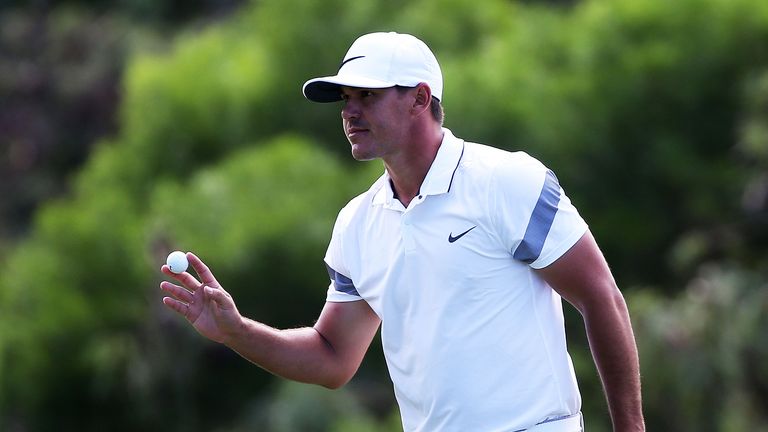 One of the most exciting players in the world, Brooks Koepka's Ryder Cup debut will be eagerly anticipated by US fans.
He's well known of course to Europeans, having made his name on the Challenge Tour before a breakthrough win in Turkey, which has allowed him to return to the US where he wasted little time in become a PGA Tour winner.
Koepka is a huge hitter who putts beautifully at his best and he's already made an impact in the WGC-Dell Match Play, winning three ties earlier this season before coming unstuck against eventual champion Jason Day.
Considered by many to have been unfortunate to miss out on the Presidents Cup last year, he's expected to play a big part for the US and would appear to provide options in terms of partners. Perhaps he'll be asked to team up with Brandt Snedeker.
Brandt Snedeker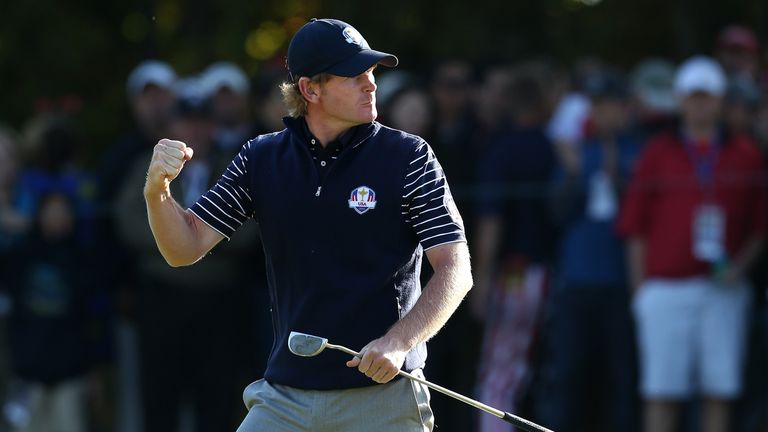 Having sealed his Ryder Cup return thanks to some improved recent form, notably an important top-five finish in the Wyndham Championship, Brandt Snedeker further helps the balance of the US team.
With Johnson, Mickelson and Koepka providing the power, Snedeker and Spieth - as well as Walker, to a lesser extent - provide the putting and that gives captain Love plenty of options among the automatic qualifiers.
Snedeker's debut in the event came at Medinah, where as a wildcard rookie he was asked to tee off in the very first match alongside Furyk. The pair did well before eventually losing on the 18th to Rory McIlroy and Graeme McDowell, gaining revenge by the same scoreline in a rematch one day later.
Given his occasional wildness off the tee but incredible short game, it's perhaps a surprise that Snedeker wasn't asked to play four-ball golf and that's expected to change at Hazeltine. The one issue in terms of his record is that he has been hammered in singles.
Foursomes: W1-L1-H0
Fourballs: W0-L0-H0
Singles: W0-L1-H0
Zach Johnson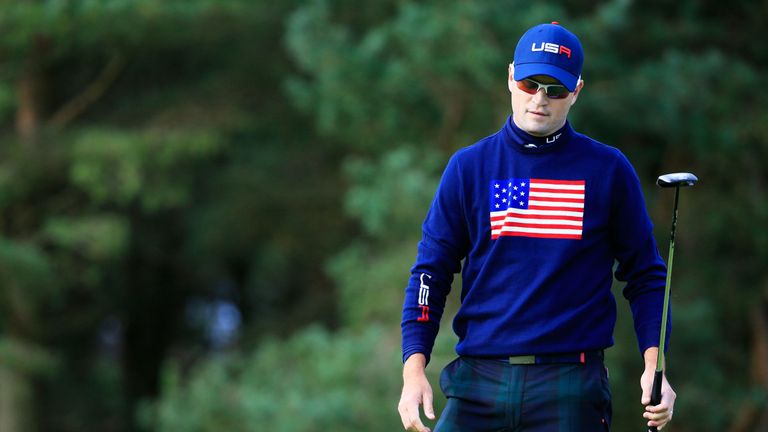 In keeping with his reputation as being a tough competitor who takes a lot of pride in representing his country, Zach Johnson has a solid Ryder Cup record. In fact, prior to Gleneagles it was a winning one, which is rare for an American in this era, and his two defeats in Scotland were both marginal and arguably owed more to the failings of his playing partners.
At Medinah, he won three points from a possible four, the sole defeat coming by the narrowest of margins when a rampant Ian Poulter made five straight birdies alongside Rory McIlroy. Since the last Ryder Cup, he has formed a likeable partnership with Mickelson in the Presidents Cup, where he also beat none other than Day in the singles.
Johnson's only singles defeat in the Ryder Cup came on his debut, when unfortunate to be paired with Darren Clarke at the K Club, a match perhaps none of his team-mates could've won.
He only scraped into the side automatically thanks to a late Rickie Fowler collapse in The Barclays, and it's possible he may have been ignored from the wildcard process having seldom threatened to win in 2016. However, his record in the competition suggests he should be given a more prominent role, because he's been underused previously.
Foursomes: 3-4-1
Fourballs: 1-1-0
Singles: 2-1-1
Rickie Fowler
On the face of it, Rickie Fowler's Ryder Cup record is cause for alarm. In eight matches across two appearances, he's yet to experience victory and he was resoundingly thrashed by Rory McIlroy in the singles at Gleneagles. However, there are reasons to give Fowler the benefit of the doubt.
Firstly, he's only lost three matches - five of them have been halved. Secondly, he showed incredible tenacity on his debut in 2010, salvaging a half point against Edoardo Molinari when his team absolutely needed it. And thirdly, he's yet to play a Ryder Cup on home soil, which means his record is all the more respectable and also that he doesn't bear the scars of Medinah.
It's true that he's since played Presidents Cup golf and been beaten comprehensively by Adam Scott in the singles, but again this was overseas and he deserves the chance to prove himself as a player who should thrive on the home support.
Fowler might well be the most popular golfer in the US and the one time he pulled on the jersey on home soil, he won all four matches in the Walker Cup, two by wide margins. Chances are he'll secure his first full Ryder Cup point pretty quickly at Hazeltine.
Record
Foursomes: W0-L1-H2
Fourballs: W0-L1-H2
Singles: W0-L1-H1
JB Holmes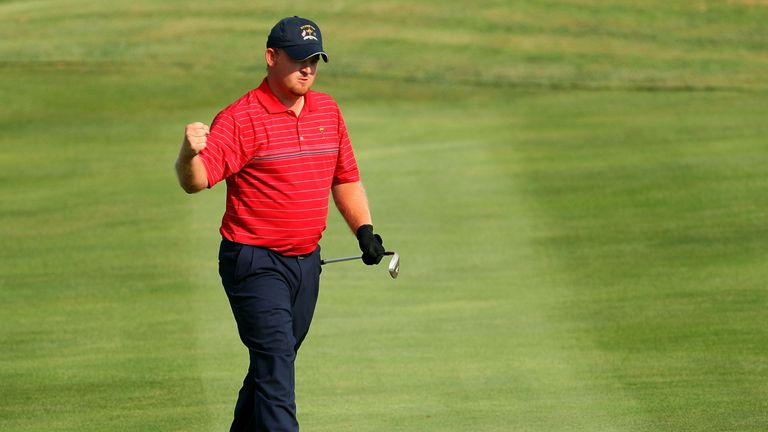 JB Holmes is a rare thing indeed - a US golfer with a blemish-free Ryder Cup record. Holmes made his debut as a wildcard in 2008, a decision no doubt based to some extent on the fact it was being played in his home state of Kentucky.
Alongside fellow newcomer Boo Weekley, he won one and halved one of two four-ball matches against Lee Westwood and Soren Hansen, before again beating Hansen in the singles.
Holmes has again earned a selection, this time having produced some career-best major performances in an up-and-down 2016. His place was assured when he contended for the BMW Championship, in the process doing enough to earn an invite to the season-ending TOUR Championship.
The task for his captain is now to find that player with whom he can again form a solid partnership. Holmes played with the similarly powerful Bubba Watson at the Presidents Cup but he could be paired with someone like Brandt Snedeker this time.
Foursomes: W0-L0-H0
Fourballs: W1-L0-H1
Singles: W1-L0-H0
Matt Kuchar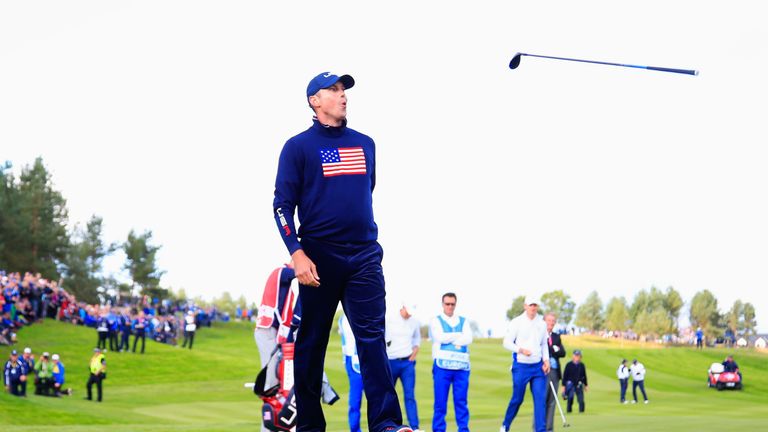 Kuchar has played in three matches and not yet been on the winning side. This is also a player whose reputation in solo formats is that of a nearly-man, who, despite collecting titles as prestigious as the Players, lacks killer instinct.
Yet his record is not at all bad for one who has entered the fray at a time of US struggle. From 11 matches played, Kuchar has a respectable five points, including an important singles breakthrough albeit in defeat at Gleneagles.
On his debut at Celtic Manor, Kuchar was undefeated until the final set of matches where he bumped into one Ian Poulter, while it was another Ryder Cup stalwart, Westwood, who saw him off in 2012 after he'd again been unbeaten alongside a partner.
With a neat and tidy game and another solid year behind him, this popular member of the team room was an obvious selection and while he won't intimidate anyone on the European side with his manner, his no-weakness game makes for a solid four-ball or foursome player. There are certainly others on this side who would appear less obviously reliable.
Foursomes: W1-L2-H0
Four-balls: W2-L1-H2
Singles: W1-L2-H0
Ryan Moore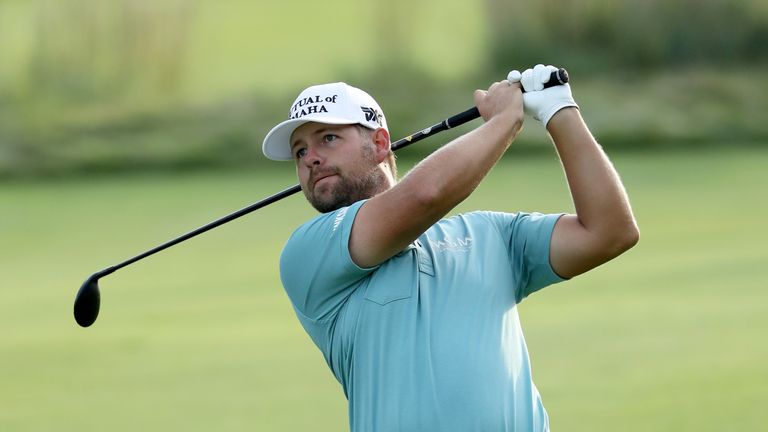 There appears little doubt that the selection of Ryan Moore represented an 11th hour turnaround for captain Davis Love III. Heading into the Tour Championship, Moore was considered a possible wild card but very much needed to contend - which is exactly what he did.
The American matched Rory McIlroy blow for blow on Sunday and, even in losing a play-off, the long-range par putt he made on what proved to be the final hole offered insight into how tough a match play opponent he can be.
Moore was a highly-decorated amateur and is now a five-time PGA Tour winner, so he's very much a worthy addition to the side even if his game is based more around consistency than it is weaponry. And while he's softly-spoken, he is considered among his peers to be a fierce competitor, one who is extremely popular.
Given his game he's an ideal partner for some of the big-hitters on the US team and he could yet play a key role for them.
Ryder Cup debut