British and Irish Lions coach Warren Gatland calls for intervention from referees
By PA Sport
Last Updated: 19/06/17 7:59am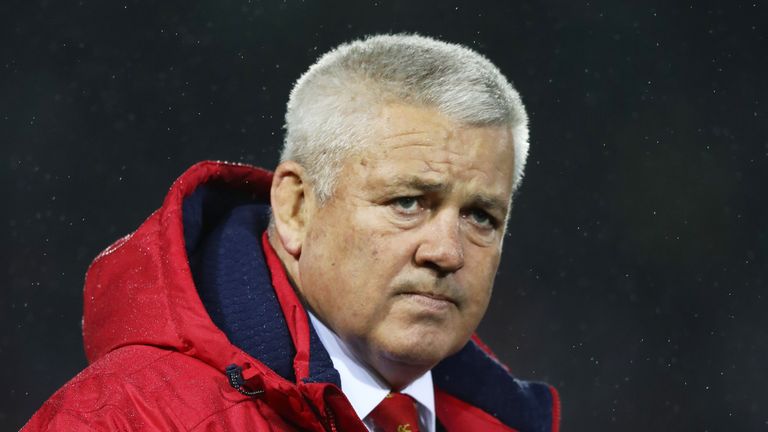 Warren Gatland has challenged referees to stop New Zealand's off-the-ball "blocking" in the British and Irish Lions Test series.
Head coach Gatland revealed the Lions have already raised the issue with officials ahead of the first Test at Auckland's Eden Park on Saturday.
Gatland will meet first Test referee Jaco Peyper on Friday to discuss the Lions' concerns further, in a bid for a clean opening clash with the All Blacks.
"The frustrating thing for us is the amount of blocking that's going on," Gatland said "It makes it difficult to complete attacking opportunities and situations.
"There is so much happening off the ball in terms of holding players or subtly holding players. We've raised it with the referees already.
"If you listen to the ref mic, they were talking about it constantly through the game. They gave a couple of penalties [in Saturday's 32-10 win over the New Zealand Maori] for blocking.
"It's one of the hardest things to pick up because it tends to happen quite a long way off the ball. In fairness to the assistant referees, they did raise it on a number of occasions.
"And sometimes it was put through to the TMO [television match official], who said it didn't have a material effect and told the referee to talk to the players about it. We'll keep raising it.
"Because it was picked up on a couple of occasions [on Saturday] they stopped doing it as much.
"That made it a lot easier for us to get up in the air and to compete. In a couple of games we haven't been able to get up in the air because there has been that interference."
Gatland believes the Lions have been denied a number of try-scoring opportunities because of subtle blocking lines, especially against the Maori.
Asked if the Lions had been stymied, the 53-year-old said: "Absolutely, yeah. When you go back and look at the tapes and look at all the stuff off the ball, where someone's run a line or stopped someone getting through, some of it is very subtle.
"That's made it difficult. It's part of the game in New Zealand. Some of the referees are picking them up for that.
"We've just got to handle that and just hope the referees, the assistant referees and the TMOs pick up what's going on.
"For us, it's being smart, and hopefully the officials are aware of it. I am happy enough that if the referees are aware of it and they pick up teams for that, that would be good."