Everton are hoping to sign Kurt Zouma and Andre Gomes as well as players in other "key positions" this summer, Marco Silva has confirmed.
The duo, on loan from Chelsea and Everton respectively, have impressed during their year-long spells on Merseyside but are due to return to their parent clubs after next week's season finale at Tottenham.
But when the Everton manager appeared on Sky Sports after their 2-0 win over Burnley on Friday night, he said: "If we can keep our starting 11, that will be really important. Kurt and Andre are two high-quality players, our fans love them.
"It's not in our hands, they have their own clubs, and after that we have to look for other positions. But the ambition of our owner is there, he wants to grow the club, but we are doing things in the right way, step by step."
Silva's comments may also be seen as giving hope that Idrissa Gueye, who handed in a transfer request in January amid interest from PSG, may be kept at the club.
Everton have also been linked with a new forward after alternating striking duties between Cenk Tosun, Dominic Calvert-Lewin and Richarlison - the latter not a number nine by trade - this season, and Silva hinted that a replacement for Romelu Lukaku, who left the club for Manchester United two seasons ago, may finally be on the cards.
"Since Lukaku left our club, always it will be the same conversation," he said. "Having one striker who scored 20 goals every season, everyone is asking who can step in?
"We have to first respect Dominic Calvert-Lewin and Cenk Tosun, and Richarlison. If you ask me if I want to improve our squad, of course I do."
Coleman: Everton must win trophy
Seamus Coleman also appeared on Sky Sports following the full-time whistle at Goodison Park, after scoring his second goal of the season as the Toffees kept their slim European qualification hopes alive.
He said keeping Silva and the club's top players together would be vital for the club if they are to end their 14-year wait for a trophy and get themselves back among the Premier League's elite clubs.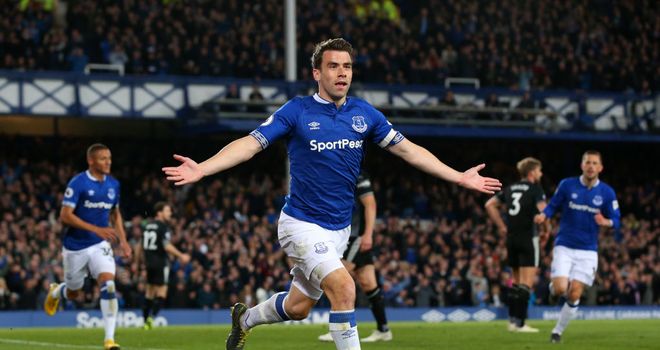 "When I played with Tim Cahill and Tim Howard, we had real men and knew what it meant to be Evertonians," Coleman explained. "This new group are starting to understand what it means to play for Everton as well.
"I'm not embarrassed to say it, and I'll say it every season, this club needs a trophy and with this manager and group of players, if we can keep that together we have to aim for it, and say it out loud."
Dyche: We've climbed a mountain
Burnley manager Sean Dyche was pleased with his side's reaction after a poor first half at Goodison, which he said set them up for their final
He told Sky Sports: "From our point of view, it is a game of two halves. We started, not a million miles off it, but not in the detail you need, and were a bit subservient and on the back foot.
"We go in licking our wounds a bit at half-time but there was a good reaction in the second half, without really opening them up with enough detail.
"I can't fault the players for the first-half performance too much really because the return of points, the return of goals, the way we've gone about it, we've gone to places like this [Goodison Park] and gone with two up front to take that chance.
"We've tried not to be cagey, we've tried to win games, of which we have won enough, obviously. We keep learning, we keep looking for improvement and it's tough but we've got the job done and full credit to the players because it has been a massive turnaround and that's not easy.
"They've climbed a mountain in the second half of the season. Twenty-eight points is an incredible return with the goals we've scored.
"But you want to finish in the right way, and I thought we did in the second half. We've got a really important game to finish 'right', as I'm talking about, against Arsenal."