Andriy Shevchenko would be the most expensive player in Premier League history - if his fee from AC Milan to Chelsea in 2006 was inflated to present-day prices.
The Blues signed Shevchenko for £29.4m more than a decade ago but that fee would soar to a staggering £144.4m in the current market, according to a study published by TotallyMoney.
The report converted every transfer fee since 1992 into current market values - factoring the inflation of players' fees from seasonal averages.
Newcastle prised Alan Shearer from Blackburn for £15m in 1996 - but that deal would be worth £125.1m in today's market, while the Magpies' current record fee of £17m for Michael Owen in 2005 would be worth £76m.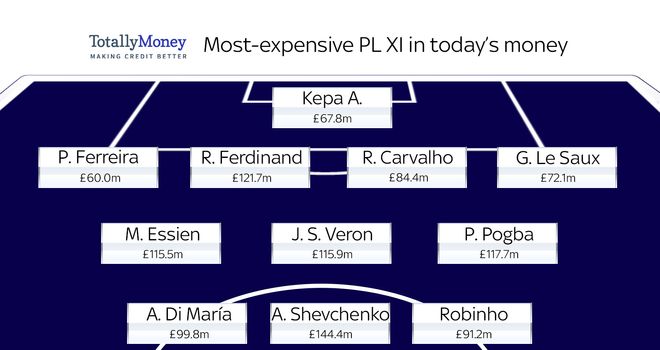 Rio Ferdinand is the third-most expensive with his £29m switch from Leeds to Manchester United in 2002 now valued at £121.7m, while his initial £15.9m move to Leeds two years earlier would be worth £78m.
With the exception of Shearer, only Chelsea and Manchester United players feature in the top 11 transfers, while Manchester City's Sergio Aguero (No 12), Kevin De Bruyne (No 13) and Robinho (No 16) rank among the top 20.
Chelsea have splashed a league-topping £1.594bn on signings over the past 26 years, but that would be a whopping £4.312bn in today's market - a 171 per cent increase.
Liverpool, Manchester United, Manchester City, Tottenham, Arsenal and Newcastle have also traditionally bought at the top end of the market.
Actual prices
In terms of actual transfer fees paid for the average player, there has been a steady year-on-year increase with three distinct hikes occurring in 2008/09, 2013/14 and 2016/17 before an exponential rise last season.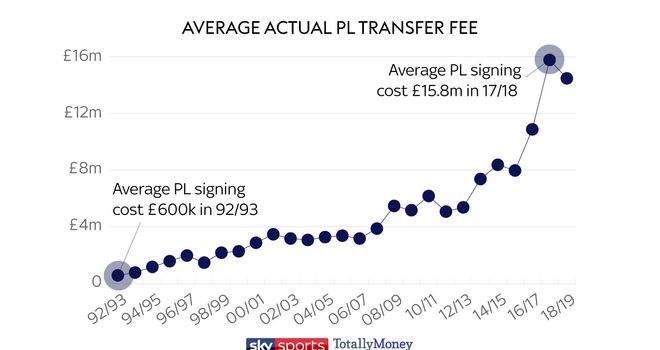 There was also a hike in overall cash spent in 2007/08 - topped by Fernando Torres' switch from Atletico Madrid to Liverpool (£25.8m now valued at £90.7m).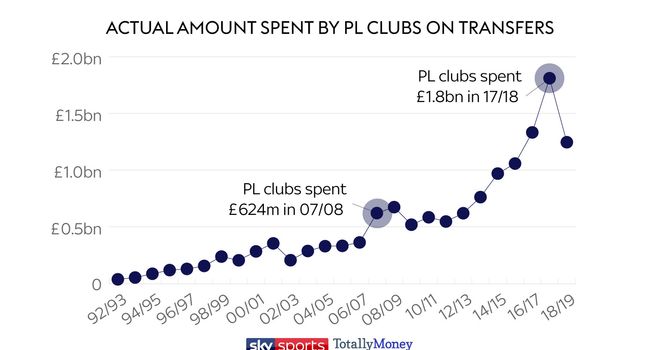 The report cites several reasons for the rise in transfer fees, primarily family-friendly stadiums and increased revenue streams affecting supply and demand - where more cash is met with a limited number of world-class players.
If everyday items had inflated at the same rate as transfer fees over the past 26 years, a pint of milk would now cost £8 and a loaf of bread would set you back £12.
Henry Keegan, Head of Communications, said: "Many think footballers have always been paid a lot. But, compared with how much they cost now, they were an absolute steal when the Premier League began."
Comment below to get involved in the debate, but please adhere to our House Rules. If you wish to report any comment, simply click on the down arrow next to the offending comment and click 'Report'.