British Olympic athletes encouraged to speak out on racism and inclusivity
BOA open letter comes after displays of solidarity with Black Lives Matter campaign following George Floyd's death
Last Updated: 15/06/20 9:10am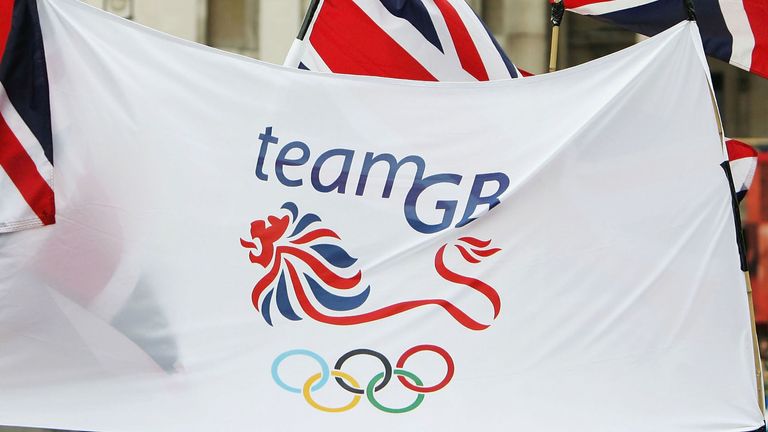 British athletes are being encouraged to discuss issues of racism and inclusivity ahead of potential protest at next year's delayed Olympics.
The displays of solidarity with the Black Lives Matter campaign in the wake of the death of George Floyd has raised questions over how the International Olympic Committee (IOC) would handle prospective displays of support in Tokyo.
Despite initially inferring its strict rules would continue to be enforced, there are now hopes a consensus can be reached which will allow athletes to express their feelings without fearing censorship.
Members of the British Olympic Association's Athletes' Commission have called on potential Olympic-bound athletes to tell them their concerns in a bid to shape the way the IOC will address the issues in Japan.
In an open letter to athletes, Commission chairman Ben Hawes wrote: "We are pleased the IOC has moved to 'condemn racism in the strongest terms' and has requested its IOC Athletes' Commission to open dialogue with the world's athletes to explore ways in which we can best express our support for the principles of the Olympic Charter.
"With the full support of the leadership of the BOA we wish to represent the views of British Olympic athletes to the IOC's Athletes' Commission and other forums.
"To help inform and shape our views on the important and timely debate about race and sport we will proactively work with other athlete bodies in the coming weeks to ensure we have a representative position on the way to drive change.
"We ask you as athletes to reach out to us, either directly or through your sport's athlete representative, to ensure we are hearing your voices."
'Banning athletes who kneel is breach of human rights'
The Global Athlete movement says the stance of the IOC in potentially banning athletes who kneel in support of anti-racism protests is a breach of human rights.
Rule 50 of the Olympic Charter states that "no kind of demonstration or political, religious or racial propaganda is permitted in any Olympic sites, venues or other areas".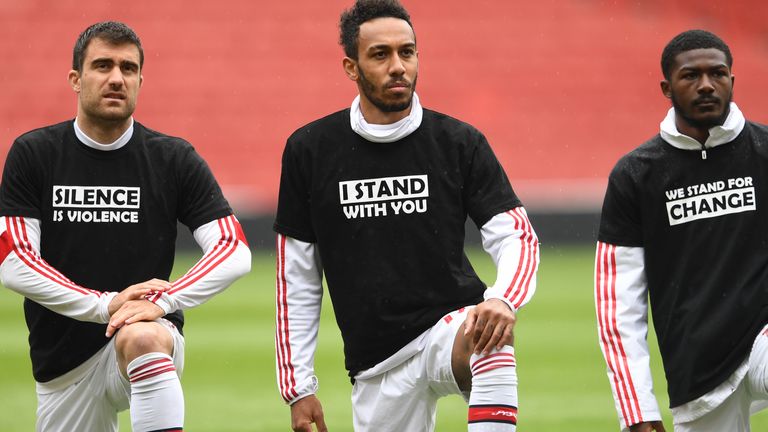 Athletes breaking the rules are subject to discipline on a case-by-case basis and the IOC issued guidelines in January clarifying that banned protests include taking a knee.
"The IOC and IPC's (International Paralympic Committee) recent statement that athletes who 'take a knee'... will face bans is a clear breach of human rights," Global Athlete, an international athlete-led movement that aims to inspire change in world sport, said in a statement.
"Athletes around the globe were awestruck with this statement and demanded change."
The IOC said last week that athletes will decide how best to support the core Olympic values "in a dignified way" as calls to change regulations restricting protests at Olympic Games grow louder.
"Once again athletes stood together and their collective voice has pressured the IOC to pivot on its position and now consult with athletes on Rule 50," Global Athlete added.
"Athletes devote years of their lives to qualify for the Olympic and Paralympic Games. If athletes want to speak up while respecting other rights and freedoms detailed in the Universal Declaration of Human Rights, the IOC should embrace their diverse opinions."
Lansiquot: A time of awakening
British sprinter Imani Lansiquot says it is "time to be more than athlete" and has been ignited to "take an active stand against racism".
The 23-year-old Sky Sports Scholar, whose dad's family come from St Lucia and St Vincent, revealed her emotions about the worldwide protests since George Floyd's death, her experiences as a black athlete and her hopes for helping the Black Lives Matter movement.
"I am someone who has been filled with pride to represent my country and wear the union jack flag during laps of honour all over the world," said Lansiquot.
"But there have been times while representing my country, that my fire of pride has felt dampened by direct racist behaviours that have been expressed by others.
"There have been times when even I have felt like an outsider.
"My mental health, along with so many others, has become even more vulnerable during this past week and it has been difficult to even put my emotions into words.
"However, like Lebron James has said, I felt it was time to be more than just an athlete."