Ritson vs Hyland Jnr: Josh Kelly ready to show steely resolve and flashy skills on Saturday
By Richard Damerell
Last Updated: 14/06/18 3:59pm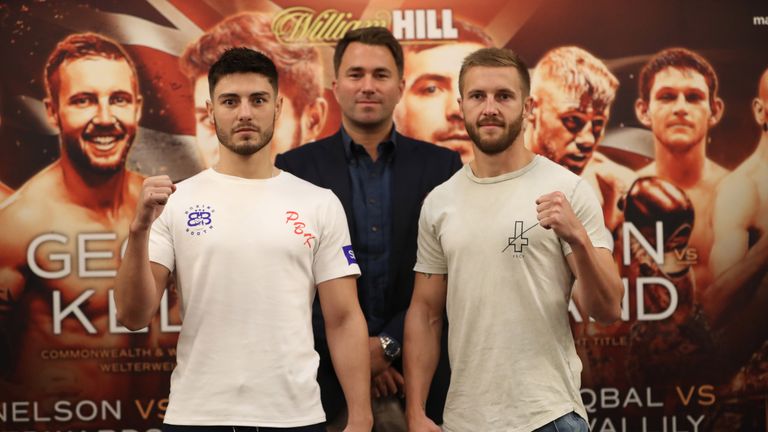 Josh Kelly says Kris George will find out about his battling spirit along with his flashy skills if they go to "the trenches" in their Commonwealth title fight.
'Pretty Boy' has earned a reputation as one of Britain's hottest talents ahead of his clash with Commonwealth welterweight champion Kris George in Newcastle on Saturday night, live on Sky Sports.
But the 24-year-old Kelly insists there is a steely resolve behind his showmanship which has been tested in sessions with trainer Adam Booth.
"I love the big stages, I love to perform, and I love showing what I've got," said Kelly at the final press conference.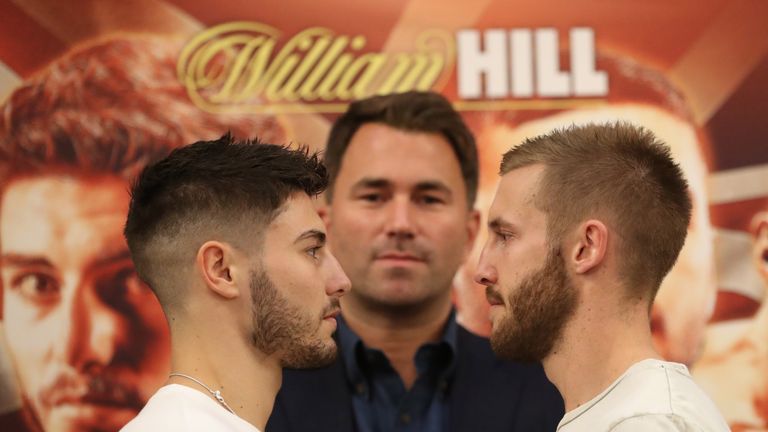 I can stand and fight and I'll box, and I'll show a variety of things come Saturday night.
Josh Kelly
"I'm ready to put a good performance on. It just makes it better, doing it in front of the north east, bringing it back up here. I can't wait.
"I believe in myself fully as well. What we do in the gym, it's behind closed doors. A lot people don't see what I can see in the gym.
"We've been in the trenches, we've been there, done it, and bring on anything for me. I can stand and fight and I'll box, and I'll show a variety of things come Saturday night."
Booth has guided gym-mate Ryan Burnett to world bantamweight titles and firmly believes the best is yet to come from Kelly.
"I've always believed that the biggest mistake you can make with a genuine talent is to under stress it, under stimulate it," said Booth.
"He needs the challenges, because in time people will realise that his flashy style, his entertaining style, and the way that he looks is actually a mask, and a deception of what a great fighter he can be, because he is so tough, and he does hit hard.
"He's got so many ingredients underneath the style. I'm looking forward to the fight, the day people realise that's really what he is."
Australia's George has suffered just one defeat in 15 fights, with eight knockout wins, and suggested his power will disrupt Kelly's gameplan.
"Boxing, especially 12 rounds with eight-ounce gloves, it's not about flash and the boxing ability," he said.
"Deeper things come into it throughout the fight. Who can dig deep in those trenches? That's where I think I will come good.
"He hasn't fought someone with a lot of power, and it changes the fight. It doesn't necessarily mean I'm going to knock him out, but it changes the way they act and react, and fight. It puts them off their game, so we'll see how he handles it."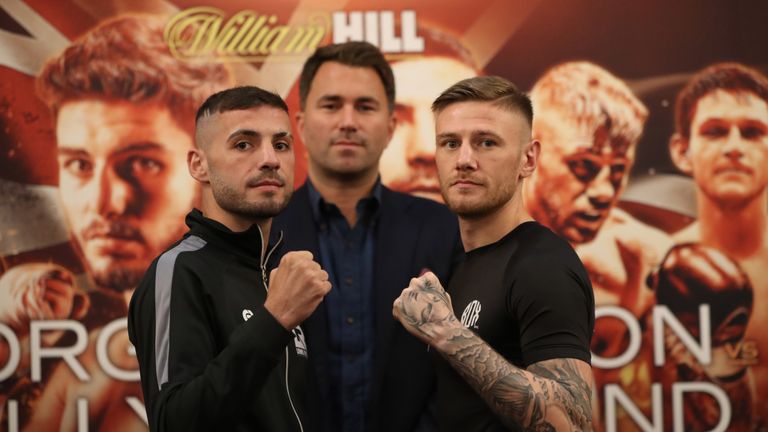 Local favourite Lewis Ritson can win the British lightweight belt outright against Paul Hyland Jnr on the same bill at the Metro Radio Arena.
"Yes, definitely the hardest fight of my career," said Ritson. I'm not looking past Paul.
"He's not a one-trick pony. He can fight a bit, he can box a bit, so I'm expecting a hard, tough fight on Saturday, but one we think we can get through.
"A year ago, I was applying for factory work. Now we are here, but we've got to keep winning."
Lewis Ritson against Paul Hyland Jr and Josh Kelly versus Kris George is on Sky Sports Action from 7pm on Saturday night.