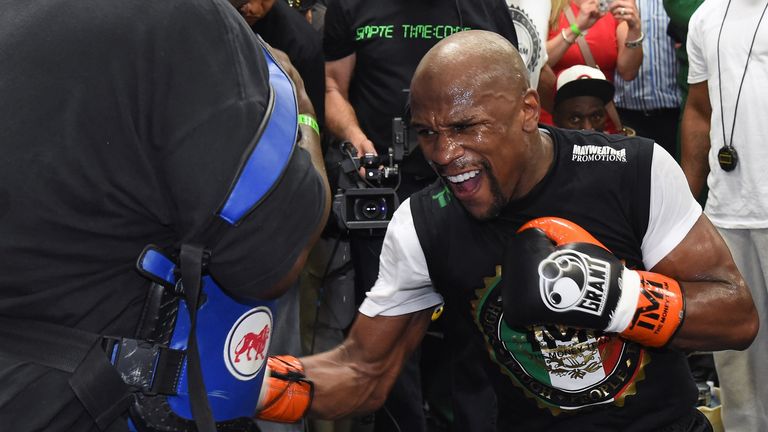 Floyd Mayweather believes he is a better boxer than Muhammad Ali and Sugar Ray Robinson.
The 38-year-old welterweight, who is undefeated in 47 professional fights, plans to cement his legacy by beating Manny Pacquiao when the two meet at the MGM Grand in Las Vegas on May 2 in the most anticipated match of the modern era.
The contest, which will be screened live on Sky Sports Box Office, is set to be the richest fight in boxing history with an anticipated generated income in excess of $300m.
Pacquiao has been beaten five times in his career but has won world titles at six different weights, while Mayweather's flawless record means he is rarely modest about his abilities.
Mayweather says he has already eclipsed the careers of Robinson and Ali, the man widely regarded as the greatest boxer in the history of the sport.
Robinson is regularly cited as the greatest 'pound-for-pound' fighter and is the commonly-accepted gold standard for non-heavyweights with 173 wins in 200 professional bouts.
"No one can ever brainwash me to make me believe that Sugar Ray Robinson and Muhammad Ali were better than me," Mayweather told ESPN.
"But one thing I will do, I'm going to take my hat off to them and respect those guys that paved the way for me to be where I'm at today."
Mayweather specificially referenced Ali's 1978 defeat to Leon Spinks as an indicator of his own superiority, and was also critical of the latter's famous 'rope a dope' tactics in his 1974 world heavyweight title win over George Foreman.
"Leon Spinks only had seven fights," he said. "Never put a fighter in there with Floyd Mayweather with seven fights.
"Take punishment and let a man tire yourself out from beating you? You hit him with a few punches and go down and quit and you want to be glorified for that?"
Book Mayweather v Pacquiao, Sky Sports Box Office, May 2, via your phone or online now. If you want to record the event, book via your Sky remote from April 25. skysports.com/maypac